Abby & Katie quilt from Just Two Charm Pack Quilts
I'm an avid collector of charm packs and I'm always looking for ways to use them. So, I was delighted when Cheryl of Meadow Mist Designs asked me to participate in a book hop to promote her newly released book, Just Two Charm Pack Quilts. I can't wait to show you my version of the Abby & Katie quilt from the book, plus I have a giveaway for a digital copy of the book!
This is the last day of the book hop! You can find all of the book hop information and catch up on each featured quilt here.
Just Two Charm Pack Quilts
If you have charm packs, this is the book for you. If you don't have charm packs, this is still the book for you. Just Two Charm Pack Quilts contains everything you need to know about charm packs, tips for using them, and 16 awesome quilt patterns to use them in.
For these quilts, you'll need one additional fabric and a background fabric to go with your two charm packs. Cheryl even shows you how to make your own from yardage or other pre-cuts.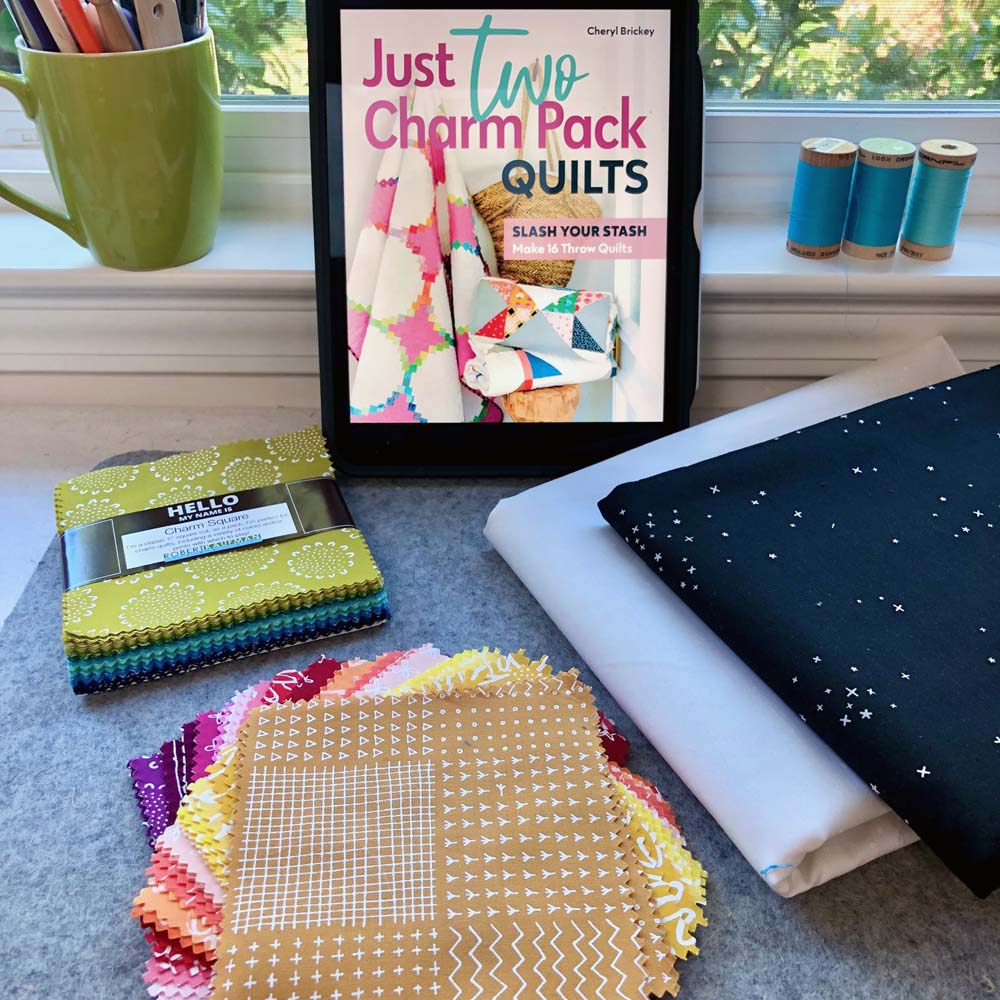 I love that each quilt in the book is made and shown in an alternate colorway. This gives you so much inspiration for colors and more ideas of how the quilt might look. As you know, fabric choices can really change the look and feel of a quilt! See the example below from the book, Just Two Charm Pack Quilts.
This is Cheryl's second book on charm pack quilts. Her first book, Just One Charm Pack Quilts, is perfect for smaller projects and baby quilts. As the name suggests, you only need one charm pack along with additional yardage and background fabric. I made the Bowtie Quilt from that book and it was super fast and easy to make!
If you're not familiar with Cheryl Brickey, you'll want to be! She is a very talented quilt pattern designer, author of three books and she has a blog, Meadow Mist Designs, that is one of my favorites. She hosts a free mystery quilt along every year on her blog, and her patterns and tutorials are clear and well-written.
My version of Abby & Katie
I chose the Abby & Katie quilt for my project. I loved the alternate colorway shown which was bright and colorful. I had two very old charm packs of Blueberry Park by Karen Lewis for Robert Kaufman that I had been saving for the perfect project and this was the perfect fit.
The Abby & Katie quilt pattern has two alternating blocks; one uses the 5″ charm squares and background fabric and the other uses the additional yardage with background fabric. Cheryl was very kind and gave us the option of changing up the pattern to suit our needs (thank you, Cheryl). After putting all the blocks together, I decided to try leaving out the alternating blocks that used the additional yardage. I was happier with this design for two reasons. One: it created a smaller quilt and I was scrunched for time. Two: it appealed to me because I didn't really like my fabric choices for the additional yardage (black & white).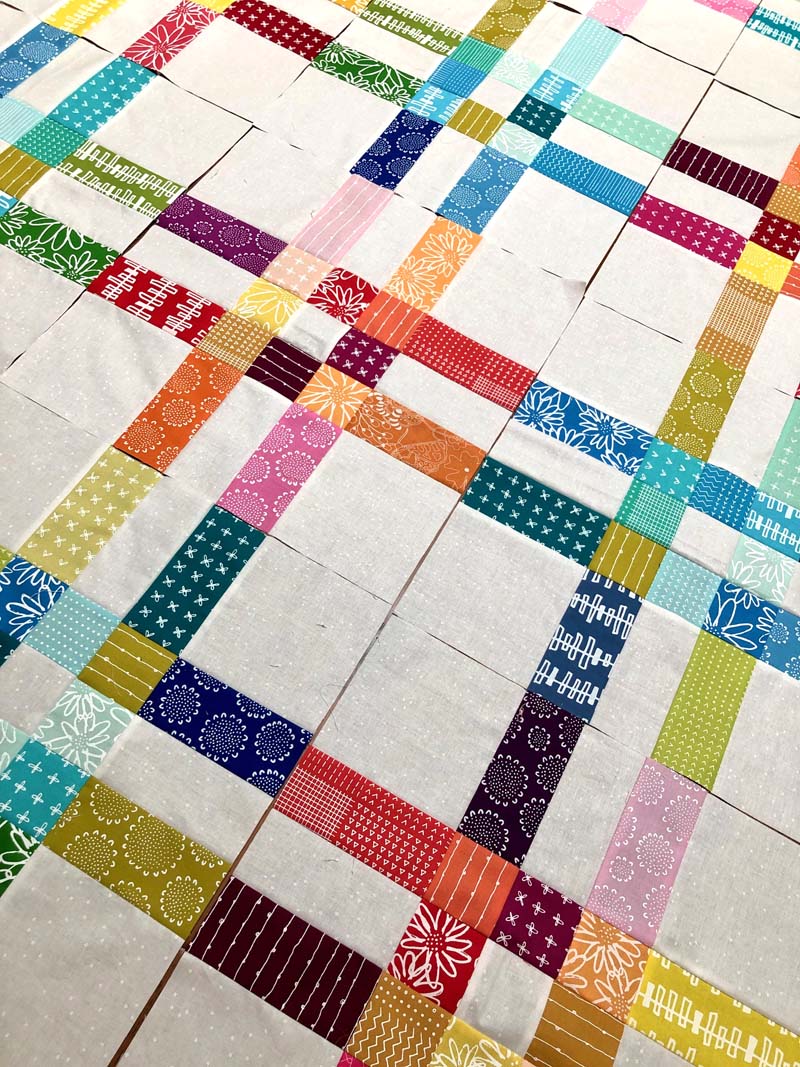 I think it's great to see how a slight change in design can really affect the look of a quilt. I'm super happy with my version of Abby & Katie. It measures 45″ x 60″ and it's a perfect size for a small lap quilt. I'll probably quilt this one myself.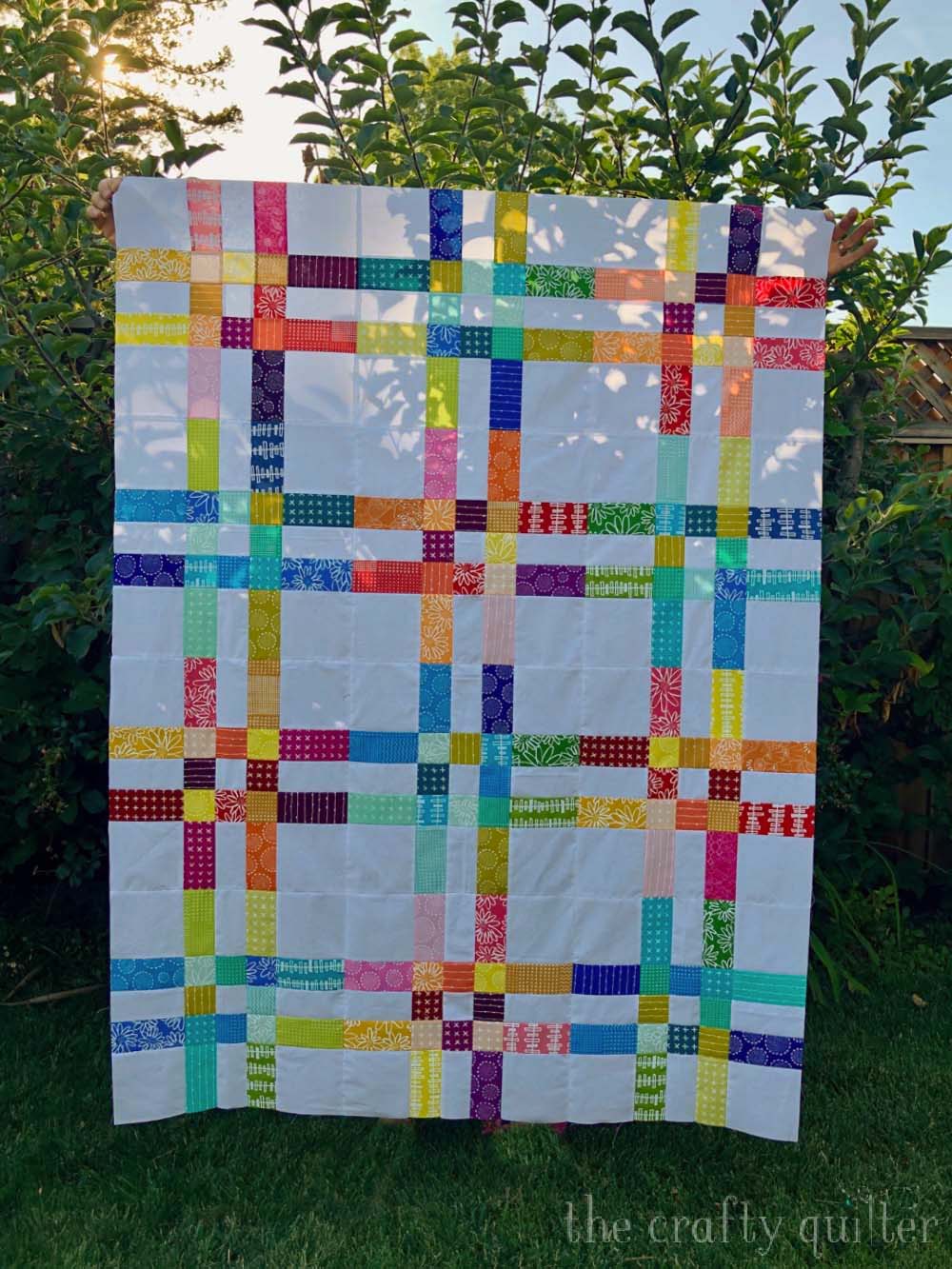 Since my quilt still needs to be quilted, I get to enjoy how it looks like stained glass when held up to the light. Got to look for that silver lining, you know?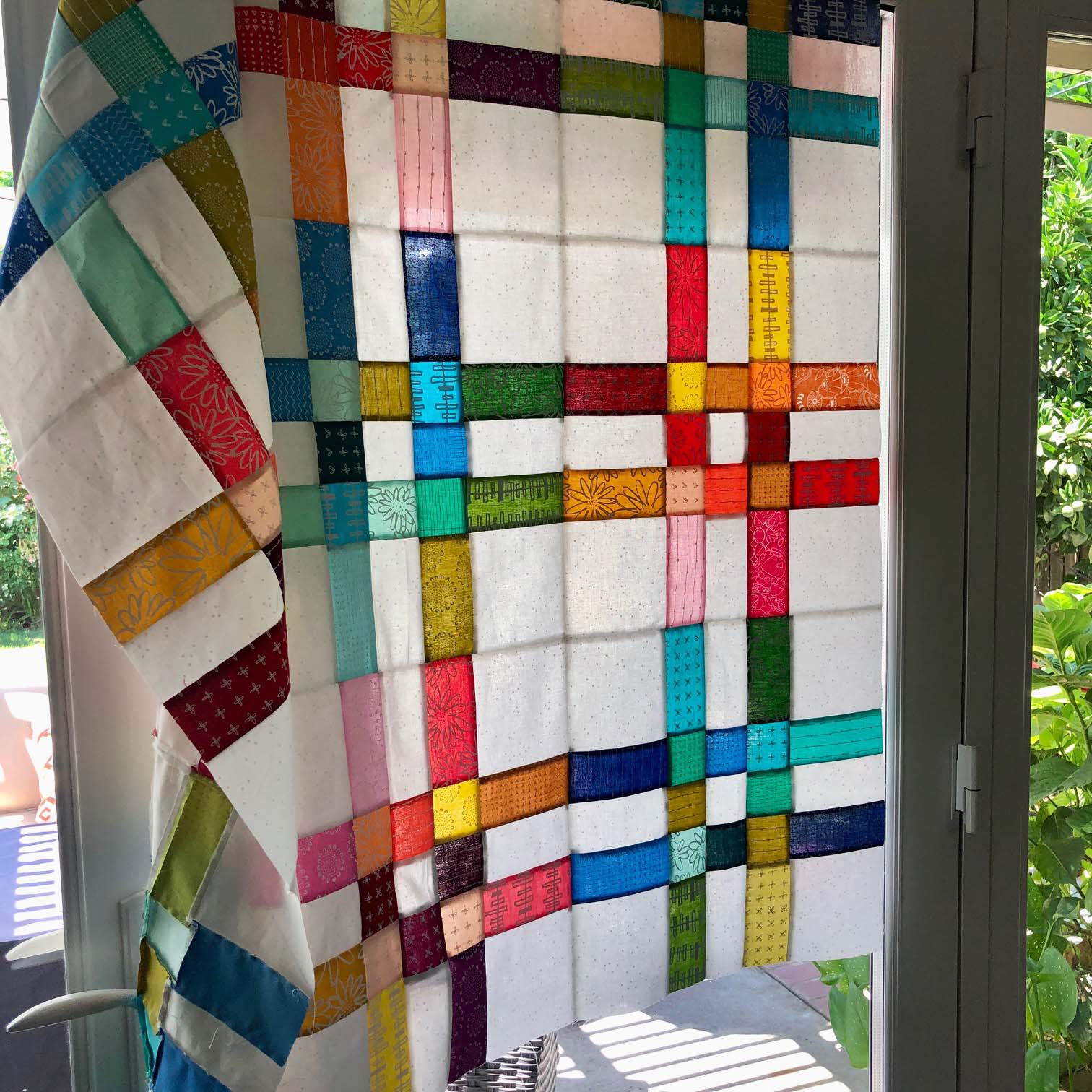 Charm packs
Those 5″ squares of fabric that are known as charm squares are very popular. I love that you get a useable piece of each fabric in a collection to sample – and they all go together! Many of us quilters even cut our scraps into 5″ squares because they're so versatile.
When working with precut charm squares, I recommend you measure them for accuracy. They should measure 5″ square, but there can be slight differences between manufacturers. Because the edges are pinked, it's hard to tell where to start measuring. Some manufacturers use the tips of each "pink" to measure while others use the valleys.
I used Blueberry Park charm squares from Robert Kaufman and they measured 5″ at the inner valley, so I chose to trim them just a bit. I stacked four at a time together and trimmed all four sides. This also got rid of the pinking which made it easier to line up the edges for my seam allowance. It makes for some pretty fabric confetti, too!
Giveaway!
Cheryl is generously giving away a digital copy of Just Two Charm Pack Quilts to one lucky reader! To enter, just sign up for my newsletter below. (If you're reading this in an email, you may need to open it in a browser to activate the form). If you're already on my email list, you can still fill out the form. Don't worry, you won't be double subscribed.
Giveaway rules
You must fill out the form (above) to be eligible
Open to all, worldwide
Giveaway ends August 9, 2023 at midnight PT
Make sure to visit Cheryl at Meadow Mist Designs to get all of the book details and see more of the quilts inside. Thanks for reading and visiting!