May Day Basket Wallhanging Tutorial – Part 3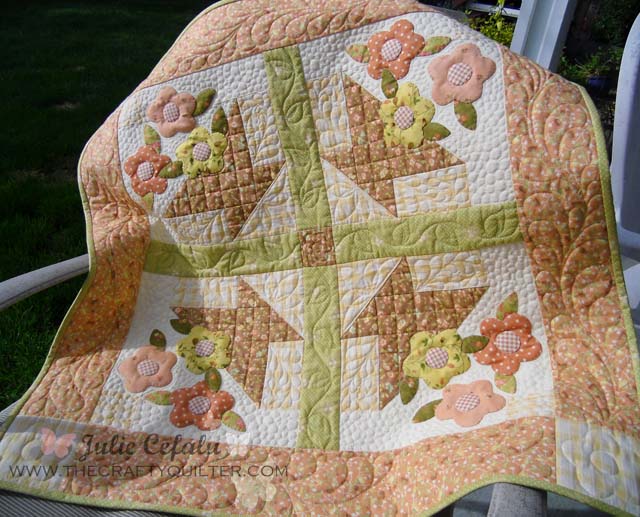 My May Day Basket Wallhanging is done – I mean quilted with binding and a hanging sleeve!  Woo hoo! You can find Part 1 of this tutorial here and Part 2 is here.
Let me walk you through the final phase – adding the sashing and borders.
Supplies needed: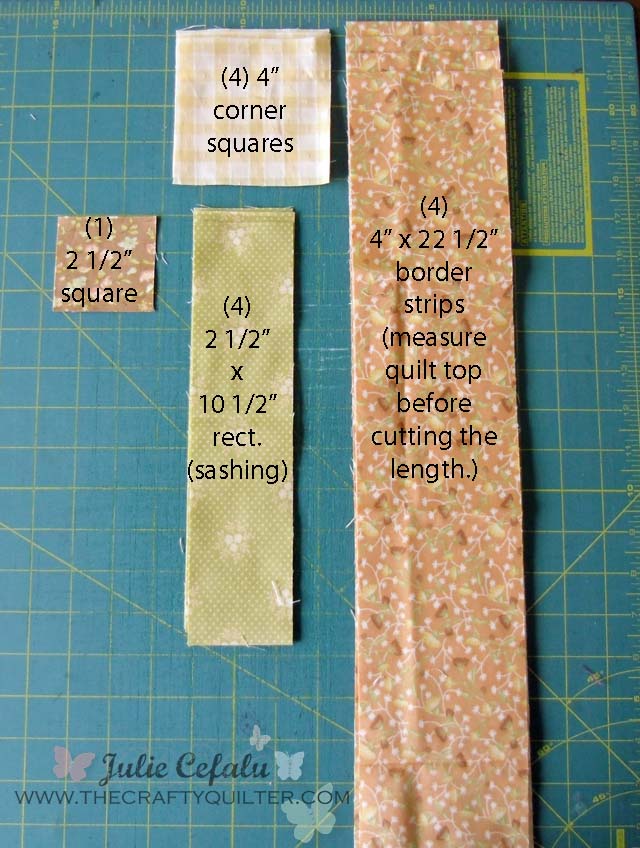 In addition, you'll need 1/4 yard of binding fabric and 1 yard of backing fabric.
Instructions:
Step 1.  Lay out your blocks, sashing strips, and cornerstone (center square) according to the picture below:
As you can see in the photograph, I have not added all of the flower appliques yet. I had to use this picture for this step, because I didn't have any other!
Step 2:  Attach sashing to blocks and cornerstone; press towards sashing.
Step 3:  Sew rows together; press towards sashing:
Step 4:  You will be adding the border strips and corner squares next.  Your strips should be 4″ wide and the length should be 22 1/2″.  Before you cut them to that length, measure your quilt top through the center (vertically and horizontally) and cut your border strips to that measured length.  Lay out your pieces as shown below:
Step 5:  Attach the borders to both sides of the quilt and press towards the border.  Attach the corner squares to both sides of the top and bottom border strip, pressing towards the border fabric:
Step 6:  Attach top and bottom border units, making sure to match seams and pin.  Press towards border:
Now you're done with the quilt top!  You still need to quilt it and add binding.  I'll share some pictures of the quilting that I did on my wall hanging.  It's fun to quilt on small projects like this one.  They're easier to handle and they don't take all week month to finish.
First, I stitched in the ditch along the sashing, borders and baskets.  Then I added the pebble quilting around the flowers: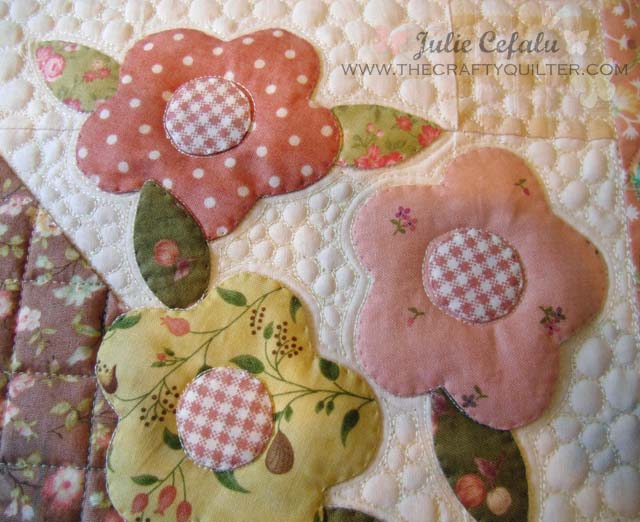 This kind of dense quilting really makes the applique pop out.  Here is a picture without the quilting:
See how flat the applique is?  What a difference!  You can see the "invisible" machine applique stitching more before the quilting is added. Afterwards, it virtually disappears.
I used one stencil in this quilt (in the sashing); everything else was drawn and/or stitched free hand.  Here's an example of a section that I drew a design on with a purple air-erasble pen first and then quilted shortly after:
And here is the feathered border (that I drew first) and then stitched:
In the outside corner squares, I just traced the applique flower and stitched.
I added cross-hatching to the baskets and a little feather swirl on each side:
These were marked with a blue water-soluble pen (my favorite marking tool) and afterwards a few sprays of water from a spray bottle and they're gone!
I used Sulky and DMC 50 wt. cotton thread for most of the quilting.  For the pebbles, I used Superior's King Tut 40 wt. and it was too heavy for such dense quilting.  It's hard to tell the difference in the pictures, but the thread sits on top of the fabric too much, instead of sinking in. So after quilting three basket blocks with it, I finally switched over to a Clover silk thread and it turned out much better!
Thanks for joining me on my May Day Basket tutorial.  And I just found out that I was featured on CraftGossip.com!  Check it out!