Almost finished quilt tops and thread organization
I was originally aiming for finished quilt tops as the title of this blog post, but ALMOST finished is much more accurate. I'm also working on thread organization, so I thought you'd like to see my current thread "situation".
I have a little bit of that "back to school" feeling even though I'm no longer in the parenting arena. Instead of new school supplies and a newly defined schedule, I'm prioritizing, getting my sewing supplies and projects organized, and scheduling some new projects and classes. It's the perfect time to finish up old works in progress and clean up my sewing space. Let me show you how it's looking so far.
Finished quilt top
I have one finished quilt top to share, and considering the kind of month it's been, I'm really happy with that. This is my Vinca Blossom Quilt pattern done in the throw size. It measures 52″ x 66″ which is my favorite size quilt to make. I used fabric from the Sunnyside Collection by Camille Roskelley for Moda Fabrics. I love the the blue and green color combination!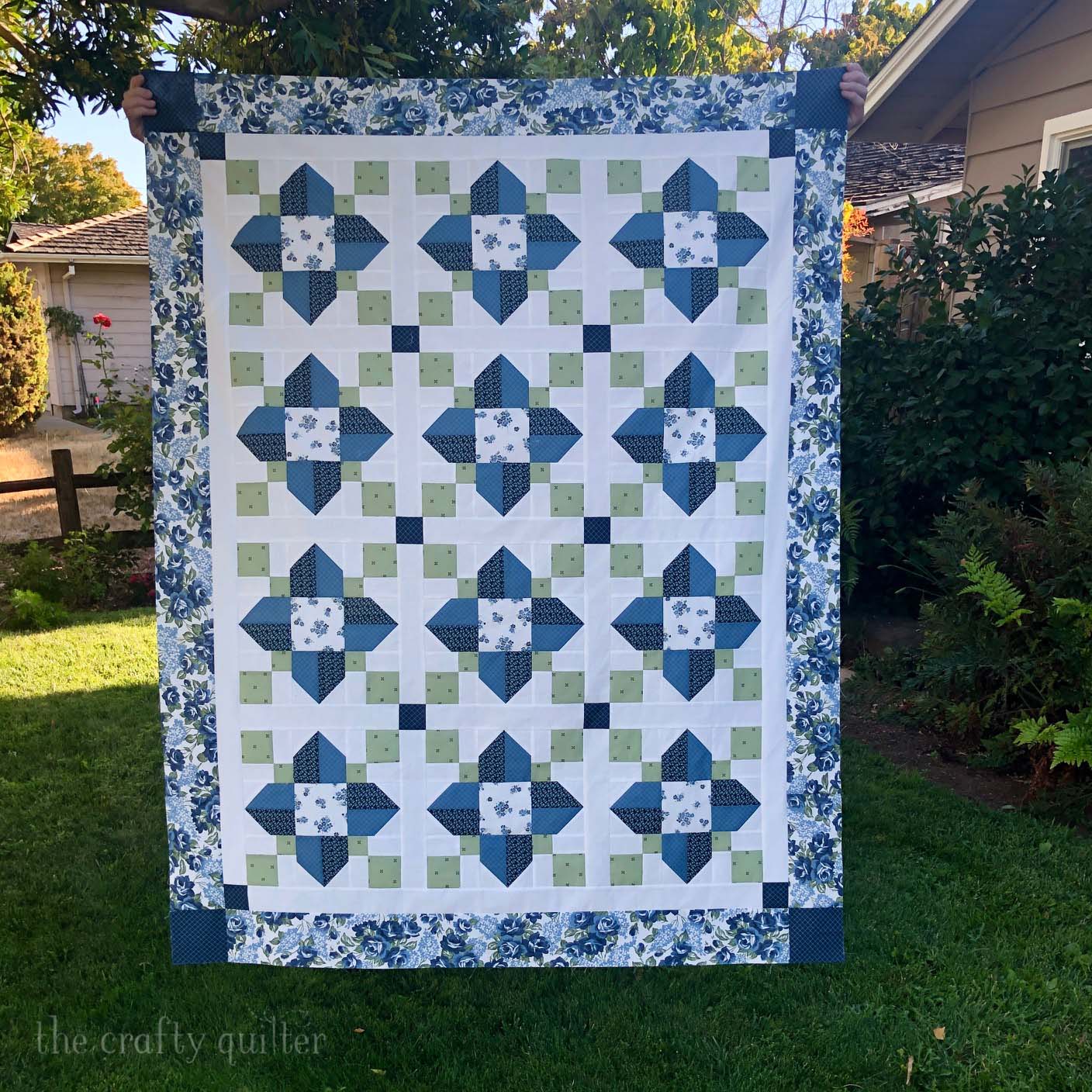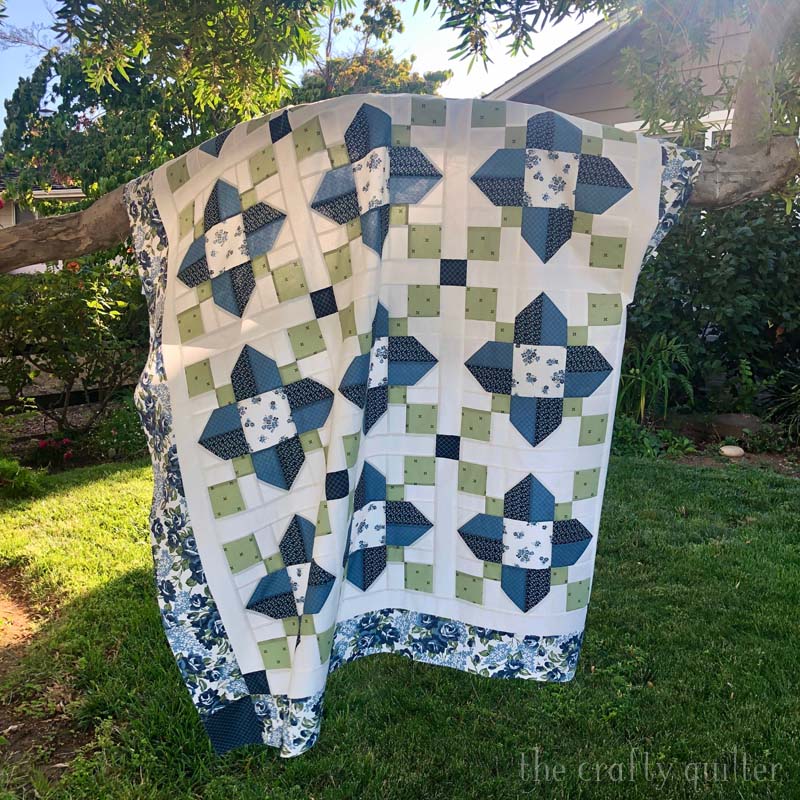 Almost finished quilt tops
Also known as UFO's and WIP's, my almost finished quilt tops are so close to being done! The first one is a black and white scrap quilt that I started last year (or 2021?) with Pat Sloan's free Traffic Jam pattern. I thought I had enough blocks for a rectangular quilt, but it turns out that I have a square quilt. So, I'm back to using up my scraps as leaders and enders to make four more blocks.
My next almost-finish is this Grandmother's Flower Garden quilt. The pattern is by Sherri McConnell and was originally published in American Patchwork & Quilting 2018. You can now find it at her Etsy Shop as Flowers for Emma.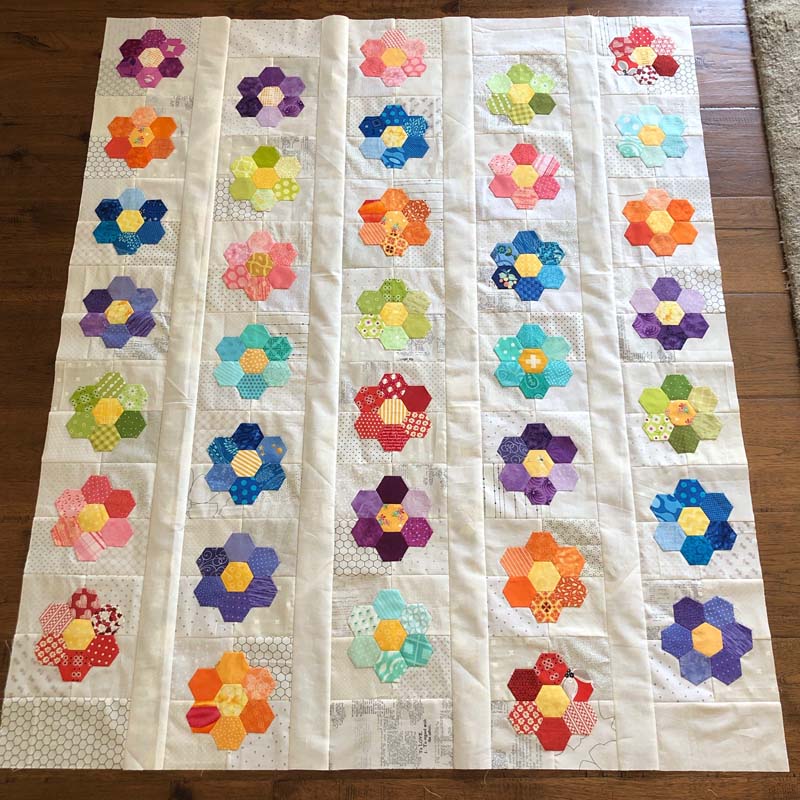 I fell in love with this quilt design the moment I saw it. Sherri's pattern is a modern take of a Grandmother's Flower Garden quilt, but it came together the old-fashioned way – English Paper Piecing. The flowers are pieced together by hand (EPP) and then hand-appliqued to the background block. It was fun digging through my scraps to come up with a rainbow of flowers and I loved using my low volume and white scraps for the background squares. I still have to add the outer borders and then it's a finished top! I think I'm going to quilt this myself, which will keep it an active WIP.
Thread Organization
I've had a pretty good system for keeping my thread organized, but as my collection grows, so must my storage system. I purchase a lot of Mettler silk-finish cotton thread in 50 weight. That's what my local quilt shop carries, so that's what I buy (and since I work there, it's very convenient). I like Mettler thread and it works really well for me. I also like Aurifil thread, Scanfil Organic thread, and Superior thread. Thus the expanding waist-line in thread!
Currently, I have a plastic, 3-tiered drawer on my counter and I keep all of my Mettler thread in two of those drawers. I sort them by warm and cool colors. I don't worry about keeping the threads neat and lined up – it's not worth my time. The top drawer is dedicated to an older supply of DMC thread (this one is neat and tidy because I don't use them very often).
As you can see, the top of the drawer unit is starting to accumulate other threads. And for a real show of transparency, you can see my other thread drawer that is turning into a hot mess. I have Aurifil 50 wt. cotton threads in one bin and Aurifil 80 wt. threads in another. And then there's a bunch of other stuff that needs to be sorted through.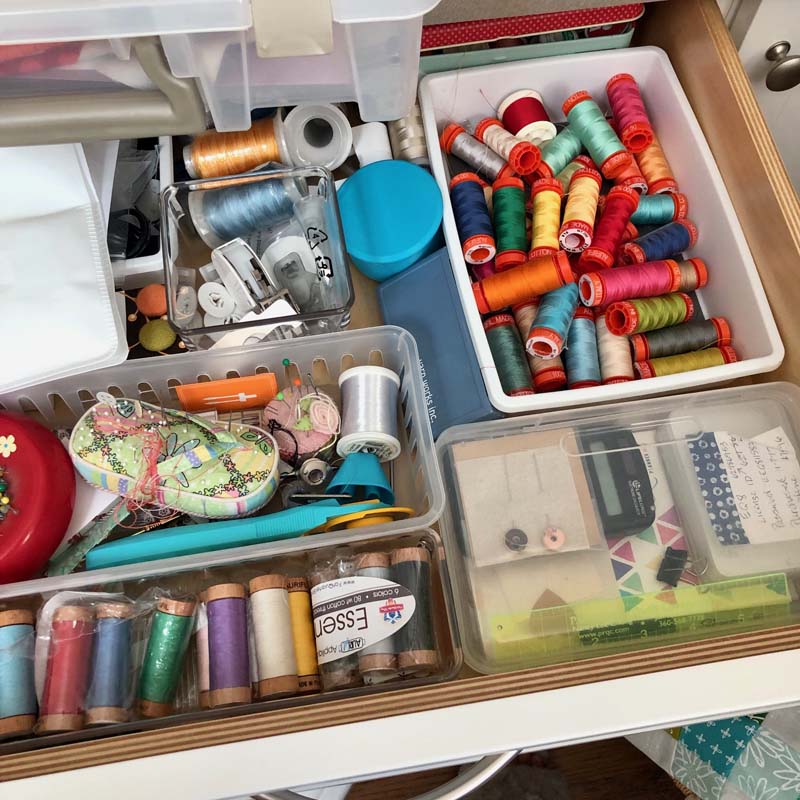 I have enough space to add another 3-tier drawer system on top of the current one. Now I need to locate a store that still sells them (and it's not my local Target store). That's where I'm at with my thread organization. If you have any suggestions, I'd love to hear them!
Another reason for my focus on thread organization is that I'm currently participating in the Aurifil Thread Labs subscription through my local quilt shop, The Granary. It's only available through participating retailers. Here's an excerpt from Aurifil with the basic details.
From July through December, subscribers will gain the necessary tools to more confidently create with a variety of thread weights and techniques. They will finish the year inspired, armed with new skills and a wealth of knowledge.

Aurifil
Each month we get a box of assorted thread, a project sheet, a coupon code and there are videos that supplement each month's lesson. The Granary also hosts a workshop for each lab where we see the finished project, watch the video together and talk about thread. The Granary includes other goodies in the workshop, too, so it's been well worth my investment.
I just finished the first project from the July Thread Lab. The original project was designed to be a pin cushion but I decided to keep mine in a hoop to display on the wall. I also made it a little larger and added a few more embroidery embellishments. It was really fun to make and a great way to play with and learn about the various thread weights.
This month, I have high hopes for getting my WIP's in order and my sewing room organized before moving onto any new projects. It's almost time to start planning any Christmas or holiday gifts that I'd like to make! I feel like August is a good month to take a breath before the deep dive into the holiday season. I hope that's how it is for you, too!