After sharing my Orange Peel Mug Rug last month, I promised you some mug rug binding tips. Here they are – better late than never! I tried something a little different for this project and I'm pretty happy with the results. I think you will be too.
Mug Rug Binding Tips
Mug rugs are such delicate little things. In the past, I've used traditional binding techniques with 2 1/4″ wide binding strips. This time I tried a single-fold binding, and I think it "fits" the petite nature of these mini quilts.
Tip: Single-fold binding reduces bulk in the corners and it lies a little flatter overall.
Start with a 1 1/4″ wide strip of fabric (I needed 2 strips since they were cut from a fat quarter). I'm using straight-of-grain strips, not bias strips. Press 1/4″ under one long edge of the strip. Treat it the same as you would any binding. For this project, I decided to sew the binding onto the front of the mug rug and then hand-stitch it down to the back.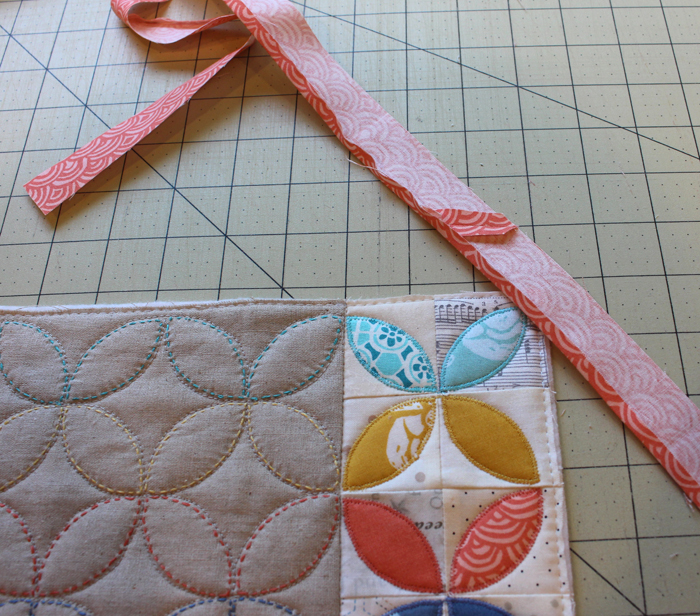 Tip: I like to baste the raw edges of my quilt (mug rug) by machine before adding the binding.
Start on one long side of the mug rug. To determine where to stop or pivot (I like to pivot and stitch out to the corner instead of backstitching), fold the binding strip up at a 45° angle at the corner and finger press it. Now you have a crease that shows you where to pivot.
Use a 1/4″ seam allowance for sewing on the binding. This will give you plenty of room to cover the stitches when it is wrapped to the back of the mug rug. Because this is a single-fold binding, I used a 1/4″ foot (with built-in dual feed engaged). Normally I use a walking foot with double-fold binding because there are so many layers, and I want to avoid making tucks when I sew on the binding. Either way will work for this.
You can see how I pivot at the corner in the photo below (right).
The corners are folded the same way as traditional binding: up and away at a 45° angle, then folded down over itself. The top fold should be even with the previous edge and the raw edge of the binding should be even with the raw edge of the mug rug. Start stitching at the folded edge and continue to the next corner.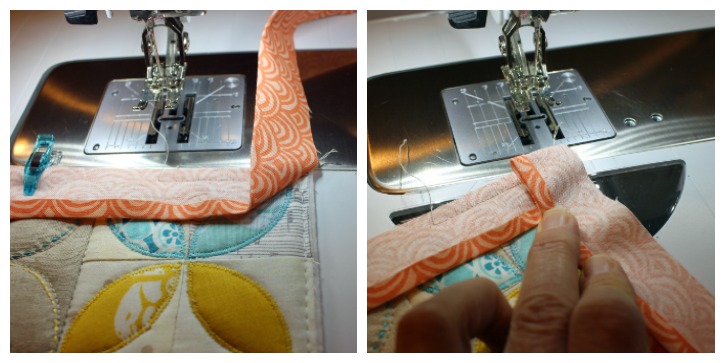 I didn't take photos of how I joined the binding tails. I have a video on how to join them with a seam and a tutorial on joining them with the pocket method. For this project, I joined them with a seam and I made a mistake in my calculations, so I have two seams instead of one. Thus, no photos to show you how to do it right!
Next, wrap the binding to the back of the mug rug and pin or clip it in place (love those Mini Wonder Clips). The folded edge should cover your stitches easily. Miter the corners as usual. I used a blind hem stitch along the folded edge. You can see my video for that technique here. Personally, I enjoy a little hand-stitching, especially on a small project like this one.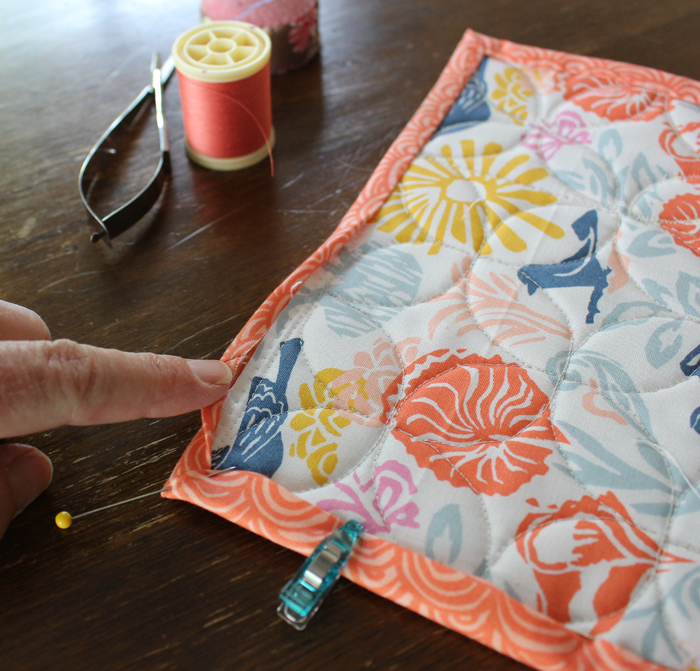 I like how the binding turned out – not too bulky and just as easy as any other technique. I think this will be my new "go to" method for mug rugs.
In case you missed it, you can find the original tutorial for the mug rug here: Orange Peel Mug Rug.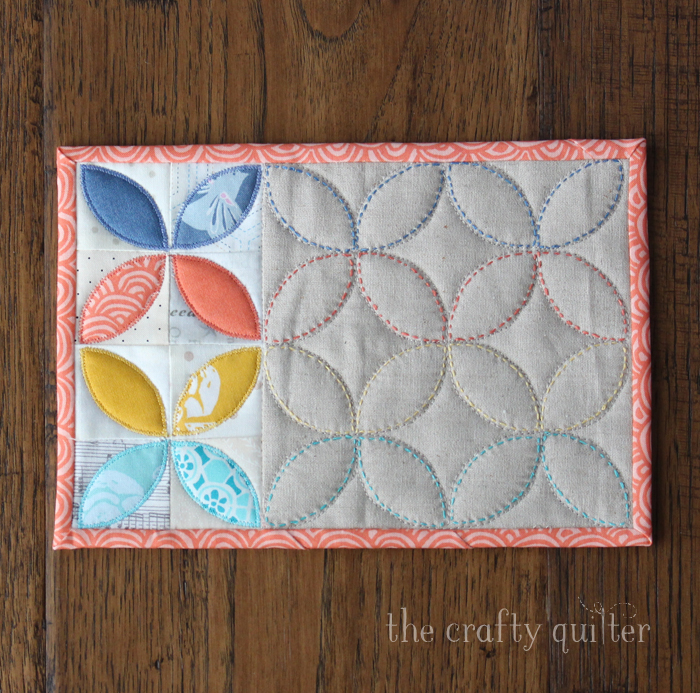 When you make your next mini quilt or mug rug, I hope you give this technique a try and let me know what you think. Happy Quilting!
Save
Save
Save
Save