What I've been working on in the sewing room…
I have been trying to catch up with a few things in my sewing room and I have a few projects to share.
My Paris-in-the-Fall Block of the Month:  I finally finished block 4:
And here is block #5:
And the other block of the month that I'm doing is the 2012 Designer Mystery BOM from the Fat Quarter Shop.  I am also happy to announce that The Fat Quarter Shop is my first sponsor! I'm so excited to have them as a sponsor and I love their website.
Here is Blocks 1 and 2:
Actually Block 2 is on the left and Block 1 is on the right.
You get so much fabric with each month's block that there is plenty left over for another project or to make two blocks.  Here is what was left over from block 2:
I wanted to share with you what a difference a little spray starch can make when pressing the completed blocks.  Here is a picture before pressing with spray starch:
And this is what it looks like after pressing with starch:
I love Mary Ellen's Best Press Spray Starch.  It works great, smells beautiful and it's environmentally friendly:
This starch does not leave any white flakes behind and it really gives your block a nice finish.  I like to use starch when my blocks are completed at the very least.  Just be careful that you don't over do it with the ironing or you can distort your finished block.
Often, I will starch my fabric before I even begin cutting it. It gives a crispness to my fabric that allows for more accuracy and easier precision piecing.
The next project I completed was for my daughter's wedding.  I made small gift pouches that held some goodies for each of the girls in the wedding party: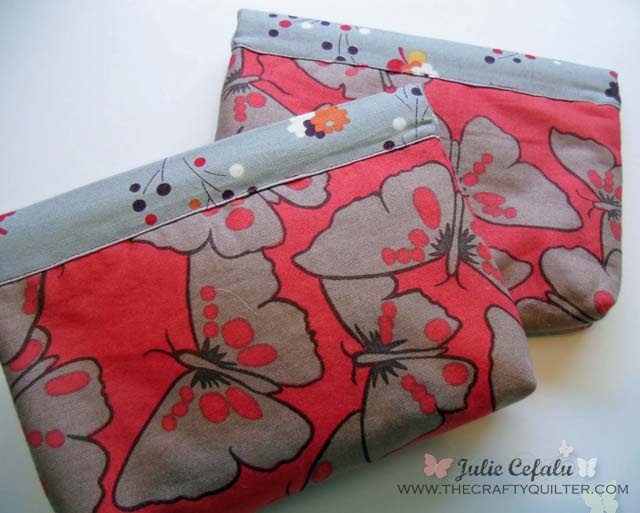 I found this great tutorial at the American Sewing Guild Blog.  It uses a piece of metal measuring tape for the closure and it snaps shut like magic!
I made mine a little bigger than their version (which is shown in batiks below):
The lining is cut larger than the outside piece since it is also used to form a casing for the tape measure.  Here it is opened:
These were really simple to make and you can adjust the size easily for your specific needs.
Last but not least, I have been playing with some new fabric that came into the shop (aka The Granary).  It's called "Gatherings" by Lisa Ballard for Newcastle Fabrics.  Newcastle Fabrics is a fairly new company and so far I have loved their fabrics.
I love the fabrics in this collection.  They have a dusty color palette that includes a light turquoise, orange, brown, teal, and tan.
I'm working on a fall table runner with these gems, and I'll have a tutorial for you soon!
Have a great weekend everyone!
~Julie