My UFO for the month of January is finished!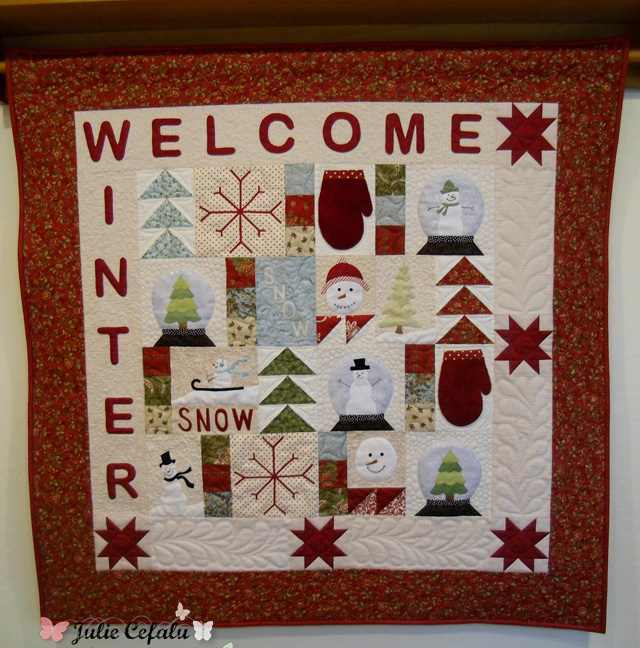 And since it's still winter, it's going up on the wall.  This pattern is from Holly Hill Quilt Designs and it's appropriately called, "Welcome Winter".
I love all of the small details that make this quilt so cute!
The snow globes are my favorite, and I found the perfect fabric for the inside of each one.  It sparkles just like real snow!
I spent a good amount of time quilting this project since I had already invested quite a bit of effort in the applique and embroidery.  I added pebble quilting around all of the snow globes and some swirls and stars around some of the snowmen.  I added "teardrop stippling" around the large letters and some feathers in the large open rectangles.
In case you are wondering, I used a variety of applique techniques on this project.  My plan was to do a turned edge applique using the freezer paper and starch method and then machine stitch it in place with invisible thread.  But for some reason (I can't remember why), I decided to hand stitch the large words in place. The wool mittens are also done by hand with a blanket stitch.
When I got to the snowman on the sled, the details were too small for this technique.  So I switched to a fusible, raw edge applique and used that on the small words, too.
Does all of that applique terminology make your head spin?  Would anyone like a run down on all of that?  Let me know – maybe I can come up with something that will demystify the many forms of applique.
I am so glad I got this finished and now I'm looking for my next UFO to tackle in February.  There are so many choices!
Check out what everyone else has completed this month at Fiber of All Sorts:
Also linking up to Crazy Mom Quilts.