Christmas all year with friends
I am so happy to see that there are other bloggers (besides me) who are committing to tackle some Christmas projects throughout the year.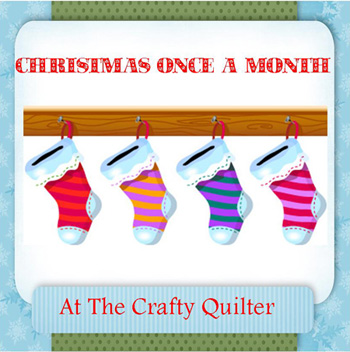 My friend Amy of Amy Made That! is joining me this year with her own handmade holiday ideas.  Here's a peak at what she's up to for January:
Isn't that snowman the cutest?  But the real star is the pillow she made from a vintage quilt.  It's the perfect way to salvage an old treasure into something new.
You can find more lovely pictures and information about Amy's January projects at her blog here.
And I'm happy to report that the girls at Uncommon Designs are going to be sharing their own holiday ideas on the third Thursday of every month.
They have already started off the year with a Bell Jar Christmas Ornament Tutorial.  You'll definitely want to follow along with them in 2013.
And if you can wait a few more days, Lily Patch Quilts is carrying on the torch for Christmas Through The Year.  At the end of every month, you can link up a holiday project and see what everyone else is doing!
I will definitely be joining that party!
It's true, Christmas will be here before you know it!  Scary thought, huh?