Christmas Once a Month: February
My February project for Christmas Once a Month is a framed "Christmas Joy" quilt!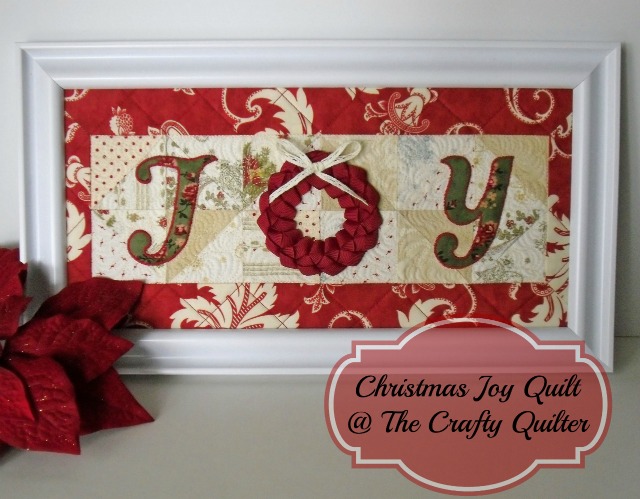 The ribbon wreath in the "JOY" really packs a punch and it is so easy to make! I have to tell you how this all started.  This might get long so I won't feel bad if you skip ahead to the instructions.  A few years ago I attended a "Tea Party" at my local scrapbooking store.  The hostess was KT Hom and among many things, she demonstrated how to do ribbon weaving.  She even had a YouTube video showing the technique so that us slow learners could get some additional "tutoring" at home.
I was so inspired by the whole tea party concept that I began hosting my own quilting tea parties at The Granary Quilt Shop.  I would come up with a minimum of 15 ideas to present during the tea party and they ranged from sewing tips, to party decorations and a few quilting projects.  I hosted two Christmas Tea Parties specifically geared toward gift ideas, recipes and decor.  These were popular but a lot of work for me!  I had the thought, "I should start a blog and use that to share my ideas to a wider audience".  A seed was planted and after a year of thinking about it procrastinating, well, here I am!
Sorry; I'm not often so wordy, but that really is how I started blogging. 🙂
Any how, back to Christmas and my current project to share with you.  This little quilt fits inside a 7″ x 14″ frame, but you could also finish it as you would a regular quilt.
Supplies:
Scraps of light fabric for background
Scraps of green fabric for letters
1/8 yard fabric for border
2 yards of 1/4″ grosgrain ribbon
Fusible Fleece
1 fat quarter of muslin
Fabric glue
7″ x 14″ picture frame
White foam core board cut to fit inside frame
Instructions:
Make the background.  You will be making 12 half square triangle (hst) units. Using the light fabric scraps, cut (12) 3″ squares.  Draw a diagonal line on the wrong side of six of them. With right sides together, sew two together by stitching 1/4″ from each side of the drawn line.
Cut in half on drawn line and press to one side.  Trim to 2 1/2″ square.  Make 12 half square triangle units.
Arrange as shown below so that you create three "square in a square" units from the hst's.  I also made sure that the seam allowances were opposing each other so that they would nest when sewn together.
Sew the hst's into pairs and then sew the pairs into quadrants to form the square in a square units. These should measure 4 1/2″ square.
Sew the quadrants together creating the background.  This should measure 4 1/2″ x 12 1/2″.
I thought I wanted the middle "square" to be dark because I originally was going to use a cream ribbon wreath.  That changed once I tried it, so I switched the middle patch to a light one.  My trusty seam ripper is always ready!
Add the borders:  I made my borders with mitered corners.  You don't need to do yours that way, but I'm giving instructions for mitered ones.  Cut (2) 2 1/2″ wide strips from border fabric.  Sub cut them into (2) 2 1/2″ x 12″ rectangles and (2) 2 1/2″ x 20″ rectangles.  These will be extra long which is necessary for this technique.
Centering the border strips on each side of the background, attach the border by starting 1/4″ in from the corner, backstitch and continue stitching until 1/4″ before the end.  Backstitch at the end as well.
There are several ways to create the miter and the following is what works for me.  Take one of the corners of the quilt and fold it right sides together at a 45 degree angle.  Your border strips should line up along the top edge.
With a ruler, place the 45 degree line on the raw edge of the borders and the edge of the ruler at the place where the stitching converges at the corner.  Draw a line from corner to outside edge of border.  Pin.
Stitch along drawn line starting at the inside corner and sewing to the outside edge.  Back stitch at the beginning and end.
Open up the seam and check to make sure that it lays flat.  Sometimes you may get a little pucker at the inside corner (because you stitched into the corner too much) or you may get a gap (because you stitched away from the corner too much).  Adjust if necessary.
Once it's flat, you can trim the excess seam allowance and press it open.
Repeat on all four corners.  I love the way this looks and it's perfect for a picture frame!
Prepare the applique letters:  Trace the letters from the JOY Letters pdf file onto the paper side of fusible webbing.  Make sure to print the file with no scaling or resizing selected on the printer.  The letters have already been reversed for fusible applique.  Rough cut around the fusible and press onto the wrong side of applique fabric.  Cut out on drawn line.  Peel paper away from the applique shape and press onto the background fabric.  Stitch in place.  I used a very narrow zig zag stitch.
Make the ribbon wreath:  Just like that.  No, seriously, I'm not going to reinvent the wheel when someone else has already done a fabulous job of creating a tutorial for this.  KT Hom has a YouTube video that demonstrates ribbon weaving really well.  I hope you take a look at it and give it a try.  It it such a beautiful addition to this project.
You can find KT's video here:  Ribbon Weaving
A few notes to add:  Once you have made your ribbon, it will look like this before you shape it into the wreath (my original cream version):
It sort of looks like a big, fat worm!  In the video, KT has you secure the ends with a glue dot and then join the ends with another glue dot.  This is fine when used in a card, but I prefer to stitch mine together:
And lastly, I added a small bow and hand stitched it in place.  Before you add the ribbon wreath to your quilt, you need to quilt the project first.
Quilt:  I used fusible fleece for this part.  You could always use a traditional batting.  For fusible fleece, cut it 1/4″ smaller than the quilt – theoretically 9 1/4″ x 12 1/4″.  Fuse onto the wrong side of quilt top following manufacturer's instructions.  Add a layer of muslin to the back.   I used a little basting spray to secure it in place.
Quilt through all three layers.  I used a walking foot to stitch in the ditch along the outside border seam and I marked a grid in the border and stitched that too.  Then I free motion quilted the background heavily so that the applique "popped".
Add the ribbon wreath:  The easiest way to secure the ribbon wreath is to use a permanent glue such as Liquid Stitch.  I used a generous amount on the back of my wreath and placed it in the center of the two letters.  Give it a good amount of pressure with your hand to really make it stick.  Allow it to dry for a few minutes.  Trust me, it is stuck!
Insert into the frame:  Remove the glass and cardboard backing from the frame.  Cut the foam core board by using the cardboard back as a template and trace it onto the foam core.  Cut with an exacto knife (or an old rotary cutter blade).
Center the quilt onto the foam core board.  Wrap the edges of the quilt onto the back of the board.  Before securing, check to make sure it still fits inside the frame and that it's centered. I used Scor-Tape to secure in place.  You could also use a heavy-duty glue such as E-6000.  Don't worry too much about how the corners look.  They will be a little bit bulky, but they are hidden inside the frame.
You can replace the cardboard backing over the back, but I just used the paper insert because it was thinner.
And you're done!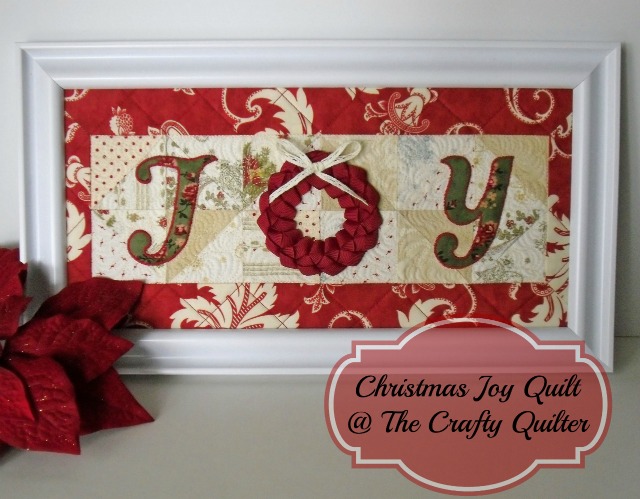 And now you can keep the momentum going and use your ribbon weaving skills to make some Christmas cards!  Here's what mine looks like:
Slightly non-traditional colors, but I love the softness of it!  I glued the wreath onto the card using E-6000 glue as KT suggests.
I stamped my card first with a large, lacey doilie stamp first.  Then I added some pearls to the edges.
Next, I added a paper "ribbon" to the bottom with the words "Merry Christmas" stamped in a matching color and some more pearls.
There you go.  Something to practice throughout the year and once you get the hang of ribbon weaving, you can do it in front of the television and start mass producing!