Sew Thankful Sunday: 02-17-2013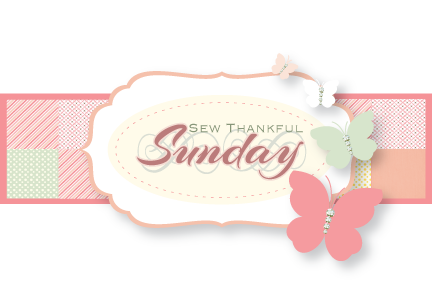 I am sew thankful for all of the amazing talent out there in "blog land" and today I get to share some of my favorites that I have seen this past week or so.
Amy at Diary of A Quilter has just started a Virtual Quilting Bee and today she discusses Essential Quilting Supplies from sewing machines to fabric and everything in between.
If you are a newer quilter (or even if you have been at it for a while), you will definitely find some good tips and information.  I love learning from as many different people as possible because what works for one might not work for the other.
To get started with the Virtual Quilting Bee, go to the Introduction here and let me know what you think!
Sew Cal Gal is starting the year off with a 2013 Free Motion Challenge to benefit Alzheimer's Art Quilt Initiative.
If you need motivation to step up your free motion quilting skills, consider giving this a try and you'll be benefiting a wonderful organization at the same time.   The Alzheimer's Art Quilt Initiative was founded by Ami Simms and is all about raising awareness and funding research through the arts.
If you love Fons & Porter's Love of Quilting Magazine and you love log cabin quilts, you might want to consider joining their online community and received their free Ebook, Build Your Best Log Cabin.
This eBook features three different types of free log cabin quilting blocks: chevron log cabin quilt blocks, courthouse steps quilt blocks and traditional log cabin quilt blocks.  I made one log cabin quilt many years ago and it is still one of my favorites.
If you like "pretty darn quick" projects, Jill Finley of Jillily Studio has started a PDQ Club over at the Henry Glass Fabrics blog.
Her first project for January is this cute and easy apron:
I love Jill's patterns and I'm sure she has something sweet cooking for February too!
Thanks for spending a little piece of your Sunday with me.  I'll have my February project for Christmas Once a Month ready to share with you tomorrow!
Happy Sunday!