November UFO & WIP Challenge prize and a new favorite tool
I have put together a nice little package for the November UFO & WIP Challenge prize. If you're new to my blog, you can find out all of the details for this monthly challenge here.
November UFO & WIP Challenge prize
The prize package for this month includes a fat quarter of black and white pre-printed quilt labels (I don't know the manufacturer), a Rainy Day Sewing pattern by Thimble Blossoms, Alex Anderson's Essential 4 in 1 Sewing Tool and my new favorite notion: Diagonal Seam Tape by Cluck Cluck Sew. I'll tell you more about that in a minute. The total value of this prize is $40 and it is donated by me and my stash!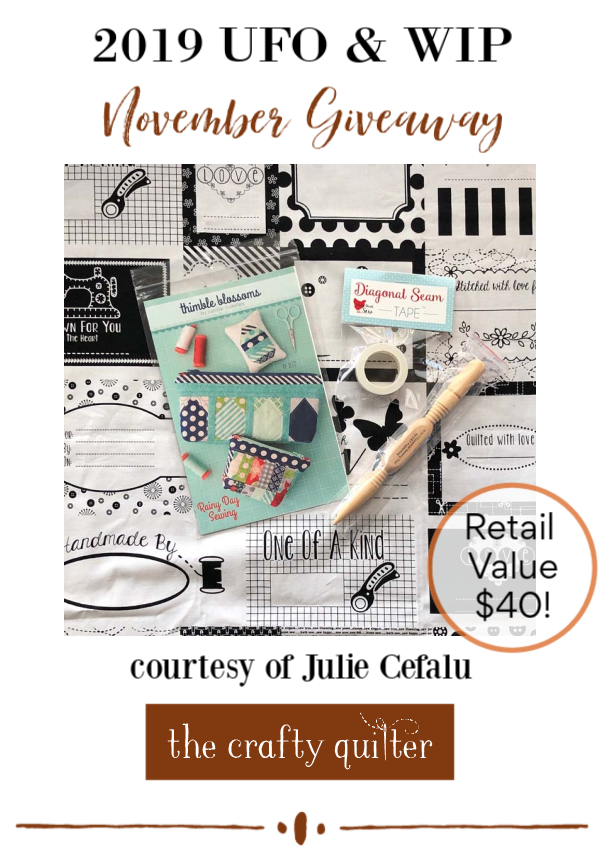 My new favorite sewing tool
I have discovered a new favorite sewing tool and it's so genius and simple and wonderful. It's Diagonal Seam Tape by Allison at Cluck Cluck Sew and it is sure to make your quilting life so much easier. It's washi tape that has center and 1/4″ markings on it that will help you sew diagonal seams without the need to mark them. I tried it out today and it's fabulous!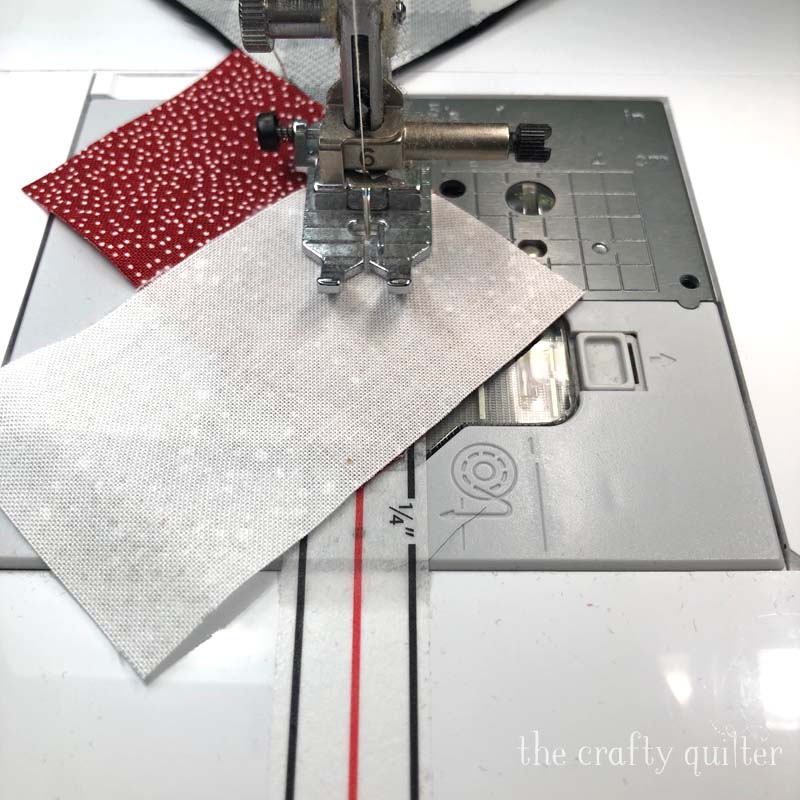 You can use it for making half-square triangles, stitch and flip seams or anything that requires a diagonal guideline. You can even use it for your 1/4″ piecing guide. Allison has a great web page that tells you all about it here. I think it's such a clever design and really easy to use! It attaches to the bed of your sewing machine and it peels off easily when you need to replace it. One roll should last you a long, long time.
Other news
I'm still numb that it's November already and Thanksgiving is in a few weeks and Christmas right behind that. I've had some exciting things going on in my sewing room. I recently purchased two new sewing machines (Baby Lock) and parted with three sewing machines (so I'm consolidating). I'll give you all of the details in a separate blog post. But, I give you that information because it takes time to set up and learn how to use a new sewing machine. It's been fun playing with new toys, but it requires patience and time. Yesterday, I made a little stitch sampler with my favorite applique stitches as a reference guide for my new machine. You can read about how I make them and why here.
I'm almost finished with my sample for a new pattern that I'm designing and it's wonderful to see it go from a computerized image in EQ8 to a full fledged quilt. I appreciate all of the feed back you gave me in the comments last week about the two quilt options. I went with your top choice which was design number 2 (no sashing). Working on the pattern will be my WIP project for November.
I also realized that I blew right by Sew Thankful Sunday for November! Oh my gosh. I'll have it ready this Sunday and it will be full of holiday goodness. Thanks for reading and have a wonderful weekend!