How to bind an inside corner
I have an easy method for binding an inside (inverted) corner to share with you today.
Since my next project for the Christmas Once a Month series has inside corners that can be a bit puzzling at first, I thought I would show you how easy it can be!
Here is a peek at the non-Christmas version of this project (although, now that I look at it, it could pass for Christmas).  It's a table topper that has a little bit of applique, but it's really easy to make.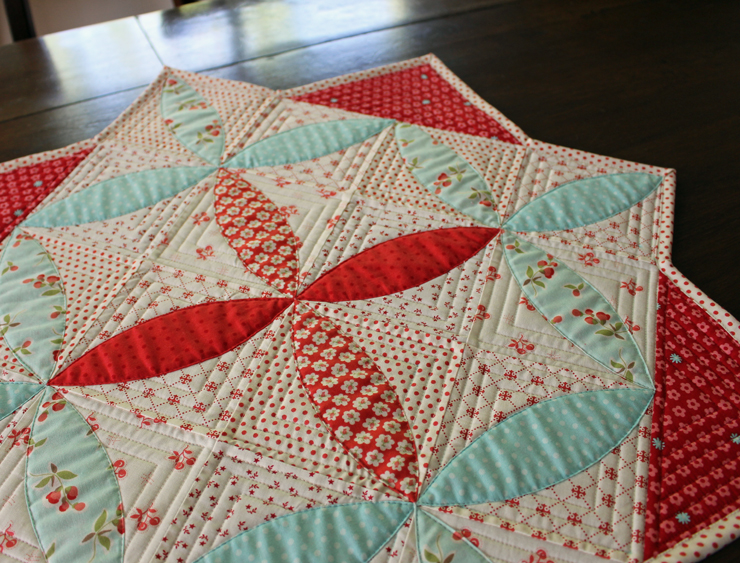 I'll have the full tutorial for you on June 15, but for now let me show you how to bind the inside corners (which there are 8 of).
Step 1.  At each inside corner, clip a very scant 1/4″ into the angle with small scissors.  This is going to allow you to pull the edges of the quilt straight in steps 6 and 7.
Step 2.  As you come to each inside corner, draw a 1/4″ line from the raw edge of your binding strip that is even with the incoming edge as shown:
Step 3.  Draw a line on your binding strip that is 1/4″ from the raw edge of the outgoing edge as shown and intersects with the previous drawn line:
Step 4.  Your drawn lines will create a pivot point like this:
Step 5.  As you're stitching the binding, stop with the needle down at this pivot point.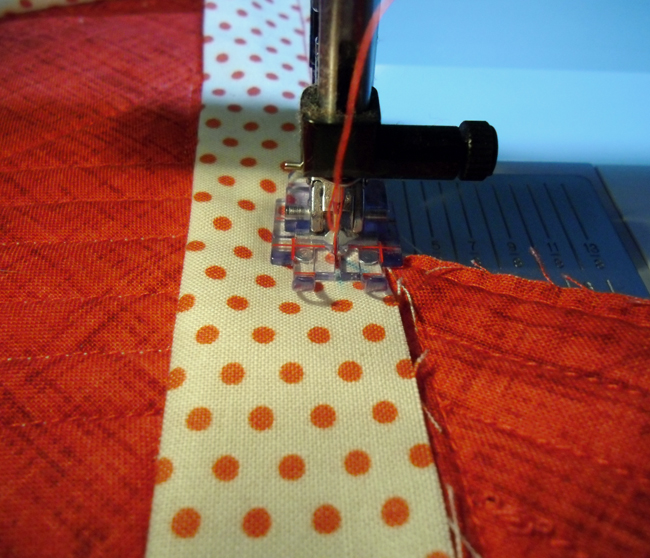 Step 6.  Pull the edge of the quilt in front of the needle so that it is straight and even with the edge of your presser foot.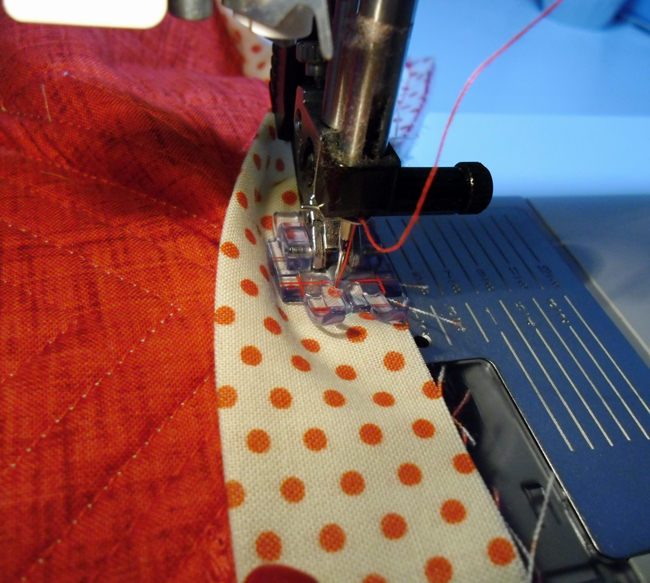 Step 7.  Pull the edge of the quilt in back of the needle so that it is straight also, forming a long, straight line from front to back.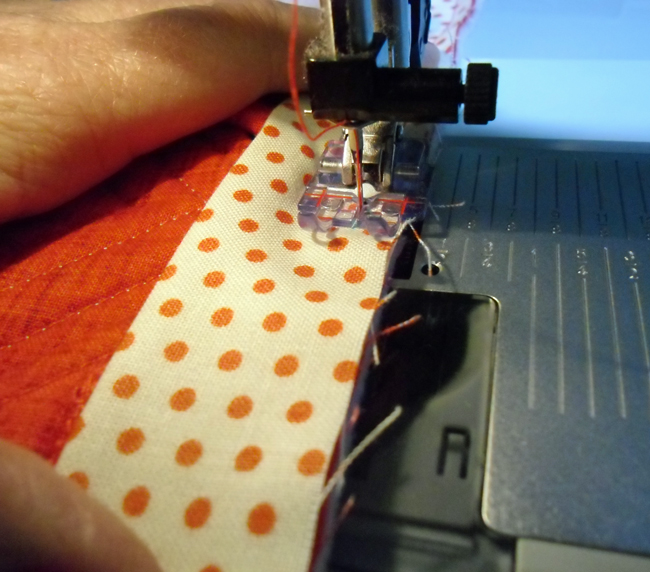 Step 8.  Continue stitching until you reach the next corner.
That's it!  The trick is clipping the seam allowance and pivoting at the correct spot.
For this particular project, I have stitched my binding onto the back of the quilt and then wrapped it around to the front.  Here is what the back side will look like:
You don't get an actual "pleat" or "tuck" as you would at a right angled corner. Just an ease that allows the corner to bend and lie flat.  This is what the front side will look like:
I finished my binding by machine.  I stitch as close to the fold as I can and the stitching on the back is barely noticeable (with matching thread).
I do a lot of bindings this way:  stitch onto the back, wrap to the front and stitch by machine.  Quick and easy!
And just for my own satisfaction, I have to show you a picture of my fingernails.
I'm always using pictures that show awful looking hands and fingernails.  Who has the time to get their nails done when they could be sewing?  Well, I treated myself for my birthday so I had to show you!  Ahhh, I wish they would stay this way.
Happy Quilting!