Sew Thankful Sunday, 10.13.2013
Welcome to Sew Thankful Sunday!  I have eight items to share from the blogosphere today that I am sew thankful for!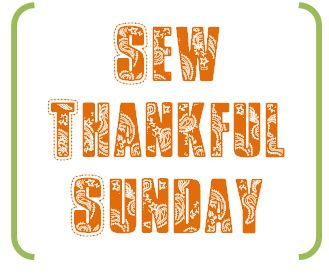 (Remember, you can click on any of the images in this post and it will open up a new tab with the associated link).
1.  Amy at Positively Splendid has made the most adorable patchwork pumpkins.  She shares all of the details on her blog, including three size options!  Perfect for using up your scraps, too.
2.  Anyone collecting teapots?  Konda at Moose on the Porch Quilts made a lovely paper pieced one and you'll want to add it to your collection.  She has a free pdf pattern just waiting for you!
3.  Has a double wedding ring quilt been on your bucket list?  If so, then Cristy at Sew Much Like Mom is here to help!  She is hosting a Double Wedding Ring Quilt Along and it looks like the perfect opportunity to get started on your own!
4.  Leanne at She Can Quilt is hosting this year's 2013 Finish-A-long (FAL).  Every quarter, you can link up a list of finishes that you plan to accomplish in the next 3 months.  There are three days left to join the FAL!  She also has had many guest tutorials for each quarter and you can find the complete list of tutorials here.
5.  If you have a pile of skinny fabric scraps lying around, you can turn them into a beautiful quilt top!  Sherri at A Quilting Life has a great tutorial to make string quilt blocks that will put a pretty dent in that pile!  Easy peasy!
6.  I recently ran across a great post on binding tips at Sew Fresh Quilts.  Lorna has rounded up some great tutorials for different ways to finish binding a quilt by machine, plus she has a few tips of her own.  It's a must read!
7.  Ingrid from Sewing Lab has a Pumpkin Candy Case Tutorial that will add the perfect Fall touch to your home.  And it looks like the perfect place to hide a candy stash!
8.  Amanda from The Patchsmith is starting a new quilt project and you can follow along with her!  The Patchique Quilt Project will consist of a total of 49 (9″) blocks based on the book, Japanese Taupe Quilts by Susan Briscoe.  I happen to have that book, so I'll be following along!  You can find all of the details here.
Thanks to the wonderful work from everyone that was featured today and thanks for joining me!  Enjoy the rest of your Sunday!