Two Tote Bags and a Stabilizer Comparison
My youngest daughter needed a tote bag for books, so I made two tote bags, one for her and one for me!
The pattern is the Super Tote Pattern from Noodlehead.
I love the end product, but it was a challenge for me.  I don't consider myself an expert in the bag making field, but I'm not a beginner either.  So, I had to read and re-read the instructions for the zipper, but I finally got it!  And the piping had me a little confused too.  I haven't worked with pre-made piping so I didn't realize the 1/2″ size that was suggested wasn't talking about the "raw" piping but the pre-made piping.  There's a big size difference!  I ended up making my own piping as shown in the photo below: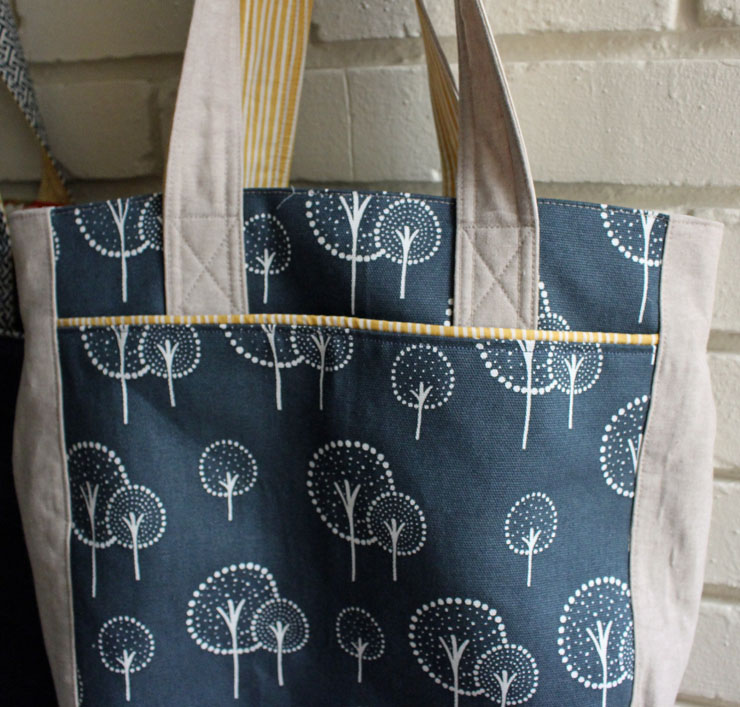 Now let's talk stabilizers.  For the first tote bag (solid blue), I used quilting cottons so I needed a strong interfacing/stabilizer.  I had a package of Soft & Stable by Annie that I've been wanting to try out so that's what I used.
This is a thick stabilizer and it practically makes the bag stand up by itself!  Some of the seams got a little thick when top stitching, but it definitely does create a stable bag.  I didn't think I liked it at first, but it's growing on me.  This is a sew-in stabilizer and I like the fact that you don't need to quilt it.  And there's no creasing or puckering.  And it's very lightweight.  It's used in the bag on the left: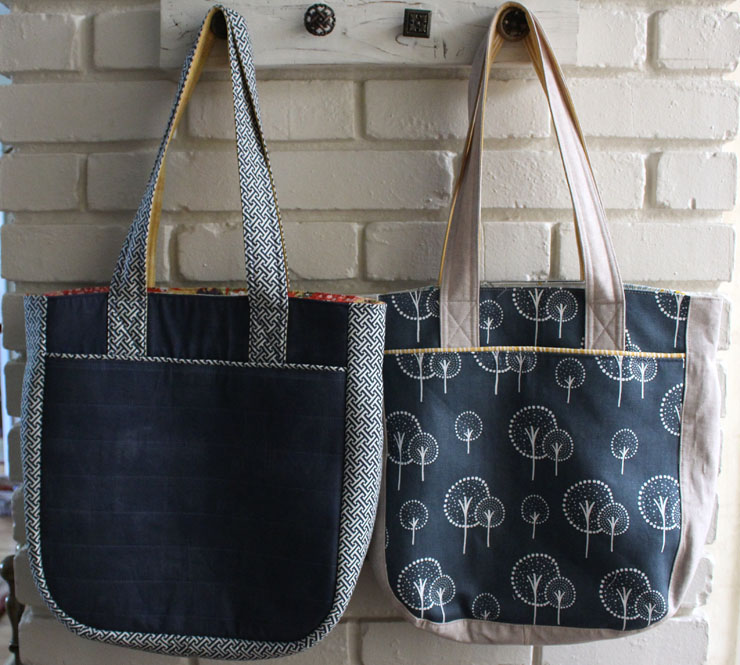 For the second bag, I used Pellon SF101 as suggested by the pattern when using a canvas type material.  This is a woven, fusible interfacing.  For the main bag body fabric I used canvas (Glimma by Windham Fabrics) and I used Essex linen for the sides.  The Pellon did cause crinkling on the linen which is common in my experience.  This bag has a softer drape than the other one.  I like it too.
So I think I would use the Soft & Stable in projects such as an iPad or computer case, or a bag that doesn't have a lot of layers or seams.  The Pellon SF101 worked great with the canvas fabric.  I don't like it for cottons or linens.
There is a great blog post by Sara @ Sew Sweetness that sheds a lot of light on different bag interfacings.  I highly recommend reading this one!
Here are some of the modifications I made to the Super Tote Pattern:
I put one pocket on the inside of each bag and I didn't add elastic as instructed.  They are divided down the middle.
I love the zipper too!  It's so nice to be able to close a bag when you want to.
There is one outside pocket on the front of each bag.  I put a magnetic closure on one of them (an option in the pattern):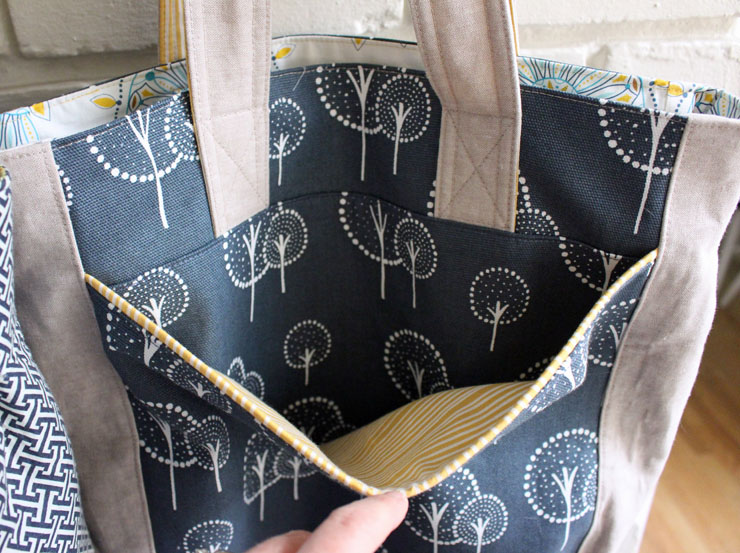 I made my gusset pleats a little smaller (1/2″ smaller) than the original pattern.  This was just because I thought my Sara would like the look of the bag better that way.
Overall, I love this tote bag.  It's the perfect size for an outing, to carry books, or to take on a trip.  It really is Super!
I have a little ghost guarding my front door.  He likes the new tote bags too!
I can't wait to try one out!