Sew Thankful Sunday, 01.19.2014
{I am frequently visiting other blogs and I'm always amazed at the talent and passion that I see along the way.  Since I love sharing these new "finds" with you, I created Sew Thankful Sunday.  My way of giving back to the quilting community and sharing great content with you at the same time!}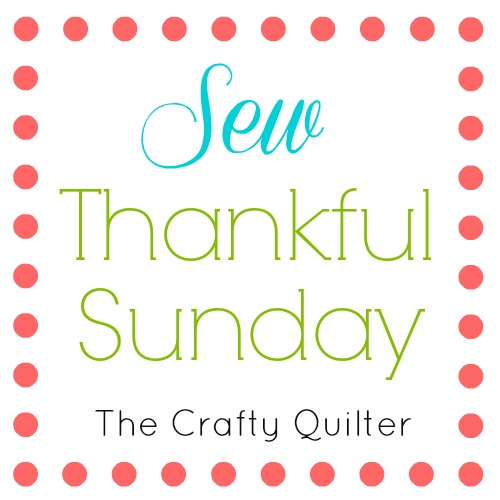 I am so glad you're joining me today as I share some wonderful ideas with you from the blogging community that I am sew thankful for!
(Remember you can click on any of the images in this post and it will open up a new tab to the associated link).
1.  Let's start with a new block of the month program at Quilt Doodle Doodles for 2014!  January's block is just the cutest snowmen and it's a whole row of them!
2.  The Fat Quarter Shop has just announced their 2014 Designer Mystery Block of the Month which starts in June.  Last year's BOM sold out within the first month, so if you like this one, don't wait too long!
3.  Jennifer at Ellison Lane has just started a new series called The Crafty Traveler.  "It's a celebration of traveling handmade and in style with cute and pretty handmade bags, purses, totes, pouches and more."
Her first project is the Crafty Traveler Tote Sew-Along.  So far Jennifer has posted the supplies, cutting instructions and handle tutorial.  I'm going to have to get busy!
4.  Cynthia at Dream Quilt Create recently featured a tutorial to make this beautiful lined fabric basket.  I love how she's using it!  I'll take one in every color, please.
5.  Have you ever participated in a "swap"?  Me neither, but I think I'm going to give it at try with Amy at Amy Made That!  She's hosting a Skinny Pincushion Swap and you have until January 31 to register and then February 28 to mail your pincushion to your swap partner.  That's one way to get "skinny"!
6.  If you have been squeamish about applique, check out Kay Mackenzie's blog, All About Applique.  Not only is she an expert at applique, she has authored several books and she's offering The Applique Self Help Brochure as a free download at her blog!
7.  I love little projects and this Sewing Time Needle Book by Monica of The Happy Zombie is just sew cute!  Perfect for a quick gift and to keep you organized.
8.  If you want to keep working on Christmas projects throughout the year, check out A Handmade Christmas Challenge at Sew Cal Gal.  Each month you can link up something you made for the holidays and be entered to win a prize!
Thanks to all of the blogs featured today and thanks for joining me!  Enjoy the rest of your day!