Blossoms of Hope Quilt Block Tutorial
I am so excited to share with you my new quilt block tutorial, Blossoms of Hope.
Thank you to everyone who shared their wonderful ideas for a name!  It was not easy to pick just one, and I loved the theme of "hope" that so many of you suggested.  In the end, I chose Blossoms of Hope which was a compilation of "Hope Blossom" from Lee, "Blooms of Hope" from Jan and "Hope Blooms Eternal" from Lisa Marie.  In appreciation, I will be sending you three a thank you package next week!
I created this block as my contribution to the For Pink's Sake Blog Hop hosted by Anna at Life Sew Crafty.  You can find my turn for the blog hop here.  That quilt block is being sent to Anna to be combined with others for a charity quilt to raise funds for a special breast cancer patient.
The fabrics I'm using for today's block are from Emmy Grace by Bari J. for Art Gallery Fabrics.  I love the sweet sophistication of these fabrics.  I'm thinking of making more blocks for a baby quilt for a little girl that will be here any day now.
So let's get to the tutorial!
Blossoms of Hope Quilt Block,  finished size: 12″
Fabric requirements:
Background:  (1) fat quarter
Medium (pink):  (1) fat eighth or scraps
Dark (magenta):  10″ square or scraps
Center (grey floral):  5″ square (more if you're fussy cutting)
Cutting Instructions:
Background:  (2) 2″ x 14 1/2″ rectangles, (3) 5″ squares, (12) 2″ squares
Medium:  (1) 2″ x 14 1/2″ rectangle, (2) 5″ squares
Dark:  (4) 2″ squares, (1) 5″ square
Center:  (1) 3 1/2″ square
You will be creating three different units for this block:  rail fence, corner blossom, and square-in-a-square.
Piecing Instructions:
Rail Fence Units:
Stitch together the (2) 2″ x 14 1/2″ background strips to each side of a 2″ x 14 1/2″ medium (pink) strip.  Press seams toward center strip. 
Cut into (4) 3 1/2″ segments.  Your units should measure 3 1/2″ x 5″.
Center Square-in-a-Square Unit:
Draw a diagonal line on wrong side of (4) 2″ background squares.  Place one square on each corner of the 3 1/2″ center square and stitch on the drawn line. 
Trim seam allowance and press toward corners.  It should measure 3 1/2″ square.
Corner Blossom Units:
Make (8) half square triangle (HST) units from (1) 5″ background square and (1) 5″ dark square, and make (16) HST units from (2) 5″ background squares and (2) 5″ medium squares:  draw an "X" on the wrong side of each background square. With squares right sides together, stitch 1/4″ on each side of the drawn line.
Cut each square in half vertically using the 2 1/2″ line on your ruler as a guide.  Repeat on the horizontal line.
Now cut along the diagonal lines. 
Press dark/background HST's toward dark.  Press med/background HST's toward background.
Trim to 2″ square. 
Create corner units by arranging (4) medium HST's and (2) dark HST's, (1) 2″ dark square, and (2) 2″ background squares as show below. 
Stitch pieces into rows.  Press center row towards middle.  Press top/bottom rows towards outside.
Stitch rows together, matching seams.  Press rows to outside.  This unit should measure 5″ square.  Make 4. 
Block Assembly:
Arrange rail fence units, corner blossom units and center square-in-a-square unit as shown below: 
Matching seams, stitch units together to form a row.  Press the center row towards the outside and the top/bottom rows toward the middle.  
Stitch rows together.  Press to the outside. 
Your block should measure 12 1/2″ unfinished.
You can play with the color placement of your fabrics.  The original block that I made had 3 fabrics total.  For this block, I wanted to sneak in this amazing floral fabric, so I used it in the center square unit.
Now, go play with your fabric stash and make some Blossoms of Hope quilt blocks and then send me a picture!  I would love to see them.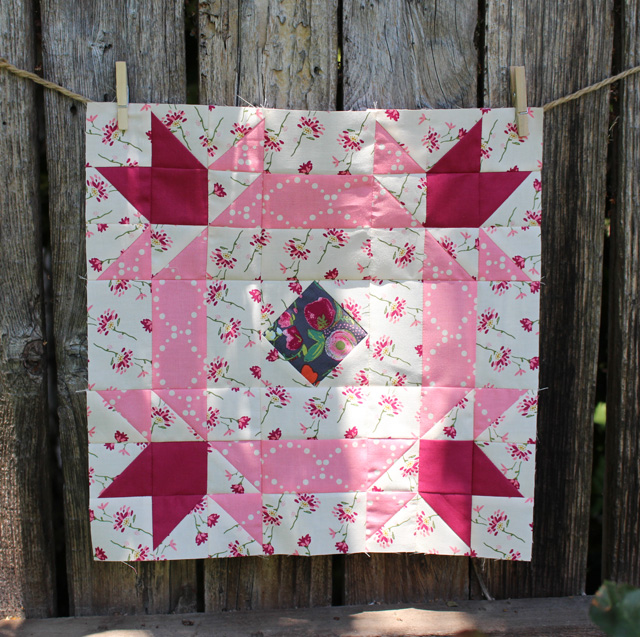 I could schedule a "quilt along" using this block as the core of a quilt.  We could make a quilt together and I would walk you through the steps with lots of tips along the way.  And we could each make one extra block for breast cancer fundraising. Does that sound interesting to anyone?  Let me know, and I'll start planning!
Please note that I haven't had this pattern tested by anyone but me.  (You're all my guinea pigs!)  If you find any errors or if something doesn't make sense, please let me know.  Thanks everyone for joining me, and have a great day!