How's everyone doing out there? Sheltering in place is a blessing in disguise for many, especially if you have a creative hobby that you love. I've been happily working on some new BOM (block of the month) blocks that I'm loving.
First up is the Safe At Home Modern Row by Row Quilt from Sara at Modern Handmade. "This will be an 8 week Quarantine Quilt-along! The price of the pattern is $25. Each week you will be emailed the week's new block as a digital download. Then you will use the block to complete a row of the quilt. At the end of the 8 weeks you will have a gorgeous modern lap size quilt!"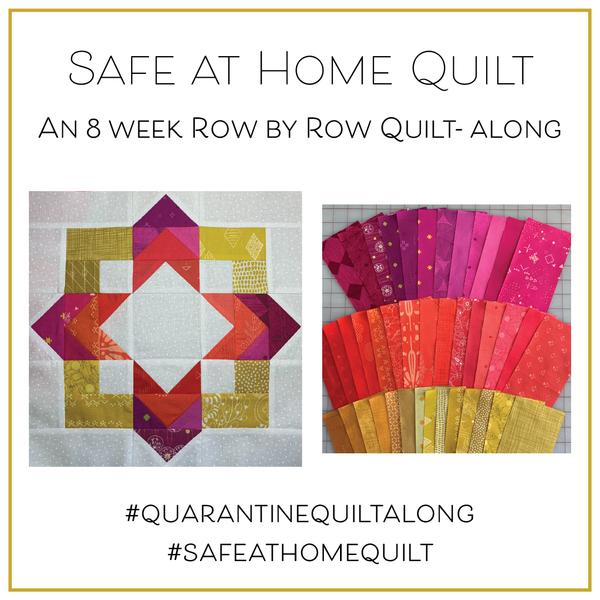 I just finished the week 1 blocks and I love them so much! They are intentionally very scrappy and my color palette is salmon and grey (by request of my daughter, Sara). This will be a quilt for her new apartment in San Francisco.
There are a total of five identical blocks for row one that finish at 12″ square. I thought the center square was a good opportunity to use a fun print that coordinated so well with the other fabrics. The print fabric is from the Nature Walk collection by Tamara Kate for Michael Miller Fabrics. It's an older line of fabric that I've had in my stash for a while.
One small thing that happened to me while sewing the block sections together was the bottom seam flipped to the other direction. Usually I like to nest my seam allowances, but this time I pressed them open to reduce bulk. Once the seam allowance is flipped over, it doesn't lay flat any more. I'm sure that's happened to you before.
It's an easy fix though. I just snipped into the seam allowance just a few threads away from the seam. This allows the rest of the seam to stay pressed as originally intended.
I did a full blog post on this topic a few years ago: How to fix and prevent flipped seam allowances. You'll find an easy way to prevent this from happening in the future. I obviously need to follow my own advice!
The other BOM blocks that I finished this week were for the Timeless Tradition BOM that I'm co-teaching at The Granary Quilt Shop. This month I taught in a Zoom meeting (which means it was a virtual class). It was my first time teaching virtually, and I think it went OK all things considered.
Each month we make one 12″ block and two 6″ blocks. The 12″ block is really fun and I love the design. I need to give credit to my co-teacher, Dianne, because she picked the fabrics for me and did most of the piecing. I just had to finish things off.
This 6″ block is really sweet, too. I'm liking this color palette and each month I get excited about the whole quilt!
This last block is definitely more advanced. I tried to re-figure the instructions to make the piecing easier. It's done with all triangles rather than a stitch and flip method using squares and rectangles. The flying geese measure 1 5/8″ x 2 3/4″ unfinished (so there's that.) After putting it all together, it is too big and the edges aren't straight.
Honestly, this doesn't happen to me very often. But I'm glad it did. This is a perfect learning AND teaching opportunity. I plan on doing a separate blog post on why your blocks don't measure what they're supposed to. Isn't it great how life gives you these obstacles lessons? I'll be re-making this block and sharing my tips with you.
I have slowed down on making face masks. I'm so glad that my tutorial has been helpful for many of you. If you're interested in a face mask kit, The Granary has them available here.
I even taught my daughter, Nicole, to make a face mask while Facetime-ing on Sunday. Nicole had never touched a sewing machine before, so I had to get through the functions of the machine and then some terminology first (it's called thread, not string). It was a funny exchange and she actually made a face mask! I'm so proud of her. She says if I can teach her to sew, I can teach anybody. Ha ha!
Other creative outlets have been keeping me busy, too – besides all of the cooking! Sara and I did a little watercolor lettering for Earth day. This was part of my Let's Make Art subscription box and we had fun trying something new. Thankfully, there are free YouTube videos that go with the lessons.
Sara recently finished a California State embroidery project. It turned out so cute! This was her first time doing embroidery, and I was able to teach her a little from my very minimal experience. It's funny how you take basic knowledge for granted; like what the eye of a needle is!
This embroidery project was a kit from LemonMadeShop on Etsy. It came with everything you need to make it including a really comprehensive stitch guide.
The weather has been beautiful this week and we've been enjoying the warm sunshine and open windows. I had lunch on the front porch yesterday while I got caught up on my latest McCall's Quilting magazine.
Our daughter, Sara, has been working from our home this week, and this was her view yesterday. Zoe is her furry cat and happy to have Sara home for a while.
Thanks for spending some time with me today. I hope you're staying healthy and keeping the creative spark alive!