A few finishes for Friday
I have a few finishes for Friday to share with you all.  But first, I want to say thank you for all of the awesome comments from my challenge on Wednesday to share the love of a quilt with a friend.  Your stories have been amazing and truly heart warming.
Speaking of that challenge, I have finished my 3rd Color My Heart Mini Quilt.  (The pattern can be found here.)  Just one more to go!
There are four things that I really love about this quilt.  The first thing is the scissor print found in the outside border.  How cute is that!  It's just enough to say, "hellooo quilter".  The second thing I love is the ombre binding.  I used two color ways of Vanessa Christenson's ombre fabric from Moda.  It has great impact!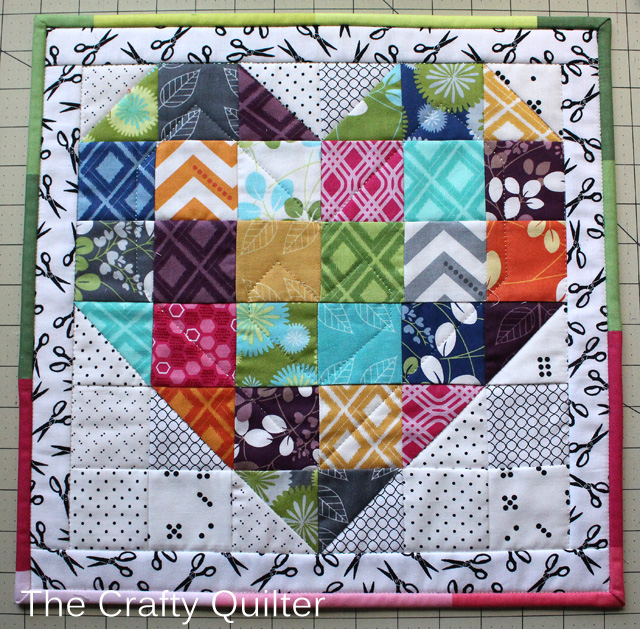 The third thing I like is the simple quilting.  I used Sliver thread by Sulky in Opalescent which is an iridescent metallic and it gives things a little sparkle.  I stitched in the ditch with it and I duplicated the heart shape inside with it (twice).  That sparkle gives the quilting just as much kick as fancy quilting would (with much less effort!).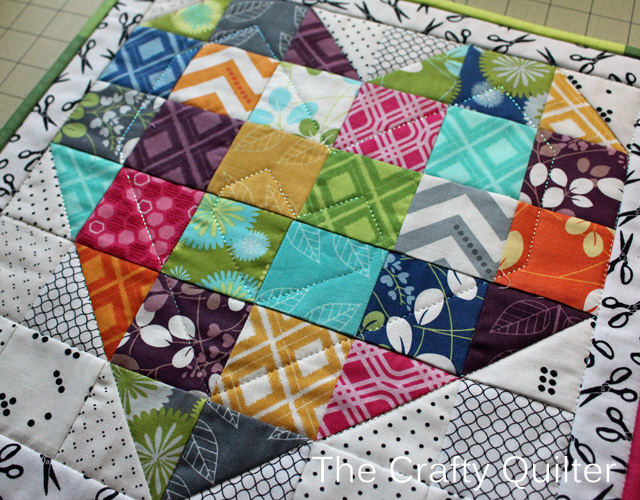 And last is the backing fabric.  This was a fat quarter of Anna Griffin fabric that I've been hanging onto.  It looks great with the binding!
I'm sure you've all heard of the Swoon quilt pattern by Thimble Blossoms.  It was on everyone's "make it" list when it first came out.  I made one several years ago as a shop sample.  I also taught a class on how to make it at The Granary Quilt shop.  I've had this one, unfinished block in my sewing room that I wanted to do something with.  So, I turned it into a table topper with the addition of some corner triangles.
It's going to be a birthday present for my mom.  I used some old Fig Tree fabric for most of it, and it's perfect for the upcoming fall season.  It makes me want to make some pumpkin muffins and have a cup of tea!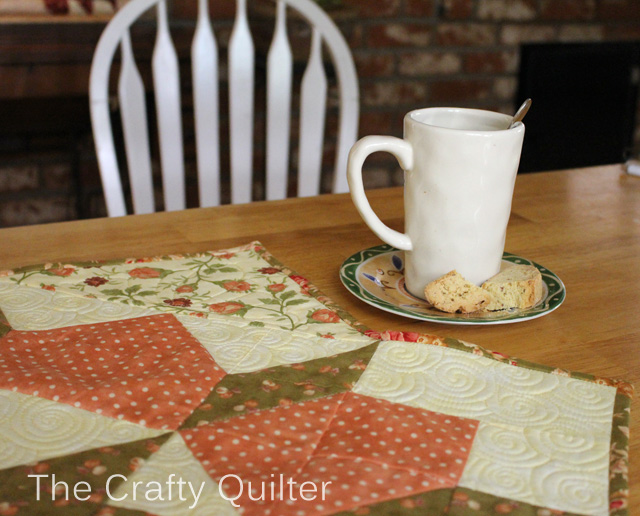 I had to quilt it in a hurry, so I did some large spirals in the yellow areas and found a stencil that fit perfectly in the center.
I took pictures along the way, so I'll have a quick tutorial on Sunday showing you how to add the corner triangles.  It really adds to the size and versatility of this single block.
That's it for now.  Thanks for stopping by and have a great weekend!