How to turn a Swoon block into a table topper
As promised from my previous post, today I'm going to teach you how to turn a Swoon block into a table topper.
The Swoon quilt block comes from the pattern, Swoon, by Thimble Blossoms.  Each block finishes at 24″, so it's a really large square that can be used in many ways:  the center of a medallion quilt, a wall hanging or a table topper.
October 2015 update:  Many new people are visiting this page and asking for a pattern for the block used in my table topper.  I don't have one as I used the instructions from the pattern, Swoon, as mentioned above.  I have researched and found several free tutorials (thank you bloggers) for a similar block measuring 24″ (this size is key).  You can find the Star Surround block tutorial at Happy Quilting; the All Hallows Quilt Block tutorial at About.com; and the Ice Star Block (paper pieced) at Sew What Sherlock.
Turning this large square into an interesting and beautiful table topper is easy peasy!  And it would work with any large size block.
So, you'll need to start with a 24″ quilt block.  If you're interested in making a Swoon block, you can buy the pattern at your favorite local quilt shop or you can find one here.
Supplies:
24″ quilt block
1/4 yard (or fat quarter) fabric for the side triangles
3/4 yard fabric for the backing
1/4 yard fabric for the binding
Cut (2) 9 1/4″ squares for the side triangles.  Cut each square in half diagonally to make four side triangles.
Stitch the long side of each triangle to the middle of each side of the 24″ quilt block, making sure to match centers.
That's it!  Now you have a table topper ready for quilting and binding!
For my batting, I used Pellon Thermolam which is made out of polyester.  It holds its shape well and doesn't shrink.  It's my favorite product to use in table runners/toppers and mug rugs.
I stitched in the ditch along the main seam lines and did some spirals in the open, yellow spaces.  I found a stencil that was just right for the center.
The hardest part of this project is going to be the binding.  There are some odd angles in there and twice as many corners to go around.  I have a great tutorial, How to Bind an Inside Corner, that will walk you through the steps.  It's really not hard!
As soon as I finished this table topper, I gave it to my mom for her birthday.  She loved it! This is what it looks like on her table: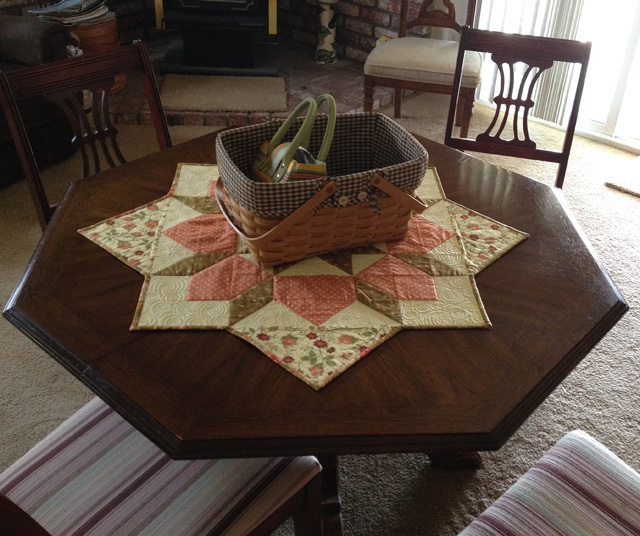 This sits perfectly on her octagon shaped table!  I think it would look great on a round table, too.  And it's even nice on my rectangular kitchen table.
I made a similar shaped table topper for Christmas last year.  This is the Winter Seeds Table Topper.  It has been one of my most popular tutorials!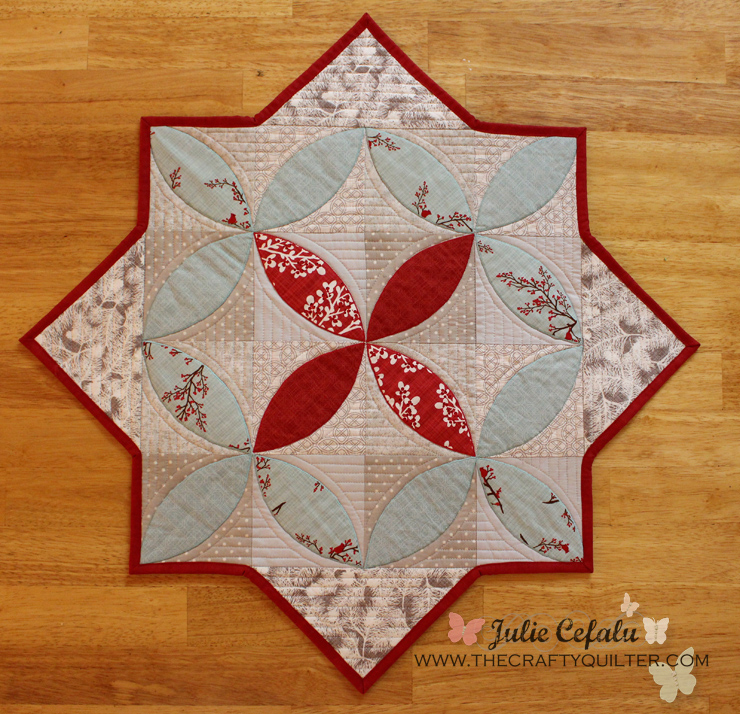 Are you ready to make your own table topper?  With the holidays around the corner, now would be a perfect time to start!