Giveaway winner and applique results
I have picked a winner for July's Cozy Afternoon BOM giveaway.  It's comment #104, Marlene, who prefers the look of hand applique, but finds that some projects don't warrant the effort and time of hand work.  I agree that you have to pick the right project for all of that special attention.  Marlene, you'll be receiving a pdf package of the patterns shown below.  Congratulations!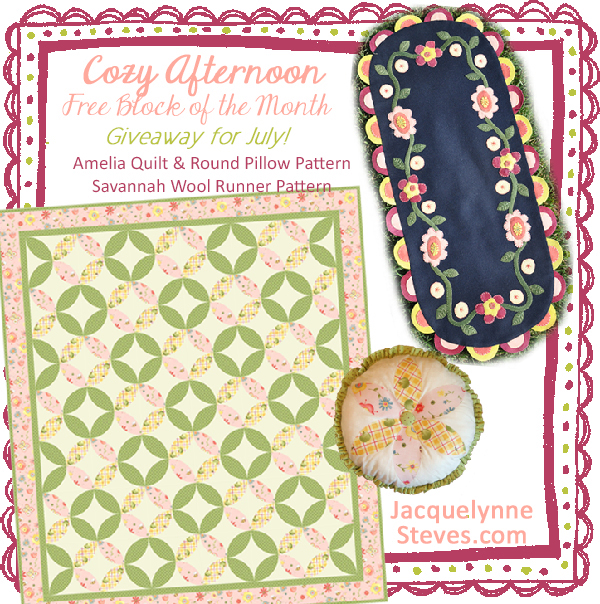 I appreciated all of the comments I received on this month's Cozy Afternoon BOM.  I asked you to tell me if you have ever tried applique and if so, which technique you prefer.  I enjoyed reading all of your answers.  I even tallied them up and thought I'd share the results with you.
The most popular method in this group was machine applique, with 30 of you preferring that method.  The biggest reason:  it's quicker!  One person said that poor eyesight prevents her from doing hand applique.  I'm beginning to "see" what she means!
The next popular category I showed was BOTH.  Many of you (24) like to switch it up, depending on the size of the project and the time frame you're working on.
Hand applique was a close third with 19 of you preferring that method.  I enjoyed reading some of the reasons for this technique:  "I don't drive straight by machine" and "It's soothing to my soul".  I can relate to both of those!
I was happy to see that 9 commenters wanted to learn applique soon and five people enjoyed doing wool applique (something I'd like to learn).
There are SO many ways to do applique.  Some of the methods mentioned were freezer paper, needle turn, blanket stitch by machine, envelope style, back basting and edge color applique (a new one to me).
I'll be doing a round up of applique methods and tutorials soon.  I hope you all have a great day!