It's time for the third block of Jacquelynne Steves' Cozy Afternoon BOM.  If you haven't joined the fun, it's not too late!  You'll receive all of the previous block instructions as well as the current month.  You can sign up here.  Invite a friend and it will be twice as much fun!
This month's block is another adorable tea cup centered in a pieced frame.
I had one of those "Wow" moments when I was following Jacquelynne's instructions for this month's block.  She has a really cool trick to make the type of units which are located in the corner squares (shown below).  It's worth signing up for the BOM just to find out how Jacquelynne made this unit super easy and precise.
For the sides of this block, I strip-pieced the center rectangle and the squares together which improved my accuracy (and speed). I used a 3 1/2″ x 9″ rectangle for the center and two 2″ x 9″ rectangles on each side.
The applique turned out really well.  I used a small zig zag stitch to mimic the string of the tea bag.  I also used blue thread to stitch around the tea bag which is a great way to accent a color like yellow that might not have shown up well otherwise.
This block of the month is so much fun!  I love how it's turning out.  If you missed my first two months, here they are all together on my design wall.
Jacquelynne has provided another generous giveaway this month.  You can win her Amelia Quilt & Round Pillow Pattern plus her Savannah Wool Runner pattern.  All you have to do is leave a comment here and tell me if you've ever tried applique before.  If so, which method do you prefer?  You have until midnight (Pacific time), July 19 to enter. Giveaway is now closed.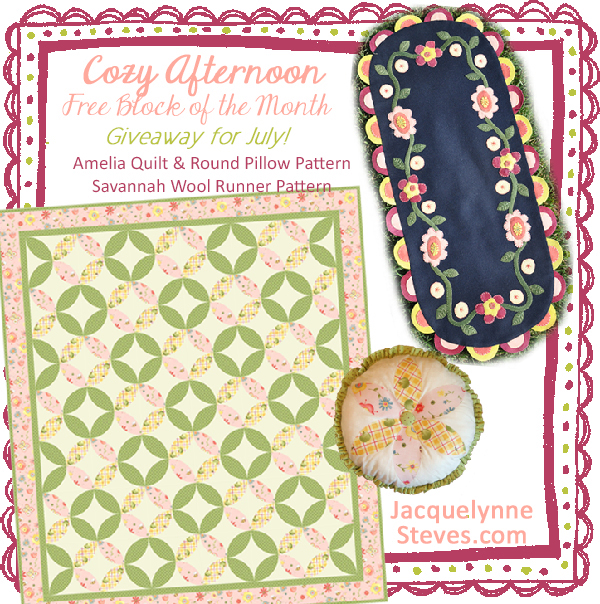 You'll have more chances to win the giveaway (now closed) if you visit the other featured bloggers and leave a comment on their blog.  It's also fun to see what fabrics they've chosen to work with and any tips they might have.  Here's the list of participating bloggers:
A Quilt and a Prayer
Lily Pad Quilting
Red Letter Quilts
The Crafty Quilter (that's me!)
44th Street Fabric
Kathy's Quilts
Thanks for visiting me today!