Sew Thankful Sunday, September 2019
{I love the idea of "paying it forward". I think the world would be a better place if we could spread some joy and acknowledgement of good deeds done by others. I try to do that once a month for my Sew Thankful Sunday posts. I highlight some great content that I've found on other people's blogs that I hope will inspire you and reward the originator by bringing traffic to their site. If your blog has been mentioned without your consent, please let me know and I will take you off the current list of featured bloggers.}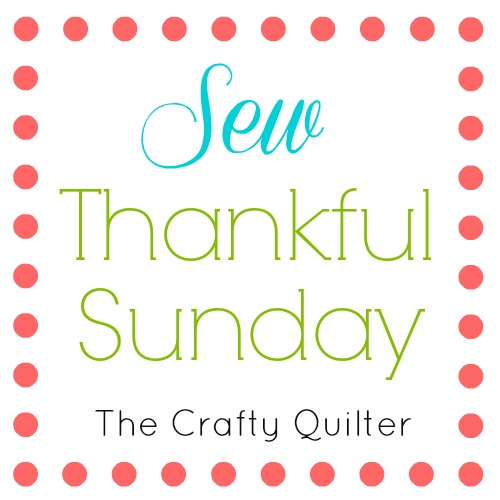 I love September. Leaves are falling, apples are in season, and the temperatures become milder. It's also back-to-school for many of you with children and a great time to organize and plan for the months ahead. Plus decorating for Fall is my favorite! I'm sure you'll be inspired for all of these things after reading today's Sew Thankful Sunday post. Enjoy!
Note: If you use Pinterest, please pin from the original source and not this blog post. Remember, you can click on any of the images in this post and it will open up a new tab to the associated link.
Back to School isn't just for kids! Check out the Back to School BLOG HOP hosted by Sam at Hunter's Design Studio. You'll find all kinds of new lessons to be learned for quilters and sewists!
2. This Back to School Mini Purse by Minki Kim for We All Sew is a great addition to a child's backpack. There's room for a small surprise, a favorite snack or a BandAid (just in case).
3. Get ready for the Starstruck Quilt Along at Happy Quilting. Melissa has once again designed a beautiful, free quilt design that you can quilt along with. It just started with the release of the fabric requirements and will continue until October 23, 2019
4. It's the perfect time to make some fall leaves in the sewing room with this Classic Maple Leaf Quilt Block Tutorial by Amy at Diary of A Quilter. She gives you three different size options so you can create whatever you want!
5. We all have our favorite way of binding a quilt, but I'm always discovering little tips from others that can be so helpful. This was the case when I read The Art of Quilt Binding by Vanessa at Lella Boutique. Her quilt bindings are beautiful and you'll love her technique for sewing it all by machine.
6. I recently discovered the Little Miss Sawtooth Quilt Along by Melanie at Southern Charm Quilts has just begun and is being sponsored by Havel's Sewing. This will finish up in January, 2020, and it's perfect for beginners and fun for everyone.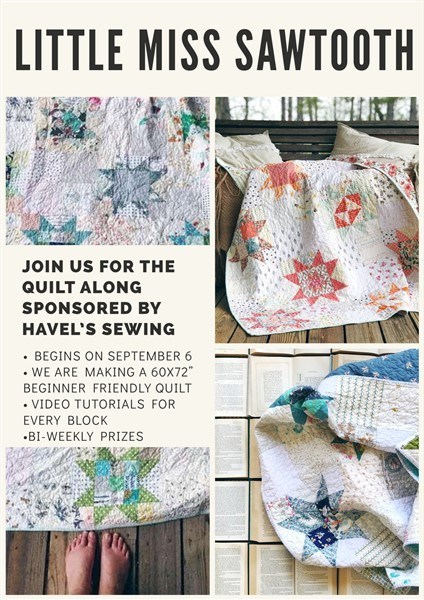 7. I'm excited to tell you about the nonprofit group, Sew Powerful, and their Sew Powerful Purse Project. I first read about this project at Lindsay Sews, and Lindsay shares all of the details so well, that I think you should start there. Basically, "these handy little bags have pockets to hold reusable feminine care products, which allows girls to stay in school all year long and improve their academic performance." This project is going on my must-make list!
8. The beginning of the school year is a perfect time to whip up a new tote bag. For a great, free pattern check out the DIY Tote Bag with Tablet Pockets Tutorial by Vicky at Vicky Myers Creations. I love how she encourages the upcycling of materials when selecting fabrics.
9. It's a known fact that we quilters have a lot going on at all times. So, I appreciated this blog post by Amira at The Little Mushroom Cap on 10 Ways to be more Organised with your Quilting Projects. She has some great ideas here!
10. It's apple season you guys! My next baking project is going to include this Caramel Apple Crisp recipe from Jamie at My Baking Addiction. I'm so excited for this!
I don't know about you, but I'm ready for some Fall sewing, organizing and baking! Thanks to everyone featured today for your awesome inspiration and ideas. Have a great day!