Quick gift: Fabric covered clothespins for the sewing room
I try to make a handmade gift for my co-workers each year, and I'm happy to say that I just delivered them yesterday so now I can tell you about it!
These fabric covered clothespins were an easy gift to make, and they can be used in the sewing room, too.  Since I work in a quilt shop, my co-workers will (hopefully) appreciate that little detail.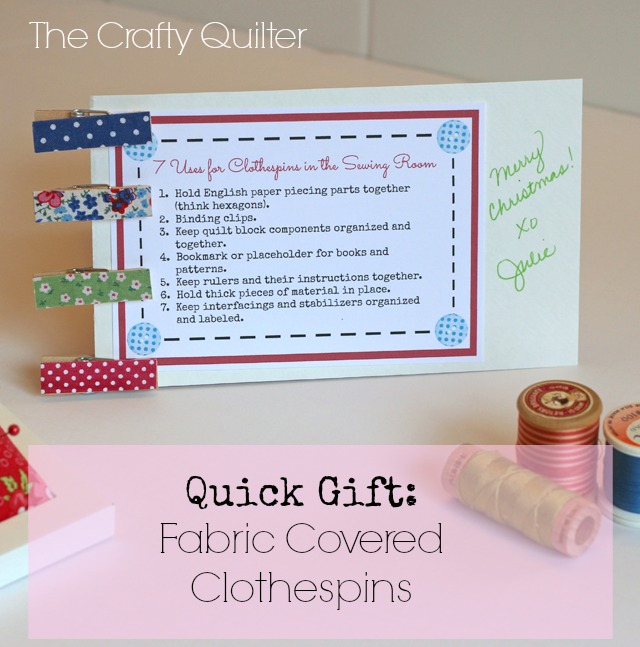 I printed out a little graphic on cardstock titled "7 Ways to Use Clothespins in the Sewing Room" and clipped the clothespins to it.  You can download the pdf file here:  Clothespin Uses  You may have to shrink it to fit your paper.
Since the clothespins are a little heavy, I had to add them to a piece of sturdy watercolor paper (it was all I had). This gave me a place to add a little note so it worked out great.
Here's what I included in my list:
Keep rulers and their instructions together.
Hold English paper piecing parts together.
Binding clips.
Bookmark or placeholder.
Keep quilt block pieces together and organized.
Keep interfacings and stabilizers organized.
Hold thick pieces of material together.
They're perfect for keeping your specialty rulers and instructions together.  I'm always trying to find one or the other.
If you're an English paper piecer, you'll love using it to hold your pieces together as you stitch.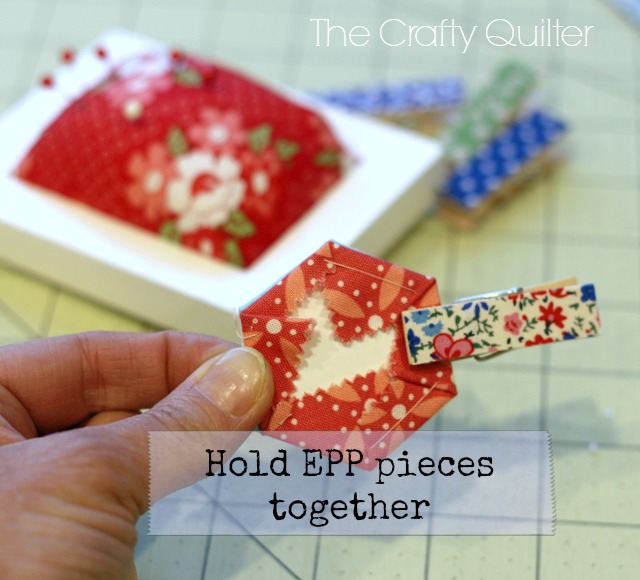 Use them to hold your binding in place, rather than pins or clips.
They also come in handy when you have thick or heavy materials to sew together.  Pins are never sturdy enough for that job. (no picture)
If you can't find a bookmark, a clothespin will hold your place for you.
Keep your quilt block pieces organized and in one place with a clothespin (or two).
Corral all of those pieces of interfacings and stabilizers into one place along with their instructions.
I found these clothespins at Michael's and they're the perfect size.  Not too big and not too small.  They come in a package of 30 for less than $4.00.  The fabric tape was also from Michael's and they come in a package of 3 coordinating prints.
The only other thing you'll need is scissors or a rotary cutter to cut them to size.  I cut them into 1 3/4″ segments.  They were a little too wide so I trimmed 1/8″ off of one long side.  That's the hardest part, but if you have the right tools it won't take long.
Once they're the right size, all you need to do is peel back the paper and apply to the top and bottom of the clothespin.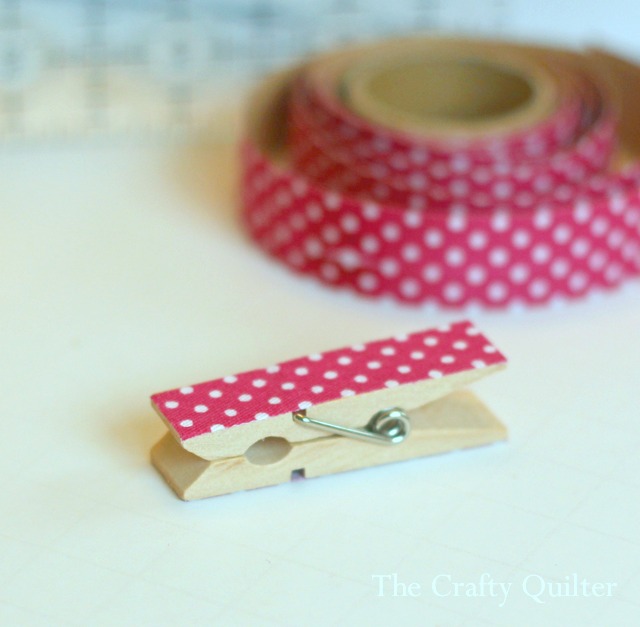 They're just so cute, you'll want to make lots of them!  You could use them in the office, the school room and at home for all kinds of things.  If you think of any other clever uses, please share them in the comment section.  Enjoy!