2020 Quilter's Planner on sale
It's already time to start thinking about 2020 and how to stay organized in all categories of your life. Do you have a favorite planner that you use? I've been using The Quilter's Planner for the past three years and now I can't live without it. They've just started taking pre-orders for 2020, and I've got mine ordered.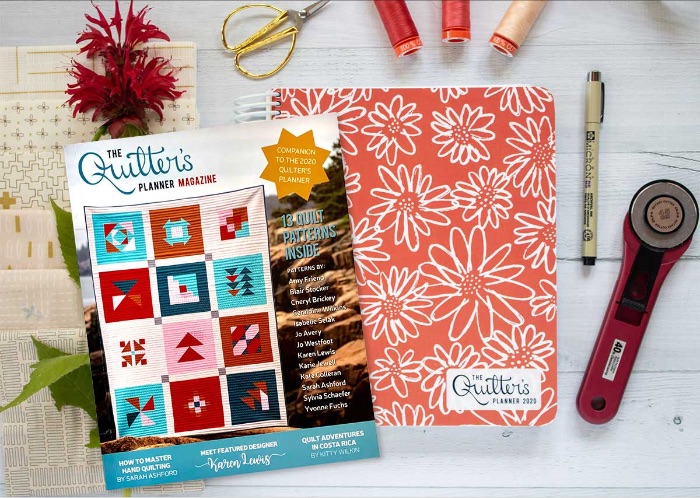 They've made some changes to the planner for next year. First, the size will be smaller; it's now 7″ x 9″. You can customize your planner with different weekly calendar layouts such as horizontal, vertical, graph paper and dot paper. You can choose weekly start days of Monday vs. Sunday and pick your favorite cover design.
They also have some new accessories that will make your planner more efficient and easy to use. There are clip-in bookmarks for your shopping list, to-do list, and meal planner as well as stickers, stick-on pen and pen holder and more.
When you preorder The Quilter's Planner (affiliate link) this month, you'll get 10% off your order, and 1 free Pocket Notes Mini Planner. I'm always excited to start the year off with a fresh planner. I probably use mine more at the beginning of the year, but I always use the monthly calendar pages to keep my schedule organized. You can read more about how I use my planner here.
I'm excited to start planning some new projects on the blog for next year. I have a few ideas that I've been playing with, but I'd love some feedback from you! Is there a project or technique you'd like me to introduce next year? Maybe an ongoing challenge or theme such as Christmas, a block of the month, a monthly busy book tutorial, etc? Let me know in the comments and I'll keep it in mind when planning next year's blog activities.