It feels like Spring and it's National Quilting Day!
Where I live in Northern California, it feels like Spring, and on top of that it's National Quilting Day!  I love this time of year, and I love the fact that someone was clever enough to dedicate an entire day to the art of quilting.
This year marks the 25th anniversary of National Quilting Day, and since I love a good party, I'm going to celebrate all weekend long with some dedicated quilting time.  You can find out more about the history of National Quilting Day and how you can celebrate at Quilt Alliance.
My quilting for the weekend consists of getting (almost) caught up with my Splendid Sampler blocks.  I've made blocks 1 through 10, except for block #7 (I'm working on the embroidery).  I'm really enjoying the stories behind each block and making them, of course.
Blocks 1 and 4 included a little applique, which I just gobble up.  Here are the first 5 five blocks, (they're not in order.)
The second set of blocks are all fun and simple piecing.
The instructions for the "house block" include embroidery to make a quilt shop sign.  I fussy cut some fabric (Modern Mini's by Lori Holt for Riley Blake) and made a sweet statement instead.
I make a mess of my cutting table when sewing up these little 6 1/2″ blocks since it tends to be really scrappy.  I'm using my stash of Fig Tree fabric, mostly, and I've got lots to choose from!
Today is typical spring-like weather with clouds and sunshine.  It was a perfect day to get my camera out and take some beauty shots of the garden.  My lilac bush is in full bloom.  They're beautiful to look at and their scent is amazing!
And the roses are just starting to open up.
I found some pansies and calendula volunteers that appreciated our recent rain.
The Alyssum is and Tickseed are off to a good start.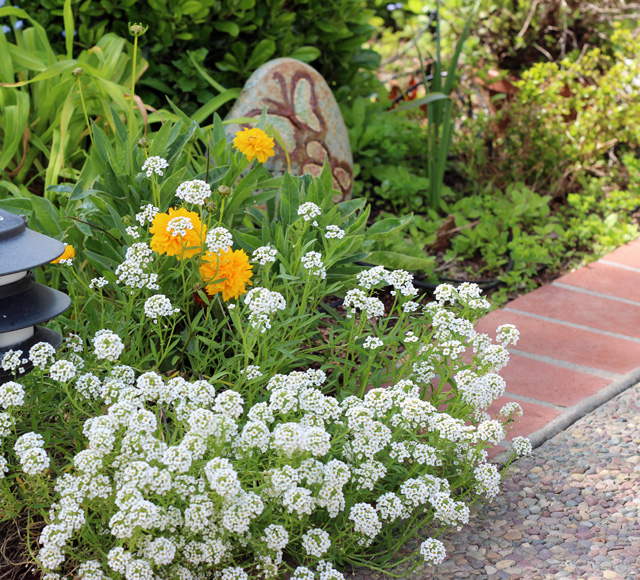 The Freesia and Azaleas have been blooming for weeks now and I love their bright colors.
Now that the weather has warmed up, Cooper was out hunting for lizards.
And Toby the Tortoise came out for some sunshine and food.
My youngest daughter came home for spring break yesterday, and she begged me to go get pedicures.  How can a mom say "no" to that?  Don't you love having pretty toes?
I hope you're enjoying your weekend no matter what the weather is.  And since it's officially National Quilting Day (and International Quilting Weekend), I hope you sneak in some quilting time, too!