Super-sized Stars, April's UFO project
I hope you're still motivated to finish up those UFO's!  I sure am!  As usual, I chose my project for the month by following the APQ UFO Challenge, and the number they picked for April is #1.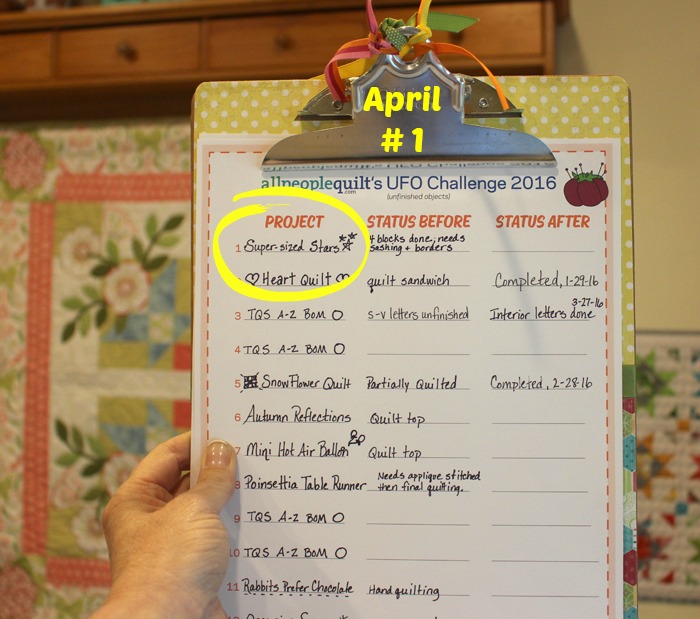 So, my project for April is called Super-sized Stars.  It's the result of a quilt-along that I participated in over two years ago.  I made all four of the super-sized star blocks and they each measure 18 1/2″ square.  You can read about them in my original post here.  The tutorials were made by Corey Yoder, but they are no longer available on her blog.  You can still find plenty of good stuff at her new website, Coriander Quilts, though!
My first challenge was to find the darn thing.  It was tucked away in a little shoebox on one of my shelves.  Fortunately, I kept all of the fabric together and I can navigate the final assembly on my own.
I think this will make a nice picnic quilt, although there's going to be a lot of white showing on the top.  You know how easily things get spilled on a picnic; those red wine stains, oh no!  Or is that just me?
What are you working on this month?  Do you have a list of UFO's that you're working through?
Don't forget that you still have TWO days to add your completed UFO photo to the link up for March, here.  There have been over 40 participants so far, and I am just amazed at how much you guys are getting accomplished!  I'll be choosing two winners from the link up on April 8, so make sure you get over there soon and join me for a chance to win a layer cake or a bundle of goodies.
There will be prizes every month to keep you motivated.  I am still deciding what to offer for this month.  So much for staying ahead of the curve!  Maybe it should be a mystery prize…. hmmm.
Thanks for joining me and have a fabulous day!