July UFO Link up & some WIP's
The end of July has crept up on me with little warning and I find myself with three deadlines in the next two days.  The July UFO link up is here (at the end of this post), and I'm nowhere near completing my UFO for this month.  I hope you've had more success in that department than I have.
With no completed projects to share, I can at least tell you about some WIP's and other things that have been keeping me busy.  I just finished taping a video (this morning!) for The Quilt Show about quilt borders (that will be available on September 1st).   I made this little sample for that video to show how to measure and cut borders.  This will also be a beginning quilt sample for the shop that I teach at.  I'm using Alex Anderson's new book, Make Your First Quilt
and I love all of the different setting options available.  The quilt uses one block, Arkansas Crossroads, and it's so fun to play with on my design wall.
I ended up using the layout in the lower left corner.  I'll put the final border on it later today and snap some pictures once it's quilted.
I just wrapped up a beginning quilt class with 5 lovely ladies.  You really get to know your students after five or six weeks of classes and the group often become friends by the end.  The photo below is missing one student, but the rest of them are proudly displaying their finished quilt.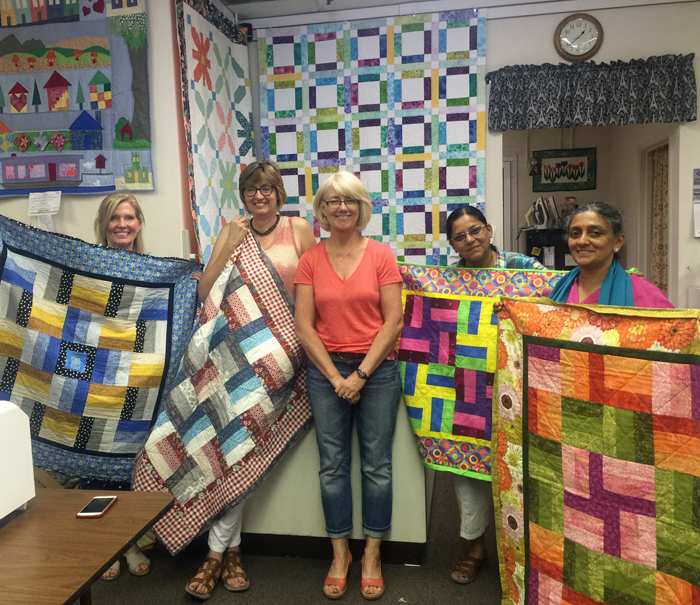 I just finished block #3 of Maggie's First Dance BOM.  Tomorrow, I'll publish the blog post with pictures of my block and a giveaway as part of the BOM hosted by Jacquelynne Steves.  Here's a sneak peek:
Although these next pictures don't qualify as WIP's or UFO's, they have been keeping me busy!  Last weekend I was in Austin, Texas, celebrating my daughter's 30th birthday and my granddaughter's 1st birthday.  It was so much fun and we got to babysit Amelia for 24 hours.  She was so good (perfect, really)!  She waved goodbye to her mom and dad, and then continued to play with grandma and grandpa as if nothing unusual was happening.  She only cried when we needed to change her diaper.  Were my children ever this good?
Kelly and Steven just finished turning their office into Amelia's playroom.  You can see the wall hanging I made her on the left side and on the right, Kelly made a reading corner with pillows and a hanging canopy.  It's such a bright and fun place to be!
We have a small garden in our yard and it's cranking out some beautiful tomatoes and lemon-cucumbers.  It makes for a great composed salad.  I top it with olive oil, lemon juice and a little salt and pepper. This has been a favorite lunch of mine this summer:
July UFO Link Up
This month's link up has a mystery prize package that will be mailed to two lucky winners.  (Read – Julie is way behind and still needs to put it together).  All you need to do is add a photo of your finished UFO project to the link up and you'll automatically be entered into the drawing.
Link-up Rules:
You may add up to 2 finished projects.
One image per finished project.
Project must be sewing or quilting related.
The link-up will be open until August 7, at midnight, PST.
The giveaway is open to USA or Canada only, however, anyone can join the link-up. If a winner is chosen that is international, then another number will be picked until it meets the criteria.
Winner will be drawn at random on August 8, 2016.
Loading InLinkz ...