Maggie's First Dance block 4 & giveaway
Are you ready for it?  Block #4 of Maggie's First Dance is here!  And we have another terrific giveaway for you, too.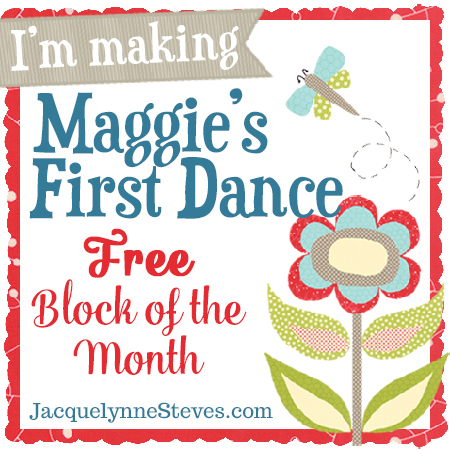 I am really enjoying this block of the month from Jacquelynne Steves.  This is the last appliqued (or embroidered) block for this project.  As expected, it's adorable just like the others.
Jacquelynne has simplified the flower applique by keeping the petals together at the base.  This makes it so much easier to position!
I have a few favorite ways of making flying geese units and Jacquelynne's technique is one of them.  For this block, however, I decided to use my Bloc_loc ruler to make the flying geese over-sized and then trim them down.  It worked out perfectly!
I have a little pressing tip for this block.  The last two row seams are a little tricky to press because of the bulk.  Often, I will press these seams open, but that didn't work for me this time.  Those flying geese can be very "pushy"!  Sometimes I will clip into the seam allowance to get one section of the seam to press in one direction and the other section to press in the opposite direction.
You can see in the photos below where I clipped.  Just make sure that you don't cut through your seam.  Careful, careful!
It's fun to see all of my blocks together.  They look quite happy!  Hopefully that yellow fabric won't seem so out of place once I get the alternating blocks done.
It's so much fun to see these blocks interpreted in different ways.  Make sure to visit all of the featured bloggers to see what they've done:
Greg at Grey Dogwood Studio
Monique at Farm House Quilts
Julie at The Crafty Quilter (you are here!)
Beth at EvaPaige Quilt Designs
Kim at My Go-Go Life
Jacque at Lily Pad Quilting
Brenda at The Quilting Nook
Deanne at Snuggles Quilts (new featured blogger!)
Giveaway Information:
This month's giveaway is generously sponsored by Snuggles Quilts Pattern Design Company.  For this giveaway, one winner will be chosen to receive a pack of beautiful patterns from Snuggles Quilts!  All you need to do is leave a comment telling me where and/or how you keep your stash – bins, baskets, shelves, heaps, etc.  (I'm looking for ideas)! This giveaway is open to everyone, and you can visit the other participating bloggers for more opportunities to win.
Here are the giveaway rules:
To enter, leave a comment telling me where and/or how you keep your stash.
You must comment by 11:59 pm PST on September 11, 2016.
Your email MUST be included in your profile information or in your comment. If I choose your name and I cannot contact you, I will choose another name.
Giveaway is open to all.
Winner will be chosen at random.
Good luck!
Save