This may not be true for everyone, but I spy summer all around me!  I love the beginning of this season.  The days are long and there's so much summer left in front of you. Plus my flowers are blooming, my vegetables are ripening and baby birds are leaving their nest. Just yesterday, I took some pictures of how it looks from my perspective.
Here is a shot of my front yard.  Can you spy Cooper in the shade and the empty (not for long) hammock?
I love all of the blooming flowers.  This Double Delight rose is one of my favorites: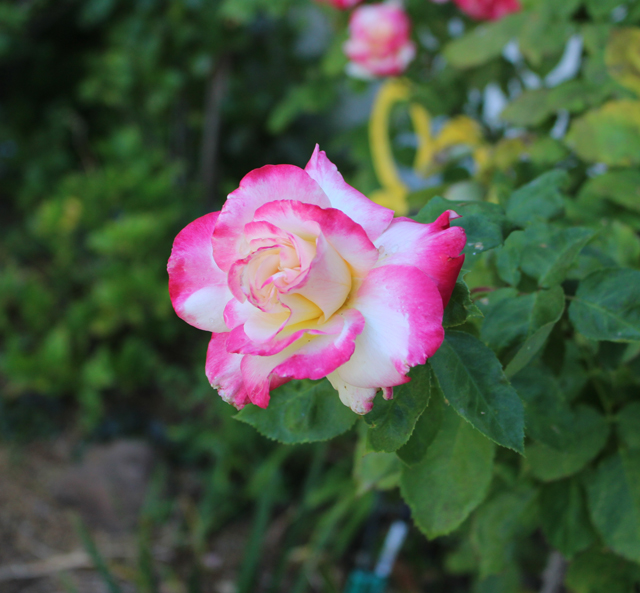 Along the side yard, you'll find hydrangea and fuschia:
It's always nice to bring some of those blooms inside:
The pomegranate tree is flowering and fruiting.  This is a great tree for ornamental value and the fruit is amazing and healthy for you!  I love making pomegranate scones in the fall.
The morning glory fence is blooming like crazy.  I love the intensity of the purple color:
The milkweed is taking over one corner of the yard.  I don't have the heart to pull any of it out when it's this  pretty:
The nasturtiums are really starting to show off their beautiful orange and yellow colors.  If you look closely, you can spy a bee doing its work.
And how about those toes!  I was treated to a pedicure for my birthday and I love this nail color.  It can go with pink or red, depending on the outfit.  And those shoes are actually a pair of Crocs.  I love all of their new styles and they are so comfortable!
I have three vegetable beds in my front yard.  I planted early this year.  I can already spy some red tomatoes.  Love those Early Girls!
Now that we're empty nesters, you won't find much human activity in the swimming pool these days.  But you'll find Cooper going for a swim several times a day!
We've got lots of hummingbirds in our yard.  We keep two feeders full all year long.  We were able to watch a baby hummingbird take flight just a week ago.  Here is the mom sitting on her nest .  There's barely enough room for her!
And here is baby's first flight which landed him on this cable line:
And here's just a hint of something I'll be showing you on Monday.  I'll be sharing my blocks for the Cozy Afternoon BOM.
That's just a tiny glimpse of summer through the lens of my camera. How does it look in your neck of the woods?
If you have children in college, you might find them coming home for the summer.  My youngest daughter comes home today!  Yep, I love having my kids around.  I hope you all have a wonderful weekend!