I'm a little late in posting this, but it's time for you to show us what project(s) you finished for the month of September.  For those of you who are new, the September UFO link up is part of my Hello 2016, Goodbye UFO series.  Each month I encourage you to finish a UFO and enter it into the link up at the end of the month for a chance at a few prizes.
This  month, my challenge was to clean up my sewing room.  I know it's not technically a UFO, but the chaos in there has been worse than a pile of UFO's (and there's still that, too).
I'll show you some before and after photos and you'll see what I mean.  I literally took these pictures a few hours ago.  (I'm barely able to keep up with my own schedule)!  If you want to learn more about my sewing room, you can visit my sewing room tour from 2013.
Before: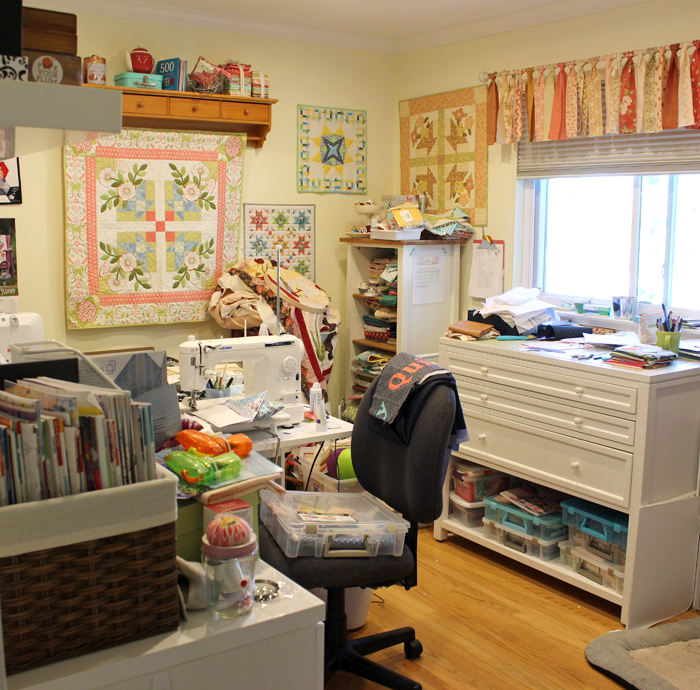 After: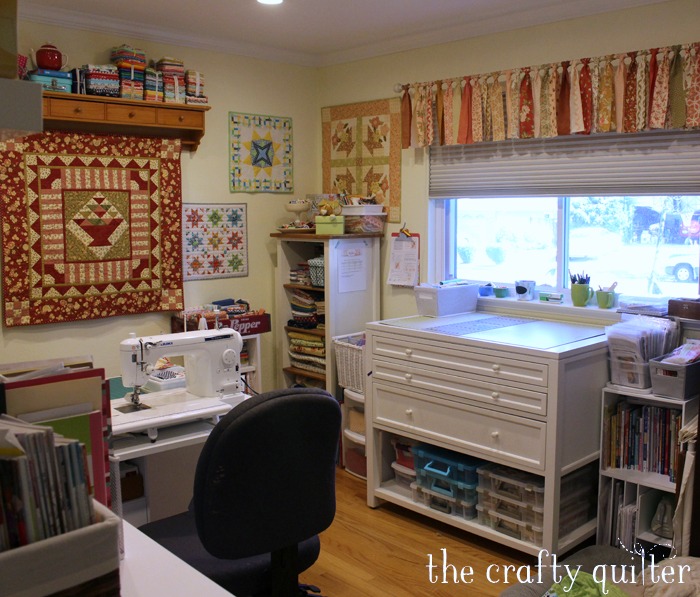 Before: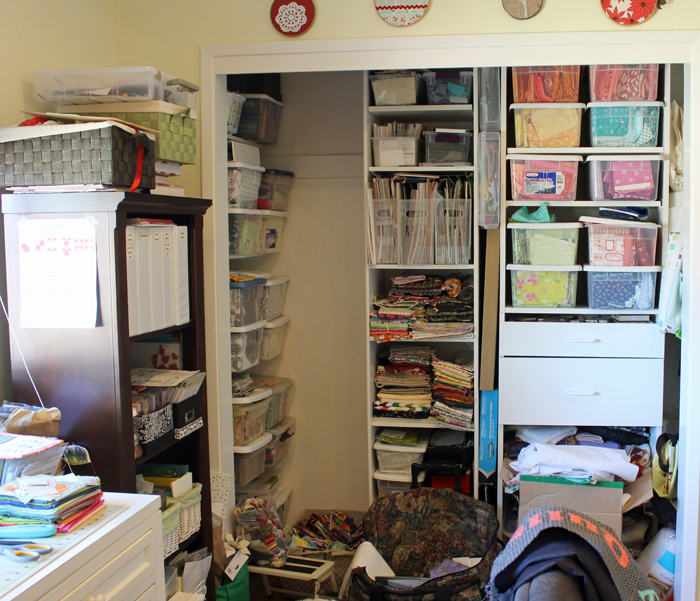 After:
Before:
After:
I store most of my fabric stash in plastic bins.  Fortunately, we don't have much humidity here in Northern California, so this option works well for me.  I'm still sharing this space with some scrapbooking supplies which will be another project for later.  I'd love to get rid of this closet all together and put in some nice shelves or cabinets.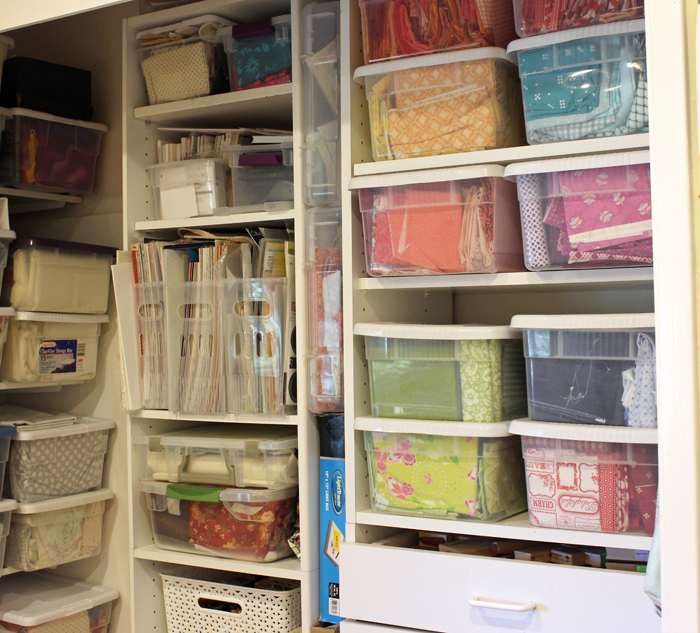 My ironing station is small, but it's perfect for piecing.  A friend made the pressing board for me; it's firmer than a traditional ironing board which I like.
I now have both sewing machines cleared and ready for action.  I use my Bernina most of the time, but I'll probably start using my Juki now that it's been un-buried.
My design wall is full at the moment.  You'll be seeing more of those blocks on Monday when I reveal my alternate blocks for Maggie's First Dance BOM.
I love my little Fig Tree pumpkin pin cushion.  It's sitting on top of my latest Fig Tree subscription box.  I'll have to show you the contents of that soon.
I've added some fat quarter bundles to the top of my quilt rack/shelf.  I love this shelf which I found for $20 at a consignment store.  I change the quilts seasonally.  The drawers contain much of my specialty thread collection.
I love seeing other people's sewing rooms.  It's fun to see how they decorate and accommodate all of their supplies.  My space is quite small, but it's all mine.  I waited 15 years to get my own sewing room and I love it.  Cooper loves it, too.  He has a spot on the floor and he spends more time in there than I do!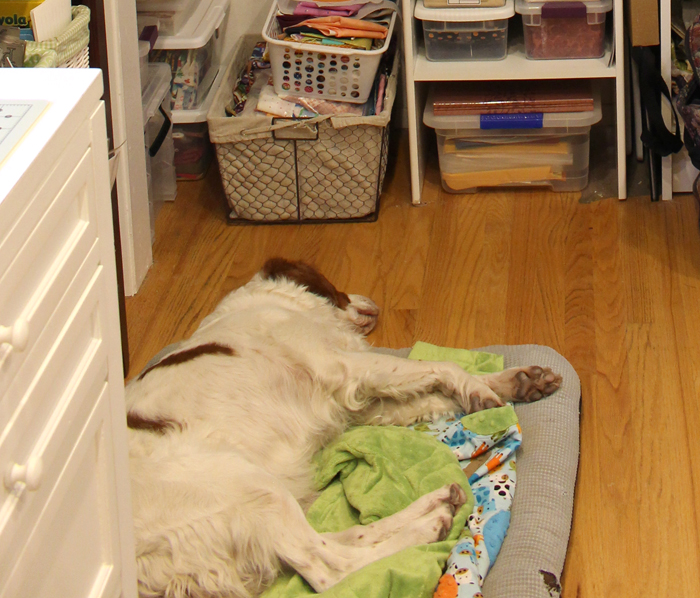 September UFO link up
Let's see what you've been up to this past month.  I'll pick two winners who will each receive a nice little prize package that includes a layer cake (Rouenneries Deux by French General or Antique Fair by Blackbird Designs) and a book (Creative Uses for Decorative Stitches by Karen Linduska or Modern Basics by Amy Ellis)
Link-up Rules:
You may add up to 2 finished projects.
One image per finished project.
Project must be sewing or quilting related.
The link-up will be open until October 8, at midnight, PST.
The giveaway is open to USA or Canada only, however, anyone can join the link-up. If a winner is chosen that is international, then another number will be picked until it meets the criteria.
Winner will be drawn at random on October 9, 2016.
Loading InLinkz ...
Save
Save
Save