Sew Thankful Sunday, August 2019
{I love the idea of "paying it forward". I think the world would be a better place if we could spread some joy and acknowledgement of good deeds done by others. I try to do that once a month for my Sew Thankful Sunday posts. I highlight some great content that I've found on other people's blogs that I hope will inspire you and reward the originator by bringing traffic to their site. If your blog has been mentioned without your consent, please let me know and I will take you off the current list of featured bloggers.}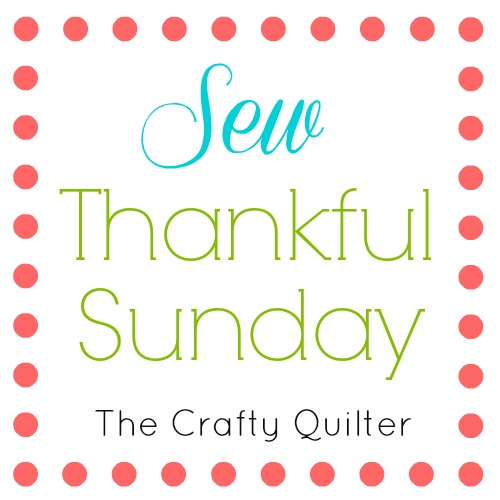 It's August and still Summer for those of us in North America. But we're beginning to think about school starting again and new projects on the horizon. There's a little of everything today in this list of inspiration that I'm sew thankful for!
Note: If you use Pinterest, please pin from the original source and not this blog post. Remember, you can click on any of the images in this post and it will open up a new tab to the associated link.
If you're a beginning quilter, you'll want to join the Jolly Jabber as they begin The Ultimate Beginner Quilt Along. Beginning August 1, a free pattern and video will be released weekly through November 7. Every detail will be covered, so even an advanced quilter might learn a few new tricks!
2. It's still early, but this Christmas Tree Table Runner Tutorial from Polka Dot Chair will get you thinking about the holidays in no time. This is a quick and easy project that would make a great gift or for your own use.
3. The ladies at The Cloth Parcel have come up with a lovely Summer Cabin Quilted Pillow Tutorial as part of the Olfa + Aurifil Stitch & Slice challenge. I love everything about this one – and that quilting!
4. Do you have an abundance of zucchini in your garden? If so, you'll love this Chocolate Zucchini Bread Recipe from Love & Lemons. I've made it twice already and it's a winner!
5. I found this blog post on How to Get Seams Really Flat by Christen at I See Stars to be really helpful. You'll be surprised at her little trick that works every single time.
6. Back to school ideas are starting to pop up and I love this Locker Organizer Tutorial by Stacy Schlyer for We All Sew. This would be perfect for your favorite teenager!
7. I love this Pocket Pillow Tutorial by Sarah at Confessions of a Fabric Addict. It would make a great gift for a book lover, young and old alike.
8. If you want to see some eye-candy in thread form, check out the artistry of Sheena Norquay at the Aurifil blog. Her latest Peacock collection of thread in 50 wt. is gorgeous, and I was so inspired and awestruck by her work!
I just want to stop everything and get to my sewing room! This is a wonderful group of creative ideas and inspiration today. Thank you for sharing it with me and especially thank you to everyone featured.