Happy Little Things BOM participants
Hey everyone! I am so excited to be participating in Jacquelynne Steves' upcoming free block of the month, Happy Little Things. It starts on August 5 with instructions for one block each month and finishes with assembly and border instructions in November.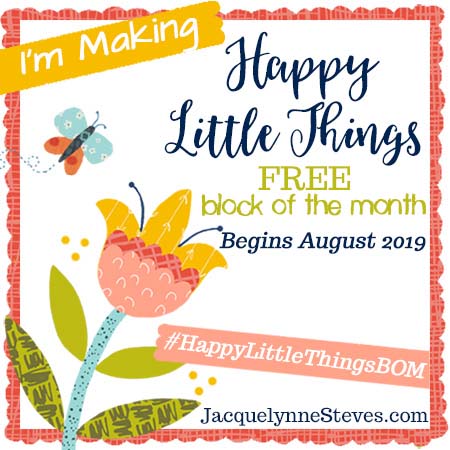 Giveaway information
Today, Jacquelynne is having a giveaway on her blog to introduce you to all of the other participating bloggers!
Prize includes Dwellings Contempo fabric by Benartex,  Aurifil thread box designed by Jeni Baker, a package of Heat n Bond by Thermoweb, a package of Pin Mini's which have been created to coordinate with the Happy Little Things BOM by Just Another Button Company!!! The retail value of this prize pack is over $80 US. Giveaway is open to US and International entrants; you must go here to enter.

Participating blogger
If this is your first time visiting here, welcome! I'm so glad you stopped by. I have been a participating blogger for Jacquelynne's BOM's for the past four years. One year I made each block into a wall hanging representing a different season. Below are my finished quilts (and wall hangings) from each year.
Save The Bees

I Love Home

Maggie's First Dance

Cozy Afternoon
The nice thing about this block of the month is that you can follow the participating bloggers to see how they make each block. Some of us will do the applique version, some will do the embroidery and others will use a focus fabric. It's so nice to have options! And I love seeing the different color palettes that everyone chooses.
In the past, I have always included the applique that Jacquelynne provides. I love the charm of applique and her designs are so cute! This year I'm doing something different. I'm going to make a mini version of each block. My blocks will finish at 6″ instead of 12″, and they will be made out of "winter" fabric. I'm using an older collection titled Jingle Birds by Keiki for Moda Fabrics along with some of my own blenders.
Because my blocks will be so small, I won't be doing the applique. Instead, I will fussy cut the cute birds from one of the prints which will fit inside a 2″ finished square just right!
If you're interested in making the mini version of this block of the month, make sure to follow me. I'll share my piecing tips, and I'll be posting the revised cutting instructions each month on my blog. I will NOT be providing any other instructions; you'll need to sign up at Jacquelynne Steves blog to get all of the directions for making the blocks.
I'm intending on making this into a small wall hanging with the addition of some applique words. It will be perfect for the winter months. You'll have to come back on August 5 to see exactly what I'll be doing!
I hope you'll join us in making Happy Little Things. Jacquelynne is providing instructions in two colorways along with fabric kits available for purchase here. Plus, there will be monthly giveaways AND did I mention that it's free?
Thanks for visiting today. I hope you have a wonderful week full of happy little things!