What quilters can do for hurricane relief efforts and other (good) news
Hi everyone.  You know how I like to keep in touch with the quilting community through blogs, Instagram and newsletters.  I've been seeing a lot of activity with regards to hurricane relief efforts.  I thought it would be nice to share what I know and tell you how quilters, specifically, can help.
Note:  This isn't at all a comprehensive list, so please, leave a comment if you have a recommendation or news to share.  I have not included the numerous organizations that are accepting financial donations.  That's another priority, but I feel like that information is readily available elsewhere.
Fat Quarter Shop is headquartered in central Texas and many of their friends and family have been directly impacted by Hurricane Harvey.  You can read the full story here. They have designed a special, fat quarter-friendly quilt pattern to raise funds for hurricane relief efforts.  The Healing Hearts quilt pattern is available from now until October 31, 2017, and FQS will donate 100% of the proceeds from the sale of this pattern to the JJ Watt Foundation.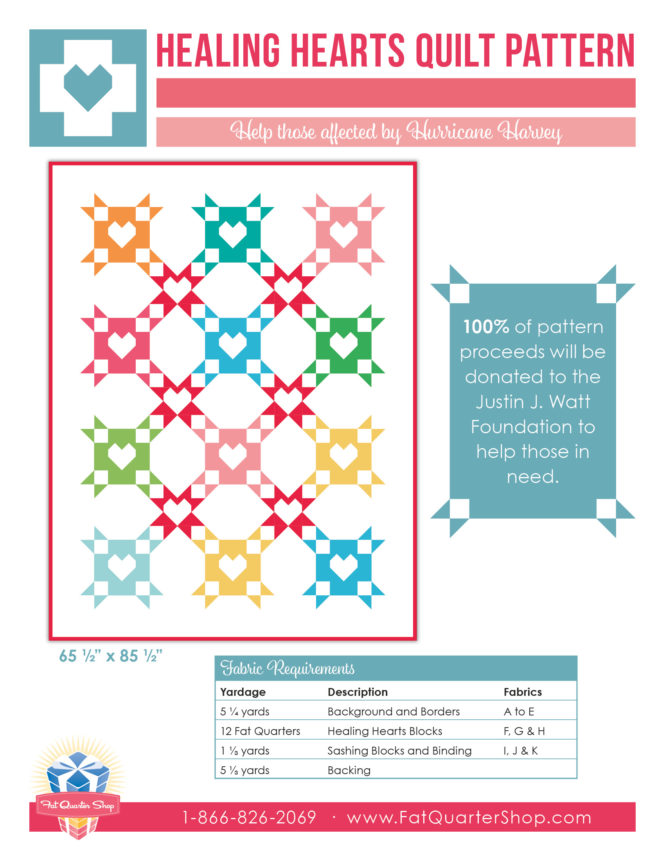 Art Gallery Fabrics knows what it's like to live through a hurricane as they are based in South Florida.  Here is an excerpt from their blog:
This is why we're starting #AGFcomfortsTexas as an effort to collect regular sized quilts -at least 50″ x 65″ or larger ( and especially bed size quilts) for the flood victims as a way to bring more comfort & warmth to their lives as they recover.

We'll be collecting any quilt you would like to donate from September 5th – September 22nd. Due to Hurricane Irma which affected South Florida, submissions have been extended until October 2nd.  We truly appreciate your generosity and anyone who donates a quilt will receive a bundle of 6 fat quarters as a gift from us.

To assure that the quilts are given to those in need, we'll be working in collaboration with Quilts of Compassion. They are a nonprofit organization who've been delivering quilts to victims in disaster areas since 1999. We're excited to work with them to help as many people as possible!
The Missouri Star Quilt Co. is collecting pillowcases and quilts and delivering them to relief facilities in need.  Here is an excerpt from their newsletter:
The aftermath of Hurricanes Harvey and Irma has been weighing heavily on our minds and hearts here at Missouri Star Quilt Company. Tens of thousands of people have been left without food, shelter, and other basic necessities, and they need our help. Hamilton is a small town, but this community is filled with generous people and they are wonderful at reaching out to help those in need. In response to this crisis, we are giving back by donating $10,000 to a hurricane relief charity and collecting items to comfort those affected.
The Linus Connection is a Central Texas 501(c)(3) organization that collects quilts and blankets for children in crisis situations.  They are working with the Austin Disaster Relief Network and will be accepting larger quilts as well to comfort all ages.
If you are an animal lover,  TQPM Small Kennel Quilt Team is a volunteer organization sponsored by The Quilt Pattern Magazine (TQPM).  They help animal shelters when disasters strike. It is a way to join a larger effort to help our animal friends in times of need by doing what we love. TQPM Small Kennel Quilt Team supplies kennel quilts to shelters.  Visit their Facebook page for more information on how you can help.
I follow a wonderful quilter and friend, Karen, who blogs at KaHolly.  She has a beautiful story to share of how her daughter and son-in-law have adopted a family in Texas who lost everything.  Karen's daughter learned of this family through Second Chance Farm, a pet rescue agency.  Karen is also asking for Dog Gone Cute quilt blocks that she will make into a quilt that will be auctioned to support Second Chance Farm.  You can find out more details by visiting KaHolly.
That's everything I have at this moment for hurricane relief.  I know that both Hurricane Harvey and Hurricane Irma have left a path of destruction that has affected many.  Anything you can do to help is greatly appreciated.
Some exciting news and upcoming events
I do have some good news to share.  My oldest daughter, Kelly, is expecting child #2 sometime in March!  Happy day!  We are SO excited, and so is Amelia (child #1).  She probably has no idea what's in that ultrasound, but she can tell that everyone else is excited so she's on board!  Of course, Grandma can't wait for another baby to cuddle.
Don't forget that tomorrow is National Sew a Jelly Roll Day.  I have one jelly roll on my shelf and I'm not sure what I'll do with it.  You'll find a great list of choices here.  For a quick, no-sew project, check out my jelly roll valance tutorial.
The winner of the I Love Home BOM Giveaway for September is comment #14, Michelle Roberts.  Congratulations!  You'll be receiving a fat quarter bundle of fabric from Sarah J.  Thanks to everyone for participating by leaving a comment on your favorite precut.  Just so you know, fat quarter bundles were number one (if you can afford them).  They are so versatile!
Thanks for reading and have a great weekend!
Save