Window valance using a jelly roll (2 1/2″ strips)
I love it when I can make something super cute and super easy!  This valance took me about one hour to make, (not including hanging the drapery rod).
I started with a jelly roll of "Allspice Tapestry" by Fig Tree for Moda.  If you're wondering what a jelly roll is, it's a group of 2 1/2″ wide strips (usually about 40) rolled together and sold as a pre-cut package. They are typically cut with a pinked edge to reduce raveling.
In the following photo, I have arranged my strips over the curtain rod, making sure the colors are evenly distributed:
I cut 12″ off of each strip so that it would hang the correct length.  You may want to measure your window first, before cutting.  I only used about 30 of the strips in my valance.
Now you just tie each strip around the curtain rod.  I tried a few different methods, and I like the following the best:
Keep tying each strip along the length of the curtain rod until you have it as full as you like.
How easy that? And look what else:
No sewing
No pressing
Just a little cutting
Using up a jelly roll from your stash (or a new one that jumped into your shopping bag)
Just one hour, people!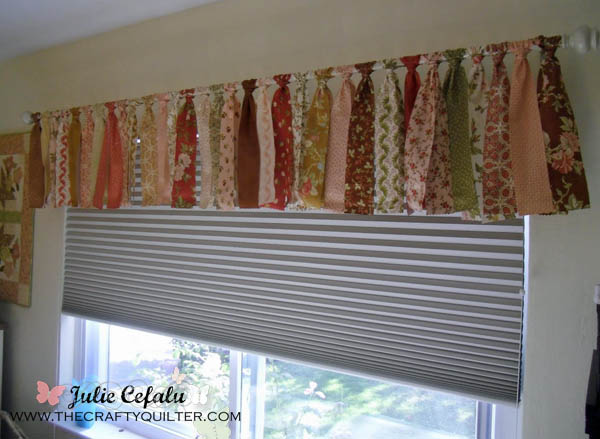 Of course this lovely piece is hanging in my sewing room!  It makes me happy every time I walk in there and it's starting to look like a real sewing room!
Have a sew lovely day!
~Julie