Happy Little Things BOM block 1
Welcome to the first block of the Happy Little Things Block of the Month hosted by Jacquelynne Steves! I'm honored to be one of the participating bloggers this year, and I'm so glad you're visiting today.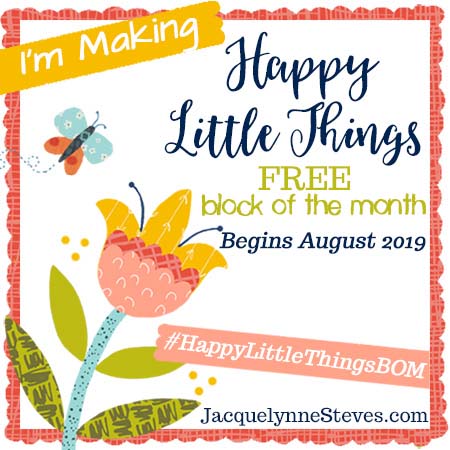 You can sign up for this free BOM here, and then you'll receive all of the patterns and instructions directly into your inbox. You'll also find fabric kits, pre-printed blocks in two sizes (for the block centers), quilt labels, buttons, charms and pins that all coordinate with the fabric kits on the sign-up page.
Every month there will be giveaways on each participating blogger's blog, so there are multiple chances to win. This month's sponsor is Olfa, and they're giving away a fantastic prize package! Details can be found at the end of this blog post.
Happy Little Things, Block 1
For my version of Happy Little Things, I'm making a mini version. My blocks will finish at 6″ square! I will include my cutting instructions each month, but you will need to sign up for the BOM to get all of Jacquelynne's assembly instructions. Here is my completed block for this month: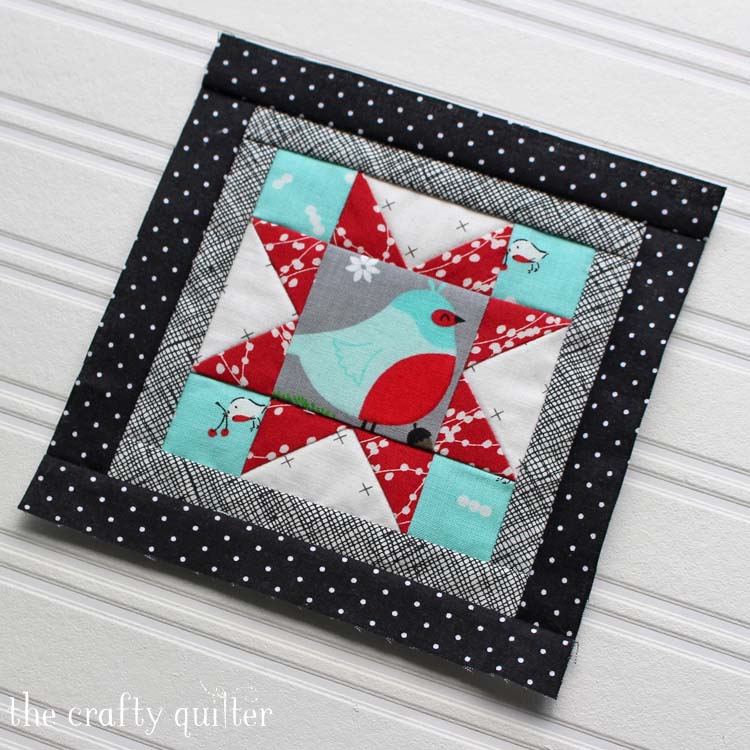 I'm using an older fabric collection titled Jingle Birds by Keiki for Moda Fabrics along with some of my own blenders. The Jingle Bird print is just right for fussy cutting 2 1/2″ squares for the center of my blocks.
I like making mini versions of quilt blocks. They require a bit more attention to detail, but that's part of the fun! The photo below gives you a little size comparison with the pen and glasses.
I made a mock-up in EQ8 of my version of the finished quilt. I've included the words, "Winter Friends" to applique in place of the pieced border. If you want to follow along with me, I'll give templates for my letters as well as the cutting dimensions. It's optional, of course, either way. This will be a nice wall hanging size and will measure approximately 23″ x 31″ when finished.
Mini version cutting instructions
The mini version of block #1 will finish at 6″ square. I followed the assembly instructions that Jacquelynne gave and found it easy to put everything together on my smaller scale.
You can download the cutting instructions for the mini version of block #1 here:
If you haven't tried Jacquelynne's method for making flying geese, I recommend giving it a try. It's based on a traditional method, but she over-sizes the squares to give you something to trim down.
Giveaway (closed)
This month's giveaway is generously sponsored by Olfa. I can't live without my Olfa rotary cutter and rotating cutting mat in my sewing room.
To enter the giveaway, please leave a comment telling me whether you like making mini quilts or not (no judgement here) by Sunday, August 11, 11:59 pm PST. Now CLOSED.
NOTE: To leave a comment, make sure to scroll down to the bottom of this blog post (not from my home page), and look for the rectangle that says "Enter your comment here". On August 12, I'll randomly pick one winner!
Here are the giveaway rules:
To enter, leave a comment telling me if you like making mini quilts (or not).
You must comment by 11:59 pm PST on Sunday, August 11, 2019. (Now Closed).
You must leave a contact email so that I can reach the winner.
There is ONE prize per person per month (in other words, the same person cannot win two prizes within the same month.)
Giveaway is open to US and Canada residents only. International winners will receive an alternate prize.
Winner will be chosen at random.
Due to the high volume of comments, I won't be able to reply to you (unless there is a direct question), but I will read each and every one. Thank you in advance for your participation and for leaving a comment.
Participating bloggers
Make sure to visit all of the participating bloggers to see their version of Happy Little Things! You can also enter the giveaway on each respective blog so you have more chances to win.
There is also a Facebook group where you can stay up to date and post photos: https://www.facebook.com/groups/SewQuiltyFriends.JacquelynneSteves/
If you use social media, please use the hashtags #HappyLittleThingsBOM and #HappyLittleThingsQuilt .
Thank you for visiting today! Have a wonderful week.