Spicy peppermint hot chocolate recipe
As soon as the winter months arrive, the craving for peppermint hot chocolate kicks in.   I was playing in the kitchen last week, and I came up with a Spicy Peppermint Hot Chocolate recipe that is super versatile and soooo yummy!  I'm happy to share it with you – I tiny token of my appreciation for following my blog and always being so supportive!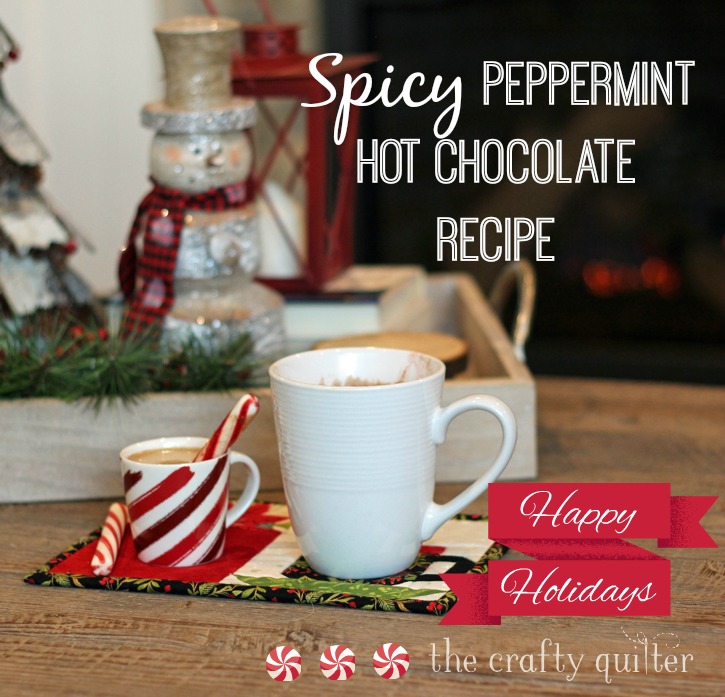 The ingredients for this recipe are easy to find; I used what I had on hand.   1% milk, half and half, sugar, unsweetened cocoa powder, candy canes, chocolate chips and a jalapeno.  See recipe further below for exact amounts.
You can swap out ingredients for just about everything.  If you don't have candy canes, try peppermint extract or another peppermint candy.  Perhaps Peppermint Schnapps?  Use whole milk, nonfat milk, or half and half – whatever your diet allows or what's in the fridge.  If you don't have chocolate chips, use any kind of chocolate candy.  I used jalapenos to provide the heat, but you could add cayenne pepper instead.  It's good with a shot of espresso, too!  I don't like mine super sweet, so there is room for more or less sugar.
Spicy Peppermint Hot Chocolate
Ingredients
2

cups

1% milk

1

cup

half and half

2

tbsp

unsweetened cocoa powder

1

tbsp

sugar

1/4

cup

chocolate chips

mini or regular

4

small

candy canes

broken, about 1/4 cup

1

jalapeno

sliced
Instructions
Combine all ingredients in a heavy saucepan. Use a small whisk to stir. Bring to a simmer, stirring until the chocolate and candy canes have melted.

Remove jalapenos or use a strainer before pouring into mugs.

Serve with a large candy cane to stir.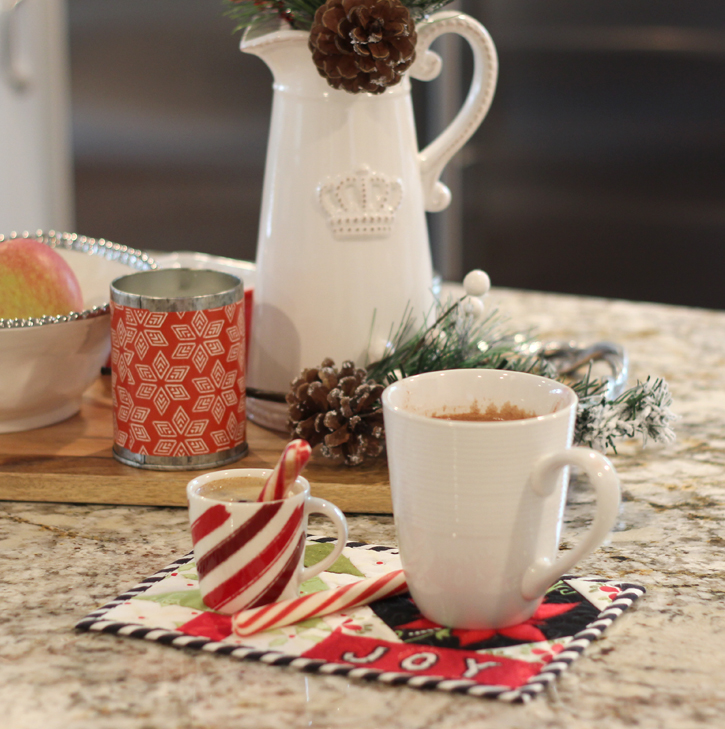 I hope you have a mug rug handy, because it really adds to the pretty picture.  If you've been following me for a while, you know I've got to have a mug rug with any hot drink.  I think it makes everything taste better.  The one shown above is from my Holiday Mug Rug Tutorial.
This Spicy Peppermint Hot Chocolate is a real treat and a luxury that you deserve.  It will get you through the cold weather with a smile on your face and a warm tummy, too!
Our gang will be traveling to the Seattle area for Christmas to visit our daughter there.  Unless I sneak in another post before we leave, I'll be back after the holidays to share my plans for 2018.  I wish you and your family a Christmas that is merry and bright (and a little spicy, too)!