It's official!  The holidays are here and I have a Holiday Mug Rug Tutorial to get you in the Christmas spirit!  I love this design because it allows you to add some personalization:
or your own words: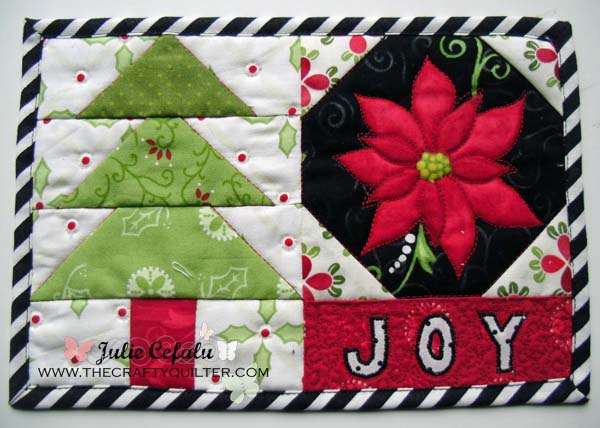 or just some cute fabric: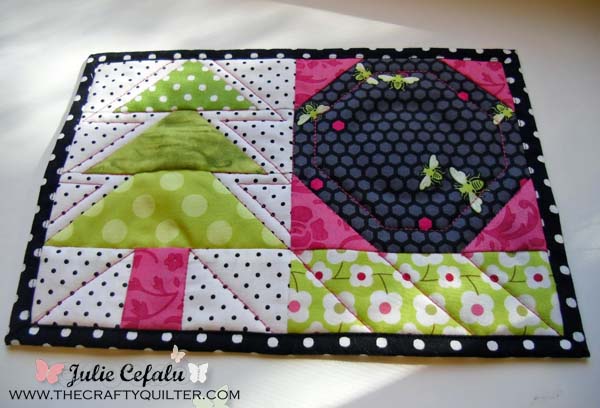 And you can also fussy cut (so that a design or motif is centered in the cut) the snowball block:
So here's what you need to get started (revised 12/3/12):
Assorted fabric scraps for mug rug and 9″ x 12″ piece of batting and backing
You'll need to cut the following pieces:
(1) 5 " square (snowball center)
(4) 2″ squares (snowball corners)
(1) 2″ x 5″ rectangle (bottom of snowball unit)
Tree pieces:  (1) 2″ x 3 1/2″ rectangle, (1) 2″ x 4″ rectangle and (1) 2″ x 5″ rectangle
(1) 1 1/2″ x 2″ rectangle (tree trunk)
Tree background pieces: (2) 2″ squares, (2) 2″ x 2 1/4″ rectangles, (2) 2″ x 2 3/4″ rectangles (2) 2″ x 2 1/2″ rectangles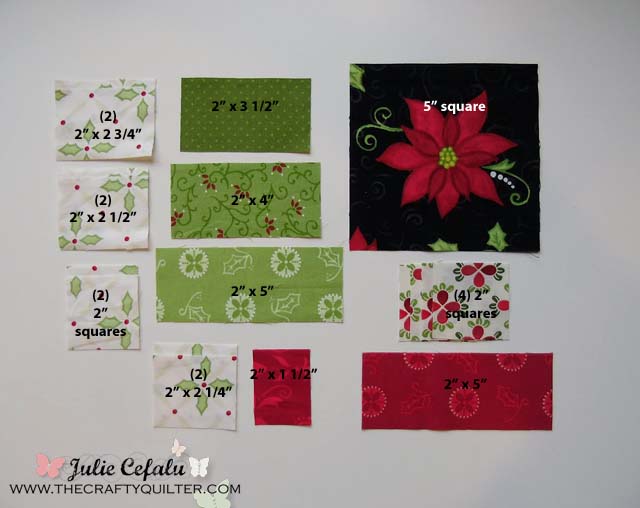 Finished size of mug rug:  6 1/2″ x 9 1/2″
Step 1:  Make the snowball:  Draw a diagonal line on the (4) 2″ snowball squares and pin to each corner of the 5″ square.  Stitch just to the right of the drawn line.  Press towards the outer corners and trim.
Step 2:  Make the tree.  Draw a diagonal line on the remaining background squares/rectangles.  For the rectangles, place the background rectangle on top of the green rectangle so that the top edges line up and you can see where the bottom edges intersect.  Draw the line from top corner to bottom intersection as shown:
Pin in place so that raw edges are even and stitch just next to the drawn line.  Press towards the tree fabric (this makes the tree pop out a bit) and trim. Each tree rectangle should measure 2″ x 5″.
To make things efficient, I drew all of my lines and pinned the pieces together first and then chain pieced:
Step 3:  Assemble the mug rug unit.  Arrange the tree rectangles in order as shown below as well as the snowball unit and 2″ x 5″ rectangle.  Stitch together the tree pieces.  Press seam of tree trunk unit up towards tree. The other tree seams can be pressed either way.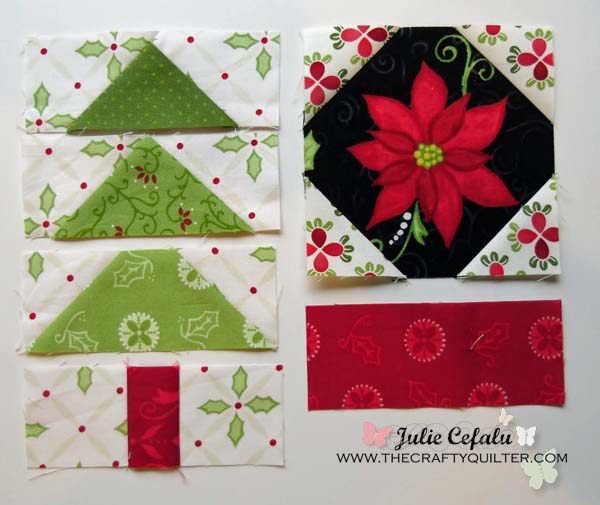 Stitch the snowball unit and rectangle together and press seam down towards rectangle.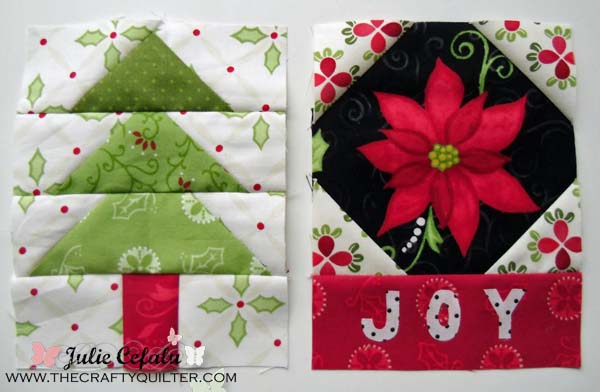 Step 4:  Stitch the two halves together, nesting the lower rectangle seams and pinning first.  Press seam to either side.
Step 5:  Layer top, batting and backing together and quilt as desired.  I used Pellon Thermolam for my batting; I like the stability and thermal properties it has.  I stitched in the ditch along the tree and snowball.  Then I free motion quilted around the poinsettia and the "JOY". (I'm not thrilled with how the JOY came out – I should have left well enough alone!)  On the pink mug rug, I outline stitched the tree and snowball and added some diagonal lines, and on the peach mug rug, I free motion quilted everything.
For the binding, I decided to wrap the backing fabric around the edges to form the binding.  I used the Quick Easy Mitered-Binding Tool and you can find my tutorial for that here.
I like the way it came out – especially with the diagonal stripes.  On another example, I used traditional binding and I like it as well, but I think I'll stick with the wrap around model.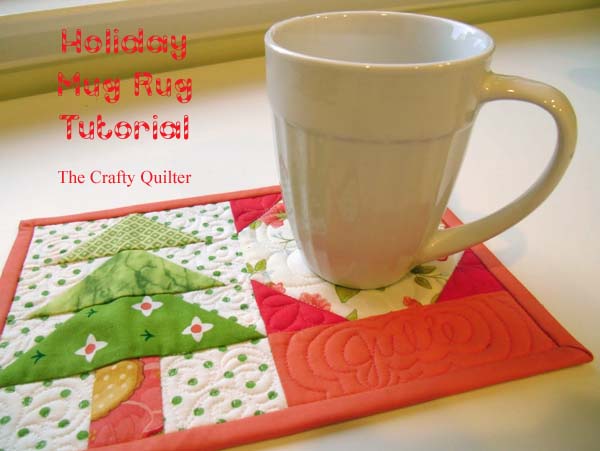 I found all of these cute mugs at the Goodwill.  What a deal!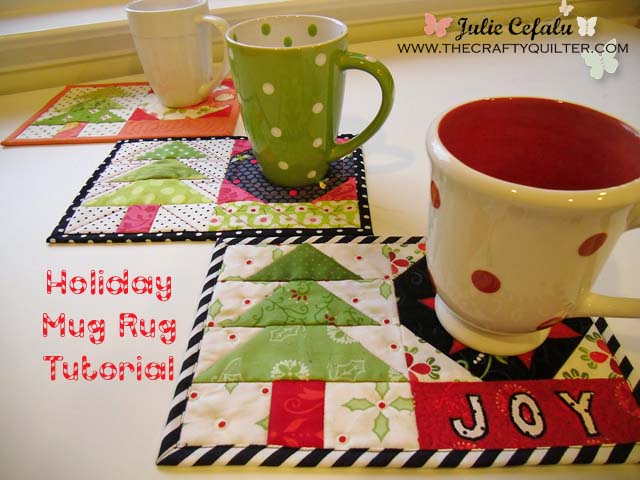 Depending on the fabric you use, these can be as holiday'ish as you like.  If you have a charm pack laying around (who doesn't?) this would work perfectly as well.
These make great hostess gifts as well as gifts for co-workers, friends, teachers…. one day of mass production and you're good!  Add some tea or homemade cookies to the deal and oh my goodness!  I, personally, would be thrilled to receive such a gift (I'm just sayin').
I hope you all had a wonderful Thanksgiving and perhaps you've saved some sewing time for this long weekend.  Instead of shopping on Black Friday, I like to get a head start on my Christmas cookie baking.  So much more peaceful and fun!
Happy sewing (and baking)!
~Julie