Sew Thankful Sunday, 2018 BOM edition, January
{I love the idea of "paying it forward". I think the world would be a better place if we could spread some joy and acknowledgement of good deeds done by others. I try to do that once a month for my Sew Thankful Sunday posts. I highlight some great content that I've found on other people's blogs that I hope will inspire you and reward the originator by bringing traffic to their site. If your blog has been mentioned without your consent, please let me know and I will take you off the current list of featured bloggers.}
I love the clean slate that the beginning of a New Year creates.  New resolve, fresh starts and lots of inspiration and motivation for organizing and planning.  This month's list of Sew Thankful's will focus on how to capture some of that new energy and start the year off fresh with some new block of the month's (BOM's) and quilt alongs (QAL's).  You know, I can't resist them!

Note:  If you use Pinterest, please pin from the original source and not this blog post. Remember, you can click on any of the images in this post and it will open up a new tab to the associated link.
1.  Pat Sloan is hosting another, free mystery block of the month this year for FreeQuiltPatterns.info.  The theme for 2018 is Let's Go Camping and you can get all of the details for the first month at Free Quilt Patterns.  Each month, Pat will have a giveaway on her blog to all of those who link up with a photo of their finished quilt block.  That's my kind of camping!
2.  Take advantage of your summer memories and join Pat Sloan at I Love To Make Quilts for her other free quilt along, In The Summer Time!  Each week starting January 31, 2018 and ending June  27, 2018, Pat will share one 9″ block (for a total of 20 blocks).  In the end, you'll have a beautiful quilt in time to kick off the lazy days of summer!
3.  Do you need to sharpen your free motion quilting skills?  Then make sure to follow Jess at Quilty Habit as she leads a Modern Free Motion Quilting QAL with the Central Jersey MQG.  Each month will focus on a different theme and the final quilt sandwiches will be joined together with a quilt-as-you-go technique.
4.  I love sampler quilts, and this Classic Meets Modern BOM by Kelly at My Quilt Infatuation fits the bill perfectly.  The kick-off starts tomorrow, January 8, 2018 with all of the details and requires the purchase of the pattern so you can follow along.
5.  Becky at Patchwork Posse is hosting a Three's Company BOM which looks really fun and will give you a 60″ square quilt in the end.  Each month's pattern will be free for the month it is released.  After that, the pattern will be available for a small fee.
6.  I couldn't resist this Stellar Stars BOM by Cristy Fincher at Purple Daisies.  This skill-building program requires the purchase of a pattern and will include monthly videos, tutorials and hand embroidery design elements by Sharon Schamber.  I can't wait!
7.  If you like things sweet with a little applique on top, then you'll love the Sweetest Things Sampler Quilt Along hosted by Michelle at Creative Blonde and Dawn at Honeybee Cloths.  Starting in February, a sampler block will be released each month and combined with Irish chain blocks to create a 60″ square quilt (including borders).  How sweet!
8.  Fat Quarter Shop's Jolly Jabber kicks off another charitable BOM, the Clementine Quilt Along benefiting St. Jude Children's Research Hospital.   A $5 donation is requested each time you download a monthly pattern.  Kits are available as well.  Win, win!
9.  Keep winter warm in your hearts this year with the Snow Much Fun BOM from Cindy at Quilt Doodle Designs.  This mystery BOM will release one block each month for free, then there will be a small fee if you need to play catch up.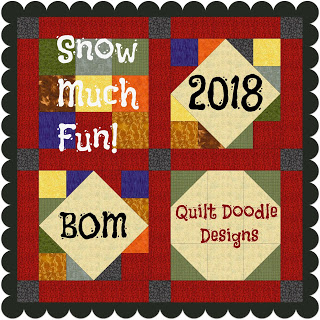 10.  Claudia's Quilts is hosting a Colorful Butterflies BOM and it's perfect for the paper piecing enthusiasts (and nature lovers) out there.  Each month's pattern is free for that month, and can be ordered thereafter for a small fee.
11.  Join Amy Ellis of Amy's Creative Side and Heather Valentine of The Sewing Loft for the Heartland Heritage BOM from Inspiring Stitches.  This adventure will follow the 2018 Heartland Heritage Calendar for each month's pattern.  I bought this desktop calendar just because I needed a calendar, and I'm thrilled they're doing a BOM with it!
12.  Let's not leave out the embroidery fans.  Jenny of Elefantz Designs has a beautiful BOM, A Year In The Garden, that she designed.  On the first of every month, Jenny will share a new floral inspired block that you can download for free during the month of it's release.  Afterwards, it can be purchased for $2 from her online shop.  This might be my motivation to practice my embroidery skills!
13.  If you want a shorter time commitment, then you'll love the Star Spangled BOM hosted by Fort Worth Fabric Studio.  Lindsey will release block instructions for five months starting January 9 and ending May 29, 2018.  Kits are available at Fort Worth Fabric Studio, here.
14.  Last but not least is this beautiful BOM, Patchwork Barn Quilt, by Edyta Sitar for The Quilt Show.  This is a free program for Star members, and it's well worth the cost of a membership.  I love the combination of applique and traditional piecing that goes into this quilt.  And all those blues make my heart sing!
Isn't that an awesome and amazing list of programs for 2018?  I'll try to update it throughout the year, so check back periodically.  If you know of any that I missed or you're about to host your own, please leave a comment and share.
I'm so grateful for all of these designers, whether they're free or paid subscriptions – they are truly works of art and bring joy to my heart!  May your 2018 be full of surprises, inspiration and lots (and lots) of quilting!