Throwback Thursday, May Day Basket
Note:  This blog post is a day late due to technical issues that had me in tears yesterday.  I don't even have the vocabulary to describe what's been going on.  Hopefully, all is back to normal.  I'm afraid to sneeze for fear I might upset my computer 😉 .
I looked at my planner this morning (Thursday) and thought, "I need to do a blog post".  And then my mind went blank.   I usually have an endless reservoir of ideas for this blog and it's easy to post my latest "wip's" or a quick tip.  I still have those things, but they're not in the right stage to push the publish button.
All of that leads us to "Throwback Thursday".  Since I have some new followers that probably missed out on my earlier blog posts, I thought I would highlight an "oldie but goodie".  Today, I'm re-introducing you to my May Day Basket series.
The original series was first published in 2012.   I had a great idea for a wall hanging and I wanted to share how to do a machine embroidery technique that has turned edges and looks as if it were done by hand.  This cute wall hanging measures 29″ square, and here are the links to each part:
May Day Basket Part 1  This includes cutting and piecing instructions.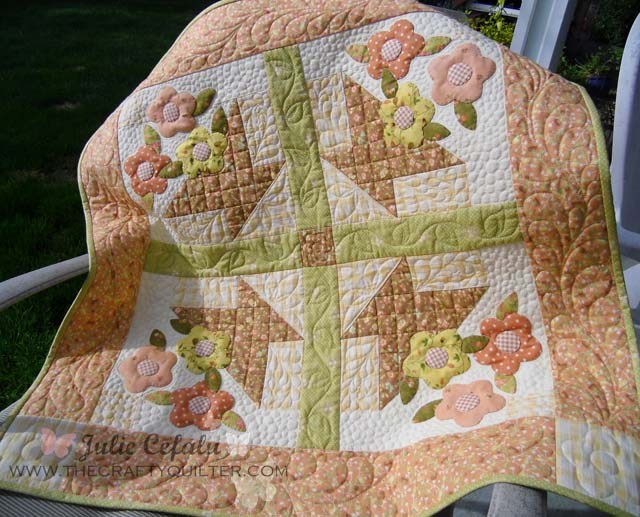 May Day Basket Part 2  This provides detailed information about the applique process.
May Day Basket Part 3  All of the sashing and border instructions are here along with quilting details.
You all know I love applique.  There are so many techniques to pull from and each has a place depending on your time and needs.  This faced technique is one I use now and again.  I recently used it on my Petals Plus Table Runner.
I also used this faced applique technique in my Woven Heart Block tutorial and my Spring Petals Quilt Along (week 3).
Thanks for allowing me a Throwback Thursday and revisiting the May Day Basket series with me.  The timing seems like it's just right for a spring wall hanging.  I still have mine hanging in my sewing room, although I have a feeling it's time to freshen things up.  Maybe a summer sew along?  Hint hint.
Have a perfectly wonderful weekend!