Upcoming projects and WIP's
There are so many things going on at the Crafty Quilter household.  I have some upcoming projects to tell you about and a few WIP's that I'm in the middle of.
But first, let me say "thank you" so very much for your sweet comments on my 5 year, 5,000 followers milestone.  I'm overwhelmed by your kindness and I appreciate every message.  Many of you have mentioned that you enjoy my Sew Thankful Sunday posts, so be assured that they will continue on a monthly basis.  I'll also keep you up to date on my grand daughter, Amelia, (if I must – ha ha!) and our household renovations (not much to show yet.)
I'm still working on my Woven Heart tutorial and you're going to love the many things you can do with this block!  Plus, there's no curved piecing involved.  I've been playing with EQ7 to come up with some layouts and I'm excited to share them with you.  Here is the block which will finish at 9 1/2″ (yes, that's 10″ unfinished).  You may be reminded of the hearts you "wove" in school – back in the day.
I'm participating in two blog hops in the next few weeks.  The first one is for the book, I Love Precut Quilts!
by Tricia Maloney.  Next Tuesday, January 31, I'll be sharing a project that I made from this great little book and I'm really excited about it!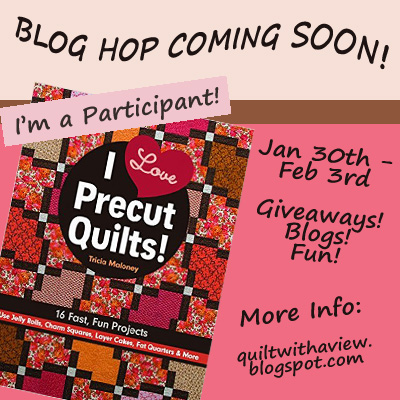 The Tuesday after that, February 7, will be my turn on the Enchanted Blog Tour.  Enchanted is a new fabric line by Dodi Poulsen for Riley Blake.  You're going to love what I've done with this adorable fabric!
That's about all I can keep up with in my sewing room.  Between looking at kitchen plans and materials and a change in lifestyle because of our small living quarters, I don't have as much time to quilt.  It's a small price to pay, but quilting keeps me sane, you know?
We planted a small winter garden this year and we just harvested our first bunch of broccoli.  It's just amazing what you can grow in California during the winter!
In Austin, Texas, it's planting time, too.  Amelia has a little bit of her grandmother in her!  Those raised beds were made by Mr. Crafty Quilter as a birthday present to my daughter.  I think Amelia is having more fun with them than her parents.
That's it for now.  I hope you're having a great week. I'll be back soon with that woven heart tutorial.
Save
Save
Save