It has been unsettling for most of us as we watch and read news reports of the Russian invasion into Ukraine. When such upheavals arise, we naturally want to do something to help. Today, I want to share a few ways quilters can support Ukraine.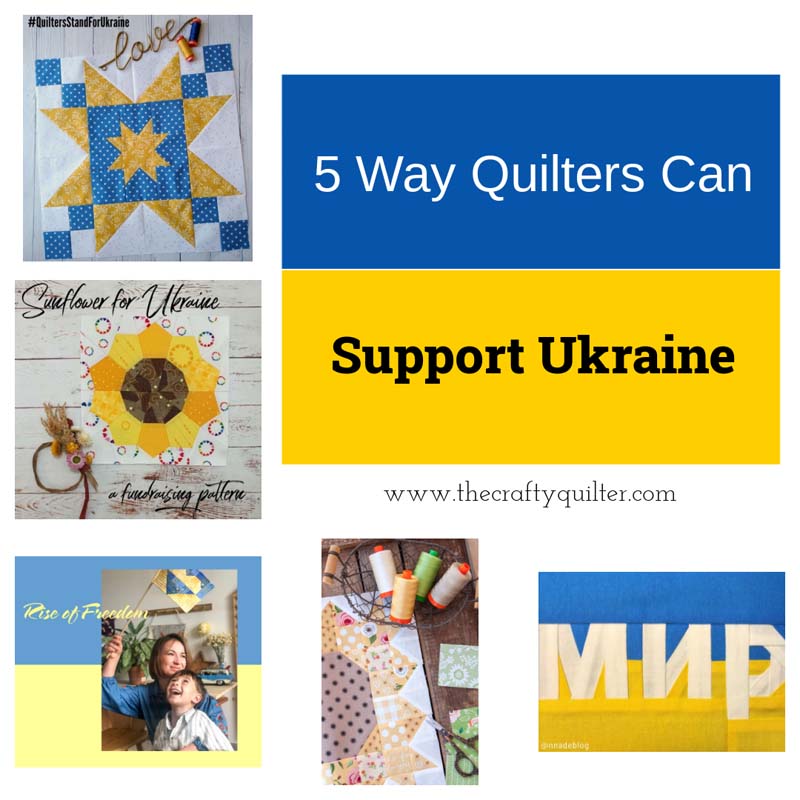 How quilters can support Ukraine
Someone who is always generous with her craft is Pat Sloan. Pat has created a FREE Quilter's Stand For Ukraine Block & Quilt Pattern that you can download and print. Make this block and share it on social media or with your guild/friends/fellow quilters to show your support of the Ukrainian people. Pat along with Aurifil Thread have partnered with UNICEF to raise funds for the children and families of Ukraine. By making a donation, you'll be helping UNICEF provide access to basic services including water and sanitation, immunization and health care, schooling and learning, psychosocial support, and emergency cash assistance for up to 7.5 million children.
---
An Instagram post by Sashas Quilts has pulled at my heart for its sincerity and passion. Sasha lives in Western Ukraine and is donating all proceeds from the sale of her Rise of Freedom Pattern to various charity organizations to help the people of Ukraine. Her pattern is paper pieced but can easily be made with traditional piecing.
---
Another talented and generous quilter, Kristy Lea of Quiet Play, has created a beautiful Sunflower For Ukraine paper pieced pattern (the sunflower is one of the national flowers of Ukraine). Kristy has already raised over $11,200 AUD funds for UNICEF in two days with the sale of her pattern. It's now listed for free with the hope that you'll donate to a charity of your choice supporting Ukraine.
Here is an update from Kristy's Instagram post:
An update on the Sunflower for Ukraine fundraiser pattern
🌻
Firstly THANK YOU to everyone who has purchased the pattern, shared about it, left a comment, and made a donation. The support for the people of Ukraine is a beautiful thing to see. We have met -and far surpassed- the goal I had hoped for.
🌻
We have sold over 2000 copies of the pattern which has made for a massive donation of $11200 AUD for UNICEF. Over $11k!!! I've made the donation now (swipe to see the receipts for proof of payment).
🌻
But I have to be honest guys – it's really overwhelming. I didn't expect this to get SO big. It's an amazing donation raised in less than 2 days. You guys are so generous. It's a lot of responsibility to be accountable for such a huge amount of money and I am making sure I am as transparent as possible so you can see the proceeds from your purchase has gone to a good cause.
🌻
All of the profits from the sale of this pattern have been donated. This is minus the fees charged by PayPal/Stripe (unavoidable unfortunately). There are also shop platform fees but I am covering those personally as part of my own donation as well as an additional amount to make it a nice round $11200. All of the profits have gone to the donation.
🌻
But I'm overwhelmed. My family and I have all come down sick over the weekend and I'm a one woman show. So I have made the decision to change the pattern to a free one in return for people making their own donation to a charity of their choice supporting Ukraine. I trust that those who download the pattern from here on as a free offering will make a donation – even $4.50 – the price of the pattern. Every dollar counts. I'm also hoping this download options helps those who wish to make the pattern as a group or guild project to auction, donate, sell to further raise funds for Ukraine. Down the pattern at Payhip.com/quietplay
🌻
I'm so very very grateful for the support and so proud to be part of such a generous and kind hearted quilting community. Thank you for helping make this incredible donation happen and I hope you'll understand the decision to change the pattern option going forward. It wasn't made lightly. Much love x
---
I love that Vanessa Goertzen of Lella Boutique has a free Sunflower Power Quilt Block that you can make to show your support for the Ukrainian people. In her Instagram post, Vanessa eloquently writes:
Sunflowers have become a powerful symbol of the Ukrainian people; their heart, strength, and determination to fight for good. It's impossible not to be inspired by their spirit. We pray for these heroic people to overcome the evil at their door. We pray for the leaders of our nation and the world to know the right way to help.
If you'd like to sew up a sunflower block, head there to download the link. Please enjoy this free pattern and consider donating to @redcrossukraine @unicef @unicef_ukraine. Post your blocks using the hashtag #sunflowersforukraine

@lellaboutique
---
Berene at Happy Sew Lucky has created a Peace for Ukraine quilt block that you can download for free. As she writes in her Instagram post: "or better yet make a donation to an organization of your choice that is supporting Ukraine in exchange for the pattern. Make a quilted postcard for a Ukrainian friend. Or make a block and post with a message of support."
The block measures 6″ x 4″ and is paper pieced. It's the perfect size for a quilted postcard. The letters mean "peace" in Ukrainian and the word is imposed on the Ukrainian flag.
---
We creatives tend to be a nurturing and loving bunch. I'm glad there are avenues that we can funnel our creativity to raise awareness and support for issues we believe in. Thank you for reading how quilters can support Ukraine. Thank you for raising your voice and thank you for showing you care.