December Chaos
I apologize for being a little absent from blogging lately. This December is the first time I've completely missed a Sew Thankful Sunday blog post! I've been busy emptying five bedrooms of everything (and I mean every-thing) in preparation for our remodel. Besides sifting through memorabilia of four children, my sewing room has been the most challenging. I can't believe how much "stuff" I've accumulated over 20 years! I've been running into all kinds of long forgotten treasures, and purging lots of fabric and notions. It's kind of scary, but liberating at the same time.
I discovered a cabinet full of kits and UFO's and another drawer of unfinished BOM's from years ago. Some of these I had no interest in finishing so they got passed along to others that might. I think that 2019 might be the year of completing my UFO's (or at least making a dent). I did this same thing in 2016 with my
Hello 2016, Goodbye UFO's challenge
. Anyone interested in doing this again? Let me know – based on your response, I'll choose a format and we can have fun together as we tackle our unfinished projects.
---
I have set up a temporary sewing space in my kitchen/office area. It's actually quite convenient since I do my blogging and home office stuff there. Now, all I have to do is swivel my chair around and I can sew!
Once we're finished with renovations, I'll have a new sewing room that is slightly larger than the old one and with built-in cabinets along one wall. I'm going to be very wary about what goes in there from now on. I don't want it to become cluttered and disorganized again (I'm being optimistic). Mr. Crafty Quilter couldn't believe what came out of that room (and other places) and how much is still sitting in a storage container waiting for the new space. The purging will continue as I go through my bins of fabric and whittle them down some more.
---
Holiday Plans
We'll be spending a few days during the holidays in a cabin with 3 of our 4 children. We won't see our granddaughters for Christmas, but we had them for Thanksgiving. They were so much fun and wore us out completely! Amelia is three and full of giggles and energy. She has that creative spark and loves to draw and paint.
---
Clara is 8 months old and she's fearless. She is crawling and climbing up on everything. The sound of a baby's laughter is one of the best things ever – and Clara loves to laugh. She is pure joy (and also gives great hugs).
---
December finish
I've been working on an embroidery project that I did manage to finish in December. It's already been gifted to my oldest daughter, so I can finally share photos with you. This "Home" embroidery design came as a complete kit from
Lolli & Grace
. It had everything I needed to complete the project: pre-printed panel, embroidery hoop, embroidery floss, needle, felt for hoop backing, and great instructions. Since I'm kind of new at embroidery, I was so surprised when my final project even resembled the picture in the pattern!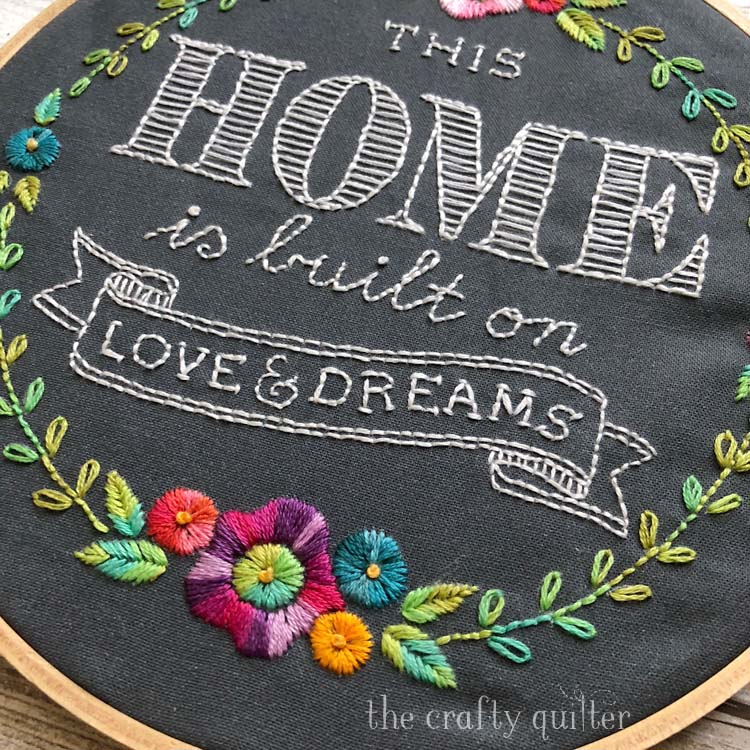 If you want a quick project for the holidays, my daughter, Kelly, made these adorable hoop ornaments from recycled clothing. She used old flannel shirts and her own design to come up with personalized ornaments for her siblings.
---
Upcoming plans
Once my routine starts to normalize, I'll be spending lots of time quilting and blogging again. I'm reviewing a new template for Drunkard's path blocks (I love it so far), and I'll be finishing up a new pattern that is layer cake friendly and super cute (of course). I plan on continuing to bring you new (free) tutorials each season – that's four per year, and Sew Thankful Sunday will be back on the first Sunday of each month. I always love sharing the latest quilty news with you as well as my favorite tips and techniques. And hopefully we'll tackle some UFO's together!
Thanks for your patience as I transition into a different routine and space. I hope your holidays are full of wonder and joy so far!