Piecing projects and other things
For those of you in North America, I hope you're staying warm inside while the temperatures are at their lowest outside.  In Northern California, we're expecting a typical winter day with highs around 60 and rain coming this weekend.  I'm spoiled – I know!
I'm slowly progressing on some piecing projects (my favorite) that are ongoing.  I'm catching up on The Patchsmith's Sampler Blocks as the sew along is reaching it's end.  There are a total of (50) 6″ blocks, and I've made about 30 of them.  The most recent two are the St. Louis Star and the Chain Link block.  The piecing on both is very clever!
I love to have a handwork project in the works to keep me busy while watching TV, so I've re-started a grandmother's flower garden project.  I'm beginning to love English paper piecing, especially after watching Quick & Easy English Paper Piecing with Helen Stubbings on Bluprint.  Life changing!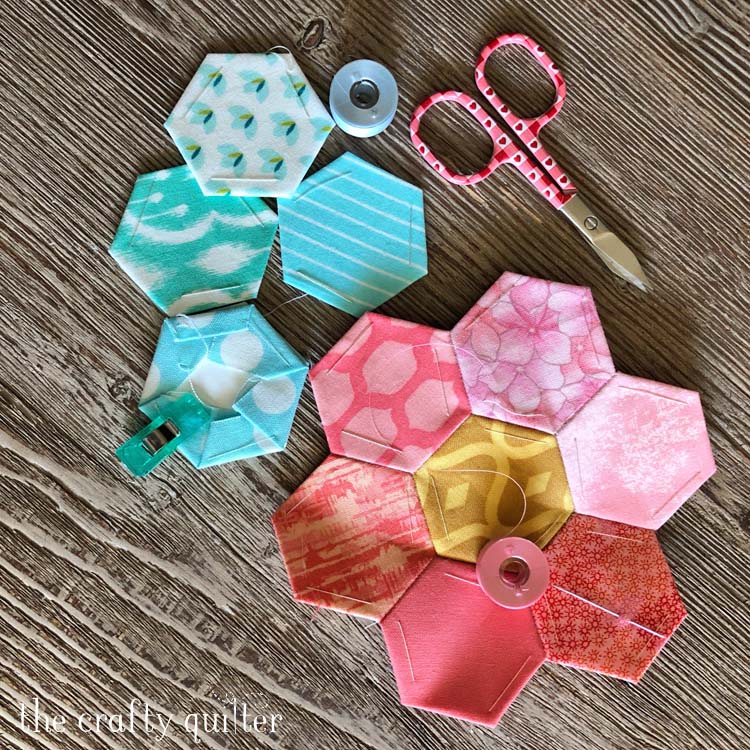 My inspiration for these hexagons is the quilt below by Sherri McConnell at A Quilting Life for American Patchwork & Quilting Magazine (June 2018).  I love how bright and happy it is!  Sherri now has the pattern available in her Etsy shop here.  I don't say this very often, but I want mine to look exactly like hers.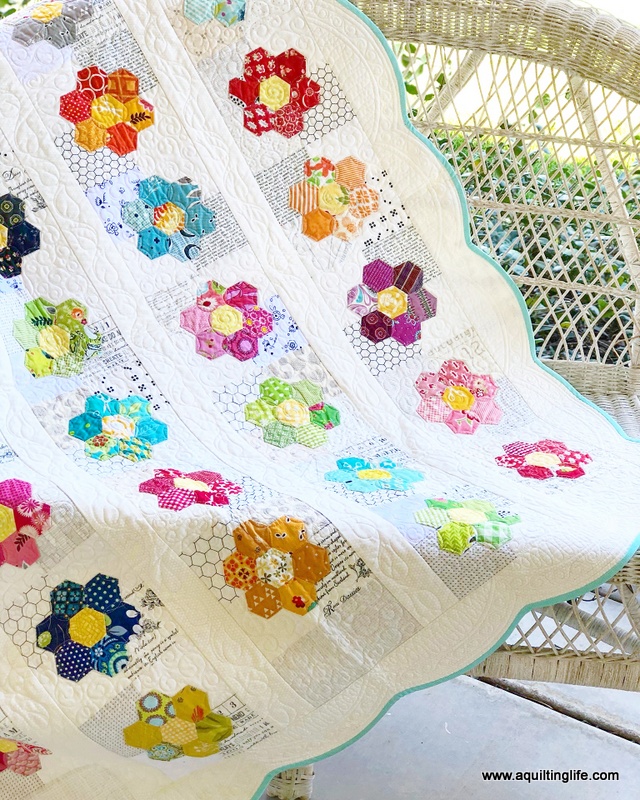 I'm also working on a product review of a new template for making Drunkard's Path blocks.  I'll tell you all about it next Wednesday along with a roundup of Drunkard's Path patterns.
I received my last quarterly Little Box of Figs and it did not disappoint.  This is a subscription box from Fig Tree Quilts and I think it has already filled up for the next year.  I can't find any current information about it.  The contents of the current box has a Valentine's Day theme and contains a beautiful bundle of fabric to make the included pattern (Fair Isle Hearts) along with some extra goodies.
There are a few days left to add your completed UFO project to the link up here.  Make sure when adding your photo that you're doing it from that specific blog post and not my home page.  So far, there have been over 50 projects added – I'm impressed!
I'll be back of Sunday for the February edition on Sew Thankful Sunday.  Have a warm and happy day!