Sew Thankful Sunday, June 2019
{I love the idea of "paying it forward". I think the world would be a better place if we could spread some joy and acknowledgement of good deeds done by others. I try to do that once a month for my Sew Thankful Sunday posts. I highlight some great content that I've found on other people's blogs that I hope will inspire you and reward the originator by bringing traffic to their site. If your blog has been mentioned without your consent, please let me know and I will take you off the current list of featured bloggers.}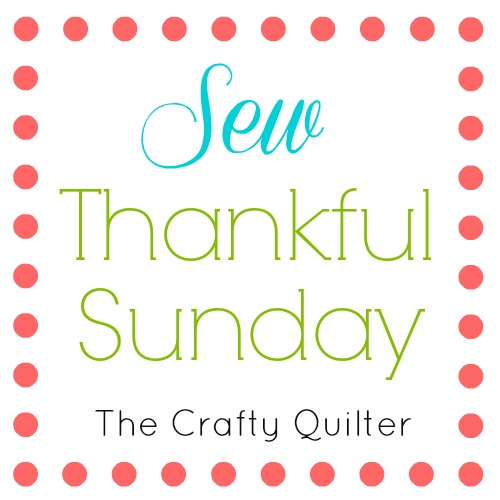 For most of us, June means the transformation of Spring into Summer. The days are getting longer and there is plenty of sunshine. You might even find more (or less) time to spend in your sewing room. Today's Sew Thankful blog post is full of ideas to help you get creative this summer.
Note: If you use Pinterest, please pin from the original source and not this blog post. Remember, you can click on any of the images in this post and it will open up a new tab to the associated link.
If you're looking for a small and quick project, you'll love this Pinwheel Pincushion & Mini Pillow Tutorial from Jacquelynne Steves. This is a great way to use those mini charm packs!
2. If you want to try something new, check out this Reverse Applique Tutorial by Allison at Campbell Soup Diary. It's a technique that's not often used, but it's very effective.
3. Aurifil has come up with some great Father's Day gifts in their Five for Friday blog post. You have almost two weeks left stitch one of these up!
4. Summer is the perfect time for some Strawberry Cake Muffins! You can find this delicious recipe by Pam at Heartspun Quilts along with her pretty patchwork, of course.
5. Check out these adorable Quilted Leaf Coasters by Sedef at Down Grapevine Lane for Diary of a Quilter. Sedef has the full tutorial using her newest fabric collection, Rhapsody.
6. Does sewing curves have you running in the other direction? Then you'll appreciate this tutorial on How to Cut, Sew and Square Orange Peel Blocks by Sharon at Color Girl Quilts. She provides two videos that are excellent.
7. I know it's hard to imagine, but Christmas sewing in the summer is a thing. This Christmas Churns Quilt Tutorial by Alison at Little Bunny Quilts for the Moda Bake Shop will get you in the holiday spirit in a hurry!
8. A new to me blog is Home Made Emily Jane. Emily is a young quilter who loves building community through crafting. You'll enjoy reading her recent blog post on 9 Tips for Selling Home Made Goods.
There are so many ways to stay creative this month. I hope you found something to inspire you today. Thank you for spending some time here for Sew Thankful Sunday, and Happy Summer!