Black & white mug rugs and other things
Happy Wednesday everyone! I thought I'd share two black & white mug rugs that I've finished, a WE CARE update, plus a few other things. Before I get to that, I want to apologize for incorrectly informing you that the Charm Pack Tree Skirt by Fat Quarter Shop was a freebie; it's not. While Fat Quarter Shop offers many free patterns, this one is available to purchase as a PDF download for $5.98 here.
Black & white mug rugs
When we finished our most recent house remodel, I was left feeling so grateful to the designer that I worked with. Elizabeth and her assistant, Irene, were so helpful during the design phase and with helping me choose tile, colors, fixtures, etc. I was a wreck a few times during construction and felt immediately better after one phone call with Elizabeth (Renovation Design in Redwood City). I made both of them a mug rug as a little thank you gift for keeping me sane. We found a beautiful marble look-alike (Time Worn White Carrara) that we used in all three bathrooms along with a little black accent. I made the mug rugs to look a little reminiscent of our bathroom tile, thus the black & white color theme.
I used lots of black and white scraps along with a fun print for the back. I love them both, but the hexagon mug rug is my favorite. There are no seams and no hand stitching on that one, but it looks like it was more difficult than it was. I'll have to work on a separate blog post for that one.
I LOVE making mug rugs. They are tiny, mini quilts that are quick and fun to make. I have made a total of six, free tutorials for different mug rugs: Glass Half Full Mug Rug, Orange Peel Mug Rug, Mug Rug Crumb Catcher, Happy House Mug Rug, Snow Birds Mug Rug and Holiday Mug Rug.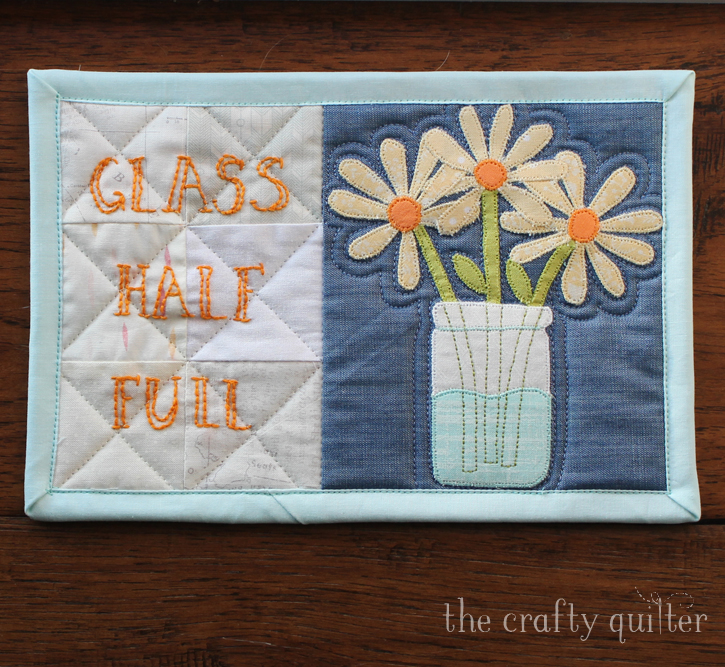 I also have one mug rug pattern, the Christmas Pocket Mug Rug, that you can purchase here for $3.00. It's been my most popular pattern so far (which I'm very grateful for)!
WE CARE Update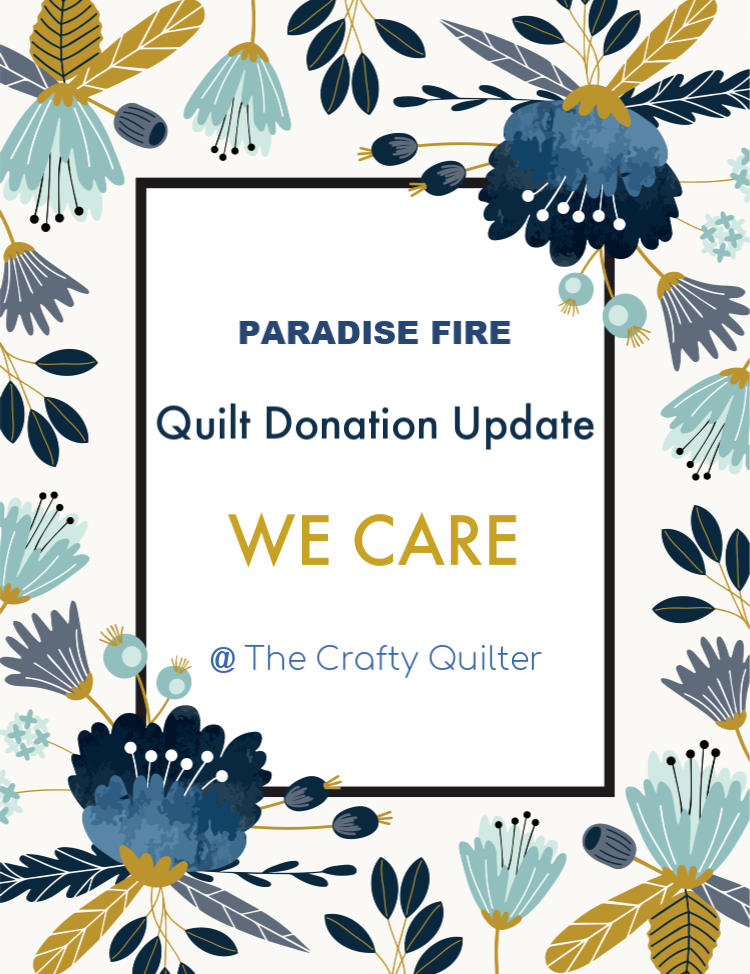 After I published a blog post about WE CARE late last year, many of you generously offered your support by providing quilts and/or quilt supplies for fire victims of the 2018 Camp Fire in Paradise, CA as well as the Carr fire and Mendocino fires (also California). I'm so privileged to be a tiny messenger for this group of volunteers. Thank you all for sending your prayers and quilts to the children in these communities. YOU have made a positive impact on so many lives! Kathy Biggi and her group of hands-on volunteers are the very definition of generous hearts, and they are so thankful for everyone's contributions. Here is a recent wrap-up email from Kathy:
"It's kind of fun to try to do the impossible." ~Walt Disney

We saw that handmade sign on the road back in December on our first trip to Paradise. It has been an inspiration.

Six months later with hundreds of volunteers, miles of fabric, 91 schools in 22 different communities and 2,192 quilts and pillowcases delivered, we have done the impossible. Every child we could locate from Paradise Unified School District has received a quilt.


As we delivered the last of the quilts to Paradise on Monday, nothing seemed to have changed. Skyway (the main road through town) is still lined with ruins of homes and businesses. Skeletons of melted trucks and cars are reminders of the intensity of the Camp Fire.

But, there are signs of hope. Dozens upon dozens of logging trucks hauling charred logs to be milled. (We were told there are 1.5 million more to go). Amongst the debris were blades of bright green grass popping up bringing life to the burned soil. "NOW OPEN" signs were posted on some buildings, including the quilt shop.

We were inspired by the positive attitude of the residents we spoke with. Almost all had lost everything….one even a family member. Yet, they are anxious to rebuild. They are "Paradise Strong."

As you know, the Camp Fire was not the only destructive fire in 2018. WE CARE provided quilts for 263 students displaced by the Carr and Mendocino Complex Fires prior to the Camp Fire. It's been a busy year.

On behalf of the 2,455 children who received quilts and pillowcases, THANK YOU for providing warmth, love and hope for their future.
The fabric donations, quilts, pillowcases, organizing, packaging, delivering and the numerous encouraging messages were above and beyond anything I ever anticipated.

WE CARE will continue with our mission. Our quilt supply is pretty much depleted. For locals, there are quilt and pillowcase kits at Ben Franklin for your summertime sewing pleasure. I also have quilts that need quilting and enlarging. I've ordered new fabrics, some batting and new labels. After a summer break, we will meet again in August at the Seventh-day Adventist Church in Grass Valley.

For those of you across the country, keep sewing. We never know when we might need your help again.

I hope you feel as fulfilled as I do knowing we were a small part of helping in the Paradise recovery effort.

Thank you and bless you all.

Kathy❣️
Other things
I'm glad so many of you are interested in my Disappearing 9-patch Quilt Along which starts on June 15. I will give you some fabric requirements for various quilt sizes early next week so that you can get a head start on cutting or "acquiring" your 5″ squares. I know some people like to plan ahead!
Thanks for all of your comments on my experience with Crayola Ultra Clean Washable Markers. I appreciate you sharing your own experiences. I've learned from you that it's imperative to use laundry detergent when washing the marked fabric in order to get all of the ink out. And I have learned that many of you have had similar experiences to mine. I love reading your comments!
I finished one more page in Amelia's busy book. This one is an alphabet page based on the book, Chicka Chicka Boom Boom. I have made four pages so far, and I really need to get six more done before her birthday in July. Lofty goals for me!
How are your summer plans shaping up? If you haven't tried Bluprint yet, this summer is the perfect time (affiliate link). Bluprint offers a 30-day money-back guarantee and the ability to cancel at any time. PLUS, get 50% off your first 3 months of Bluprint now through June 30, 2019. Stream unlimited creative classes, access tech-edited patterns & get discounts on supplies.

Why subscribe?
You'll have unlimited access to all of Bluprint's 1,300+ classes, plus exclusive shows, new interests to explore, and much, much more! You'll get all the perks, like:
• 15% off kits and supplies on Shop.MyBluprint.com
• Unlimited access to all 1,300+ classes
• Monthly plans get 1 class to own forever — your pick!
• Annual plans get 12 classes to own forever — your pick!
• Early access to amazing sales
• Professionally tested patterns
I will be leaving tomorrow for a long weekend in Austin to visit the grandkids. We have three babysitting "appointments" lined up, and some birthday candles to blow out. Because of "life", my Sew Thankful Sunday blog post will be later in the day on Sunday. I hope you're all having a wonderful day!