Disappearing 9-patch QAL giveaway winners
I am happy to announce the giveaway winners of the Disappearing 9-patch QAL (quilt along)! There were a total of 55 entries to the link up which is quite impressive. If you haven't seen all of them, you should take a look at all of the beautiful entries and the many ways you can put together a disappearing 9-patch quilt.
The winner of prize package #1 is entry #39. This quilt was titled, Scrappy lap quilt for a veteran. This quilt is going to make someone very happy!
I have emailed the maker of this quilt, and I'm waiting to hear back from you so that I can get your mailing address. You will be receiving two charm packs of Vintage Holiday by Bonnie & Camille for Moda Fabrics, one charm pack of Modern Basics (ocean) by Michael Miller Fabrics, one Cupcake Mix Recipe pack and one Art Bin Clear View case (perfect for holding 5″ squares).
The winner of prize package #2 is entry #7, which belongs to Sue R. Sue made this Disappearing 9-patch quilt from a fat quarter bundle that was a bonus surprise gift from a source that she'd received about 2 years ago. It turned out lovely, Sue!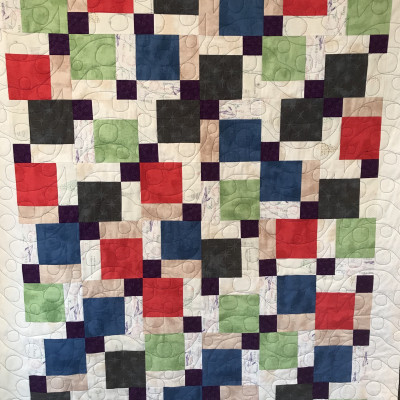 Sue will be receiving one charm pack of Sphere by Zen Chic for Moda Fabrics, one charm pack of Miss Kate by Bonnie & Camille for Moda Fabrics, one Jolly Bar of Sew Cherry by Lori Holt for Riley Blake Designs and one Cupcake Mix Recipe pack (not pictured).
I hope you all enjoyed this quilt along. Thank you to everyone who participated. I know it was fun for me and I now have two disappearing 9-patch quilts! I finished adding the borders to the second one last week. I'm calling this one my patriotic picnic quilt. It's very "patchwork-ey" and has that Americana look to it.
Another quilt top that needs to be quilted! I think this one will go to my sister-in-law, Audrey, who has a longarm machine and just opened up a quilt shop in Lincoln, California. There are three partners of this cute shop, and it's called Sew Katie Jean. If you're in the area, stop by!
If you've been considering a Bluprint subscription (affiliate link), now is a great time to buy. It's their birthday, and as a special gift, they're offering their best subscription deals AND classes you can own forever! Newly added is a 6-month subscription which includes 6 Own Forever Classes + 6 Months Streaming for $39.99. (This offer is good until 7/31).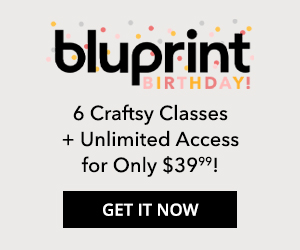 I hope your week is off to a good start. I'll be back on Wednesday with news about an upcoming, free block of the month that I'm participating in!