July UFO & WIP Challenge winner and August prize
We have a winner for the July UFO & WIP Challenge! It goes to #31, Chris at Chris Knits Sews. She made this beautiful quilt as part of my Disappearing 9-patch Quilt Along. Congratulations, Chris!
There were a total of 42 finished projects in July's challenge. Well done guys! I'm glad you're still motivated at the mid-year point.
August prize
The prize for the August challenge is a Cherry Pickin' Table Runner kit by Me and My Sister Designs for Moda, compliments of me and my stash! It includes fabric, pattern and template to make this adorable table runner.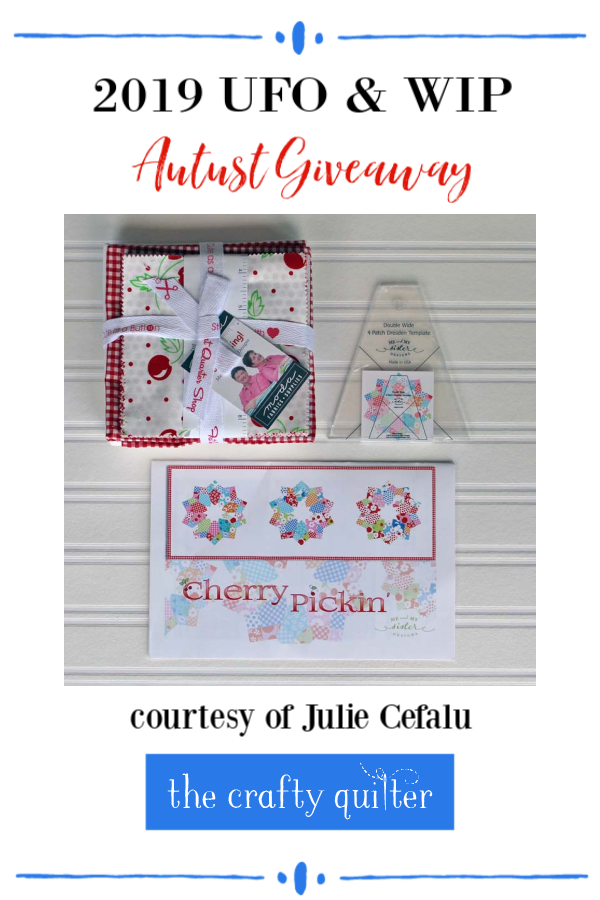 To enter the challenge, all you need to do is finish any UFO (unfinished object) or WIP (work in process) this month and add a photo of your project to the link up which will be posted on August 31. It's open for one week, and then I randomly choose a number from the link up to be that month's winner.
My project for August is to finish and gift the Busy Book for my granddaughter, Amelia. It's been a labor of love, and I'll be glad to have it done so I can get on with my other "normal" quilting projects.
If you've been picking UFO projects based on the All People Quilt UFO Challenge, this month's number on the list is 9. I like the way they run their challenge by making a list of 12 UFO's and then picking a number randomly each month to determine what to work on. I started off the year following that process, but it's hard to keep up with my schedule and deadlines.
Thanks to everyone who has participated in my challenge so far this year. You can join in at any time, and get those projects done and cross them off your "to do" list!
Happy quilting!