Sew Thankful Sunday, November 2019
{I love the idea of "paying it forward". I think the world would be a better place if we could spread some joy and acknowledgement of good deeds done by others. I try to do that once a month for my Sew Thankful Sunday posts. I highlight some great content that I've found on other people's blogs that I hope will inspire you and reward the originator by bringing traffic to their site. If your blog has been mentioned without your consent, please let me know and I will take you off the current list of featured bloggers.}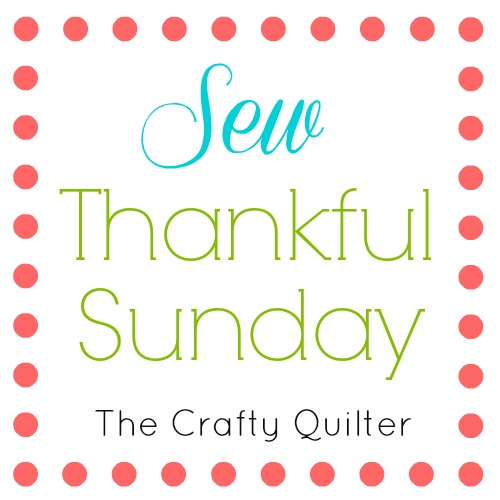 It's just beginning to feel like Fall here in Northern California, but it's definitely looking like it inside my home. The month of November is also time to gear up for Christmas, so you'll find lots of inspiration for the holidays in today's Sew Thankful Sunday November post.
Note: If you use Pinterest, please pin from the original source and not this blog post. Remember, you can click on any of the images in this post and it will open up a new tab to the associated link.
Tis the season! Check out 100 Days of Homemade Holiday Inspiration at Hoosier Homemade. I guarantee you'll find something worth pinning and creating for the holidays!
Caroline at Sew Can She is gearing up for the holidays too with her 10 NEW Holiday Gifts To Make From Free Sewing Tutorials. You'll love this video full of great sewing ideas for your favorite people!
It's time to start thinking about block of the month (BOM) programs for 2020. You can't go wrong with Bonnie Hunter of Quiltville's new Frolic, A Quiltville Mystery BOM. This is a great way to learn to techniques while making a beautiful, 82″ square quilt.
You may find yourself needing a Casserole Carrier this month, and Pat Bravo for We All Sew has the perfect tutorial for you to make one. It's cute and functional!
Nothing makes decorating easier than these free Printable Vintage Christmas Vehicles from Krista at The Happy Housie. You can print them in 5″x7″ or 8″x10″ formats. While you're there, she has links to 23 other free holiday printables!
I fell in love with this Desert Flower Block tutorial from Quilt Jane. She does a wonderful job of showing you how easy it is to make two quilt blocks from two fat quarters. Jane's finished Desert Flower quilt is beautiful, too!
The Jolly Jabber recently released another free block pattern in their Classic & Vintage Series: Broken Dishes. You can download the broken dishes block pattern for free or purchase a quilt pattern to make an entire quilt.
I absolutely love using wool batting in my quilts, and you can learn a little bit more about why at Suzy Quilts. She explains so well Why Wool Batting Makes the Warmest Quilts along with its other great qualities.
I hope your creative juices are flowing this beautiful Sunday. There is sew much to be thankful for – especially with the help of today's featured bloggers and designers. Happy November!