Family, cooking & quilting
Are you like me and ready for normalcy to return? I can't remember having so much uncertainty in my life, especially with the upcoming elections. What I'd really like is the best of both worlds. Less traffic, less smog, less consumption and more compassion, more social and environmental awareness, and a good haircut would be nice!
Family
It seems like there's a lot of quilting and cooking going on at my house, which isn't too unusual. Up next up is learning how to cut men's hair; now that's definitely pushing the comfort envelope. My son will be my guinea pig and he's happy to do it. He just emerged from an epic, two-week backpacking trip on the John Muir Trail and so thankful for a home-cooked meal (along with Mr. Crafty Quilter).
Last weekend we had two of our daughters visit for four days. It was so nice to have them here! We spent most of the time at home, still being careful about outside social contact. Cooper was happy for the extra attention.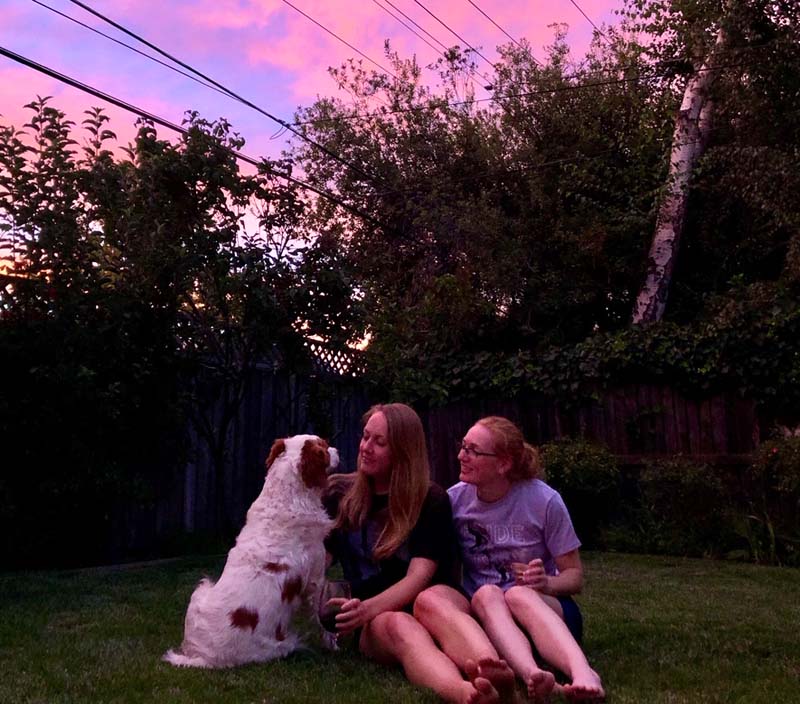 Our granddaughters are happily enjoying their summer with the enthusiasm and energy of little people. While life is very different for their parents, they feel hardly any of the effects of the outside world conditions. Thank goodness! And Ben is crawling now, so their inside world is changing too!
Yesterday, Mr. Crafty Quilter and I celebrated our 36th wedding anniversary. That's making me feel old! We didn't go anywhere, but I was treated to no cooking and a beautiful bouquet of flowers. The most recent picture I have of both of us together is in Austin at the Driskill Hotel, wearing our face masks. How appropriate!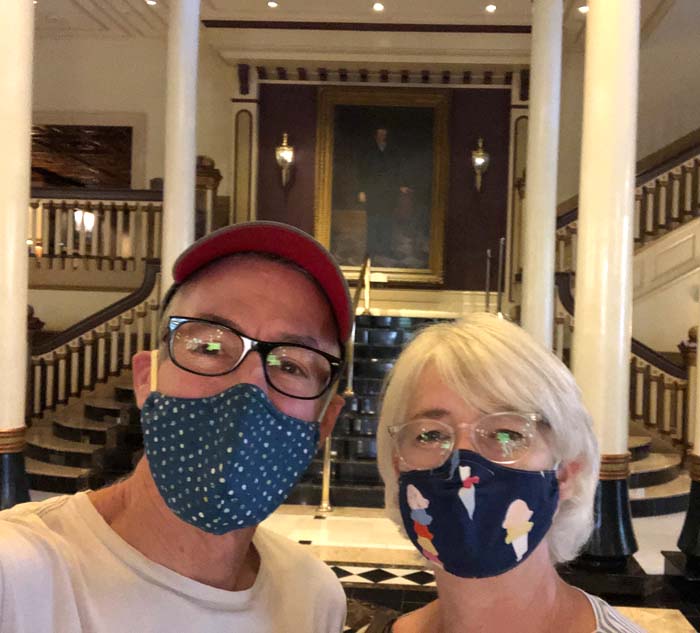 Cooking
I've been making sourdough bread, successfully, for the past three months. The warm weather has been really helpful. I made my own sourdough starter and it's fun to try different recipes for the sourdough discard like this cinnamon raisin sourdough bread. My favorite method and recipe for a good, sourdough levain is this one at Live Simply. I use bread flour instead of the spelt flour she calls for, but everything else is the same. It turns out beautiful every time.
During the summer, one of my favorite meals is a composed salad of whatever's fresh from the garden, plus some cheese, maybe some prosciutto and a slice of that sourdough bread. Oh, and don't forget a cold glass of chardonnay!
Quilting
I finished three more quilt blocks for the Timeless Tradition BOM that I'm co-teaching (via Zoom) at The Granary Quilt Shop. I love all of the blocks so far, but this large, 12″ block is my favorite.
My sister-in-law co-owns a quilt shop, Sew Katie Jean, in Lincoln, CA, and each month they choose a theme and pattern for their quilt block contest. In July, they used my Star Spangled Heart pattern for their pattern and I loved seeing their front window decorated with these amazing blocks! I think it was a success!
I haven't done too much sewing other than making three more Versatile Face Masks last weekend. I'm thinking of trying a different type of mask pattern; I'll let you know how that goes. I feel like I need to clean and re-organize my sewing space now that I'm in between projects. That's the plan for today – along with cleaning out the refrigerator. Exciting times!
Thanks for stopping by today. I hope you're having a wonderful week!