I can never get ahead. I'm always starting something new before I've finished something old. Well, I finished something not-so-old, and I made progress on a few old UFO's, so I gave in to the sparkly something new. But let me show you what I finished first!
Last night, I put the last few stitches on the hanging sleeve of my Patchwork Pumpkins wall hanging. Just in time for October!
I love this project so much! I designed it in 2018 and it's still my favorite decoration for October and November. I used turned edge machine applique for the pumpkins and the embroidery detail has three strands of DMC floss. I free motion quilted pumpkin ridges and sky swirls (sort of) with grid quilting on the bottom. Plus a few hearts were added in there too.
My original wall hanging has been hanging in my SIL's quilt shop for over a year. I used a variety of gray fabric for the background on that one (below). The pattern is available for purchase in my Etsy Shop here.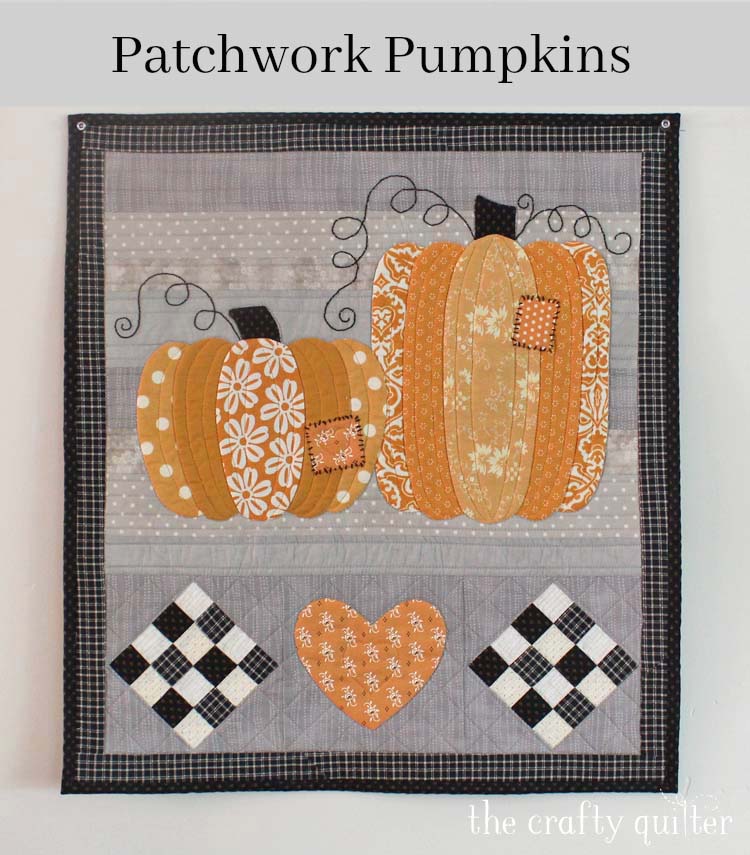 ---
When I saw the quilt design for Moda's Stitch Pink Quilt Along, I knew I wanted to join in. That's my new and shiny project that I'm starting this week. Anybody with me?
Starting October 1, Moda will share one 12″ quilt block pattern for each day of the month. That's thirty blocks total with finishing instructions on the 31st. The quilt will measure 64″ x 76″. A portion of Moda's proceeds from the Stitch Pink Grunge collection will go to the National Breast Cancer Organization.
I am on a mission to use up my own fabric stash. I played with a few color combinations today and came up with a navy and cheddar color scheme. Isn't it delicious? This bunch of fabric has me very excited to start!
I'll shop for the background fabric tomorrow. It requires 3 3/4 – 4 yards. I'll probably use a cream color, but I'm toying with a really dark navy background. I've seen a few mock-ups with dark backgrounds and I like them. That would eliminate a few darks from my fabric pull, so we'll see.
The last thing on my list (quite literally) is that I'm now on Facebook. The Crafty Quilter Designs has a Facebook page here. I'm already lost and confused with Facebook and I really don't know how active I'll be. I might try to put daily updates of my Stitch Pink progress there, but I still don't know how Facebook works.
I know a lot of people like Facebook and just as many people feel the opposite. I really created an account so that I could join a few Facebook groups or set one up for myself. I'm already beginning to regret that decision. Can I undo this monster? Ugh. I'll give it until the end of the year and then decide whether to keep at it.
Any how, I hope you're all having a great day! I'll be back for Sew Thankful Sunday this weekend.