Quilting in the Garden favorites
As with many things, Quilting in the Garden has been cancelled for 2020. This event usually takes place the last weekend in September among the majestic oak trees at Alden Lane Nursery located in Livermore, California. I've attended the past four years in a row and have taken photos for three of those years. It's a beautiful, outdoor quilt show that combines many of my favorite things: quilting, gardening and Fall.
Each year, Quilting in the Garden features a well-known quilter, a guest artist, special exhibits and classes. Volunteers hang hundreds of quilts throughout the nursery and among enormous heritage oak trees.
My past Quilting in the Garden blog posts have been some of the most appreciated and popular. I thought I would give you a taste of this event by revisiting some of my Quilting in the Garden favorites from 2016, 2018 and 2019. So, grab a cup of tea or a pumpkin-spice latte and enjoy the show!
Quilting in the Garden favorites
In 2016, the featured artists were C&T Publishing and Jennifer Sampou. Special guests included Alex Anderson and Freddy Moran, and there was a tribute to Yvonne Porcella. You can find the full Quilting in the Garden 2016 blog post here.
---
The day I visited Quilting in the Garden in 2018 was a perfect fall day with sunshine and lots of my favorite things all in one spot. The featured artist for 2018 was the amazing Eleanor Burns. She had more than 100 quilts on display! There were two guest artists at the show, Gail Sims and Leni Levenson Wiener, who had their own beautiful quilt exhibits. The full blog post for the 2018 show can be found here.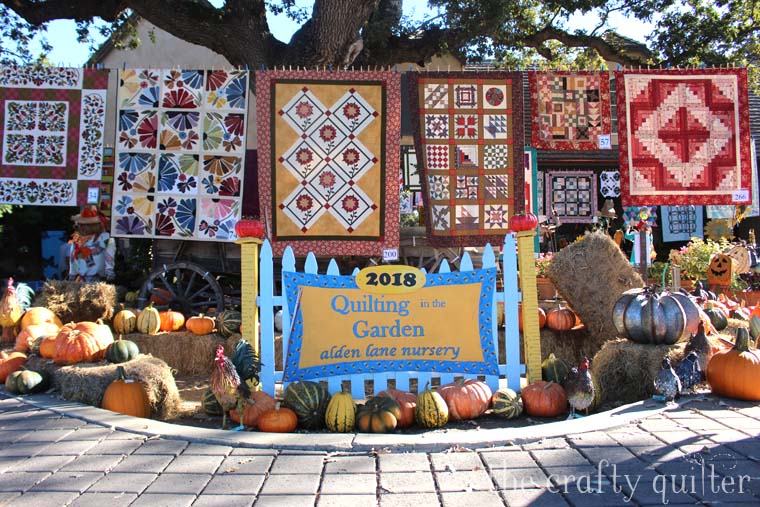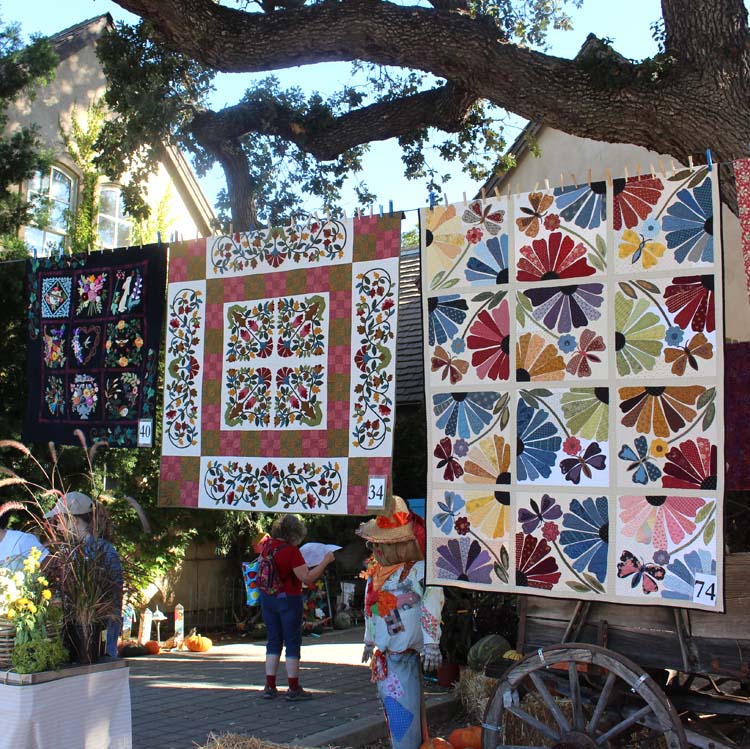 ---
Last year at Alden Lane Nursery, the weather was cooler and the wind was blowing – a typical Fall day! Many of the quilts were waving in the wind as I took their pictures. For this event, volunteers work hard to hang over 250 beautiful quilts among the majestic oak trees. The featured artist was the wonderful Sue Rasmussen and the guest artist was Nancy Brown, known for her animal and family portraits. You can find the original blog post for Quilting in the Garden, 2019 here.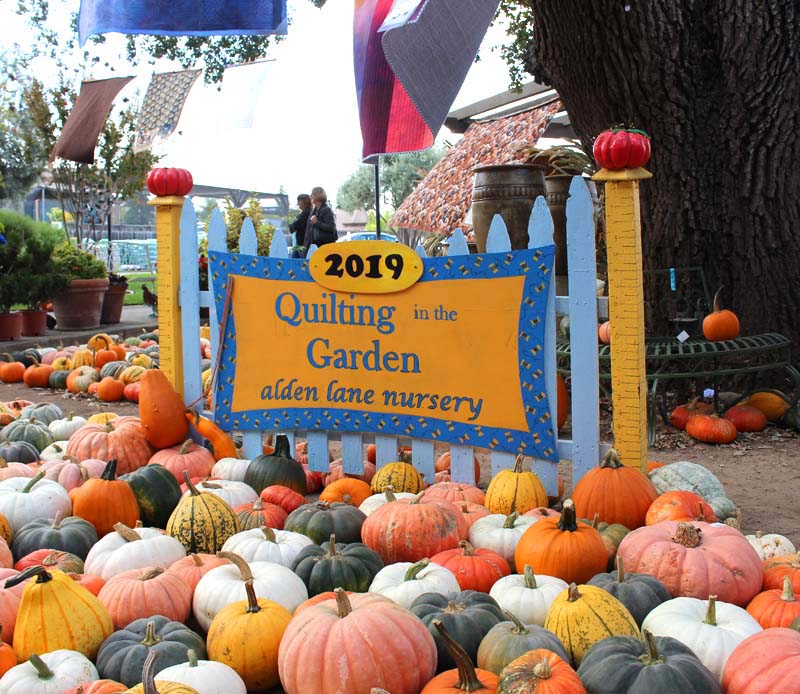 ---
Thanks for visiting my Quilting in the Garden favorites! I hope you were inspired. I look forward to being at Alden Lane Nursery next year and in person (when things return to normal). Happy Fall!